Inspiration
The Best Bathroom Paint Ideas
How to Choose the Best Paint for Your Bathroom.
Is there any room in the house that provides better peace and sanctuary than the bathroom? Often overlooked, or treated as a purely functional space, bathrooms have the potential to be true oases - and it's not just about how good your water pressure is or the depth of the tub. Sometimes what's needed to bring out the best in your bathroom is a good lick of paint.
So whether you have a remodel in the pipeline or you simply want some inspiration, here are some ideas to help you choose the best paint for your bathroom.
BLUE FOR FRESHNESS
When decorating a bathroom, blue is the easiest shade to work with. Known for its calming qualities, using this shade will not only make your bathroom aesthetically beautiful but it will also help to transform it into a peaceful, spa-like sanctuary.
So, if you want to create a room that is serene, blue is the perfect choice. Our superb range of blue paint shades range from the palest of blues to bold shades.
Pale blue tones such as Cool Brittania or Bluebird work well when combined with white and you can always add in darker shades of blue with a few key accessories.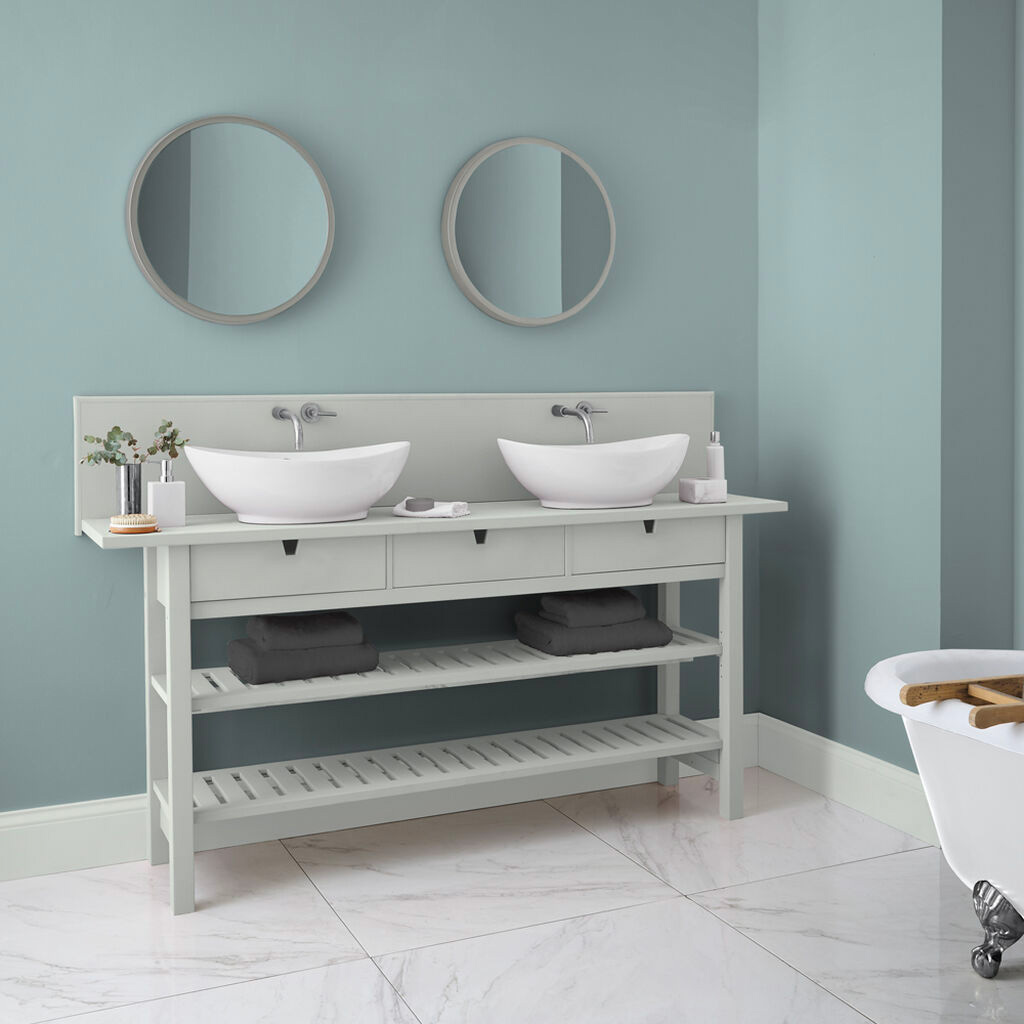 GREEN FOR TRANQUILITY
Green is a surprisingly versatile colour and it is believed to relieve stress due to its association with nature making it ideal for bathrooms.
Bright shades are the best if you want to create a bathroom with a contemporary feel and they can also bring a lot of energy to a room. A bathroom should always be a cheerful space and our green paint shades are the perfect way to create an energising space to get you motivated for the day ahead while still having a tranquil feel.
Green and white bathrooms will always look striking and the colour also lends itself to wood and metallic elements.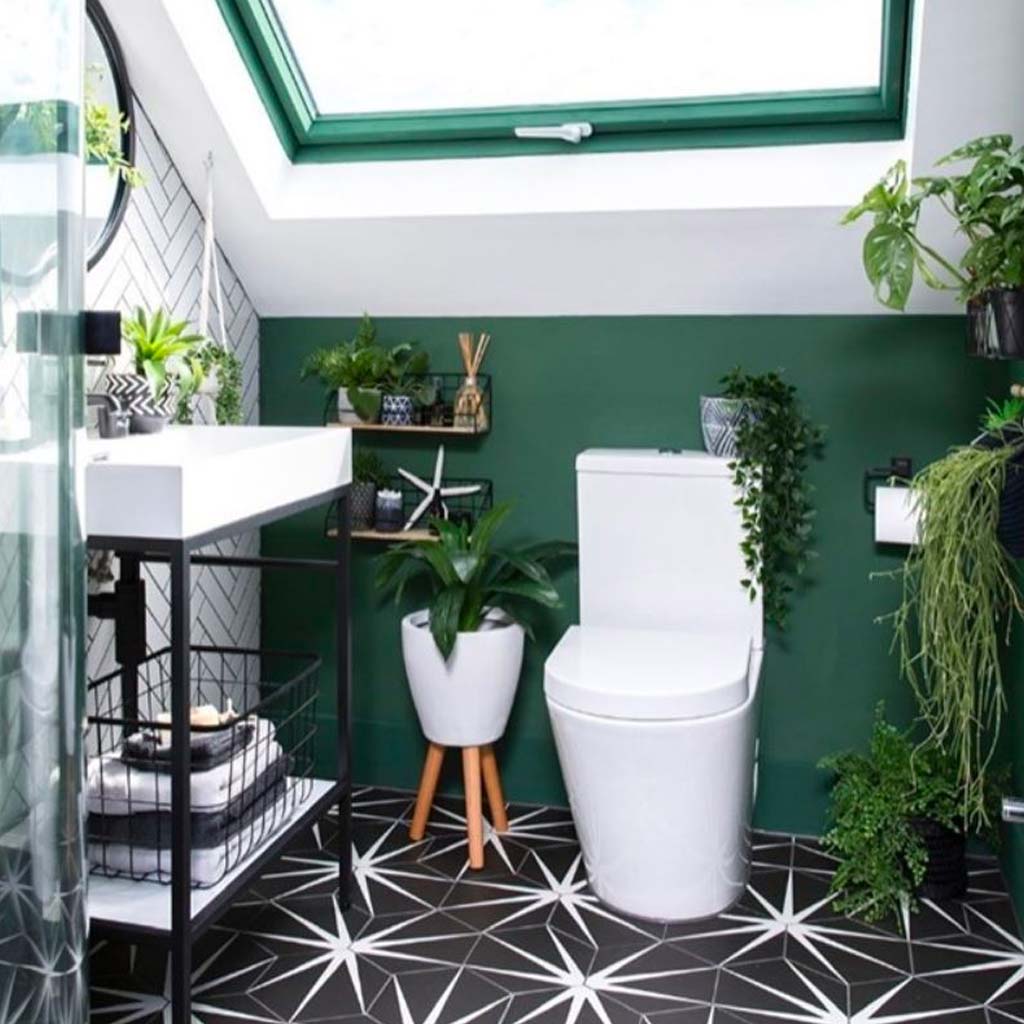 GREY FOR SOPHISTICATION
If you love the elegance that neutral shades offer, our grey paint shades should be at the top of your list. If you choose the wrong shade, grey tones can give a clinical, sterile feel to your room so it is wise to choose a shade of grey that is at the warmer end of the spectrum, such as Anastasia or Indian Ink.
Of course, you don't have to stick to one shade, why not mix and match different shades of grey to create a modern bathroom that will never go out of style? Grey and white are a match made in heaven and don't be afraid to bring in pops of colour with greens and pinks here and there to add an ultra stylish finish.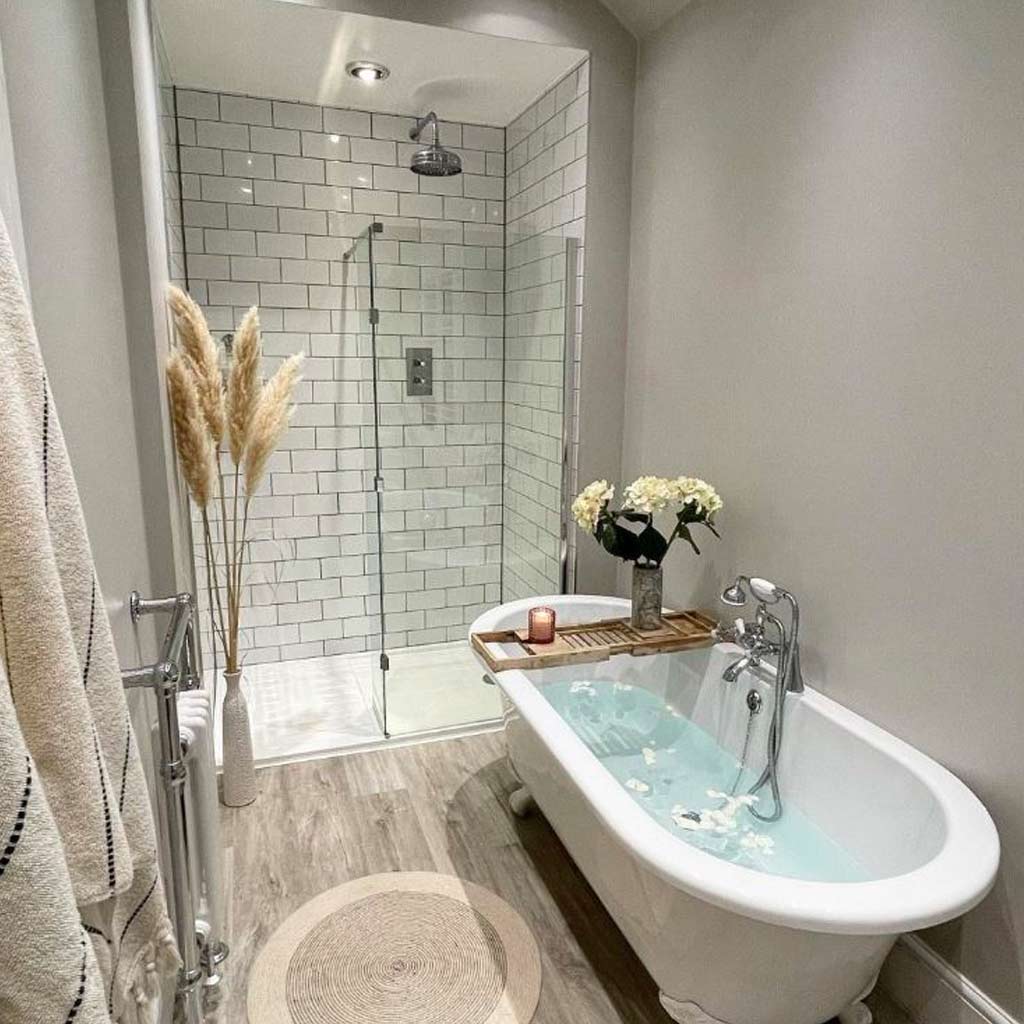 PURPLE FOR LUXURY
Our purple paint shades could be just what you need if you're hoping to inject a bit of decadence into your bathroom decor.
It is the perfect colour for creating an indulgent and luxurious feel - and what more could you ask for when you're about to sink into a bubble bath? Going for a lighter lavender shade will bring out purple's calmer, more meditative properties.
A bolder choice, such as Countess, will lend the room a true richness, and have you feeling regal as you go about your morning and evening routines.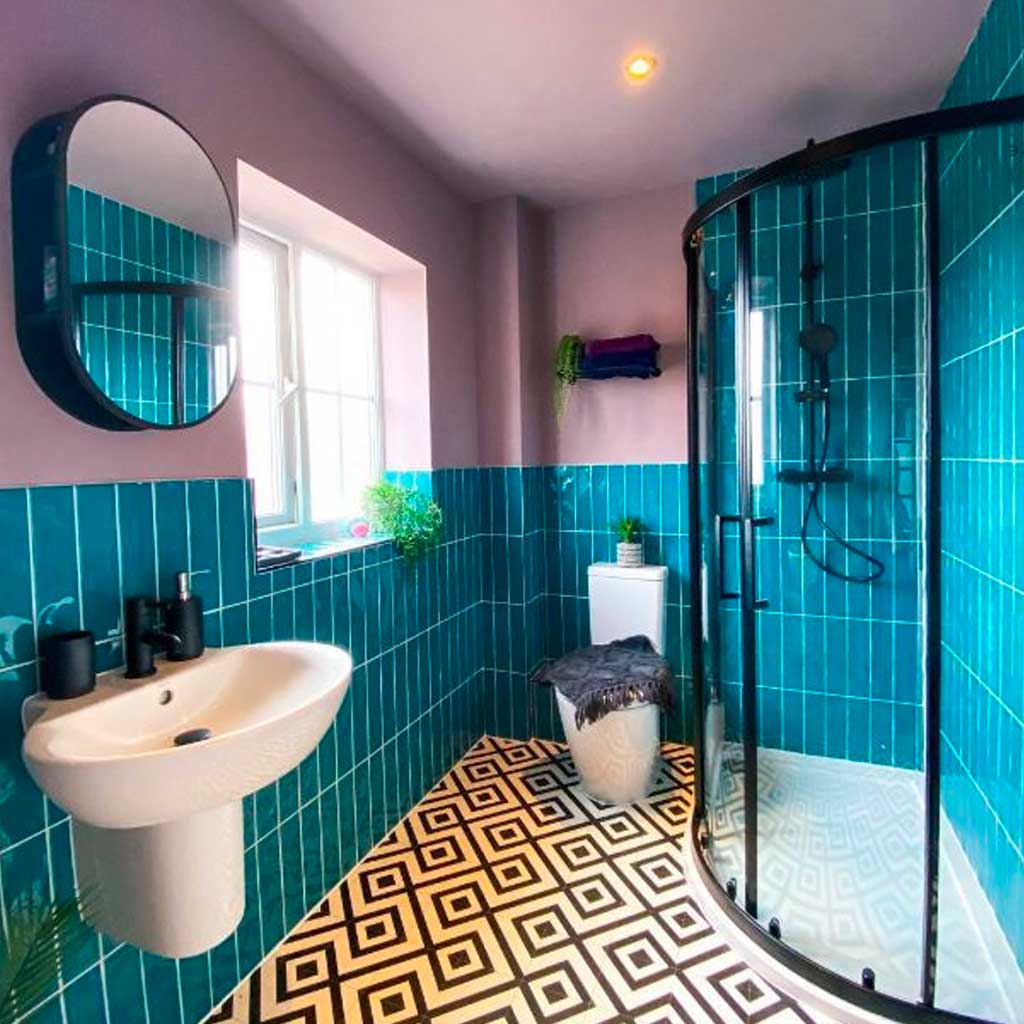 PINK FOR GLAMOUR
Usually a colour reserved for children's bedrooms, pink deserves a new lease of life - and we think it's an ideal choice for a grown-up, glamorous bathroom.
Not only is pink a fun colour, but also a nurturing one, and its rosy hues are sure to have you feeling cheerfully content. Keep it light with a pink paint shade such as Dolly or Penelope, and combine with a neutral off-white for a simple and feminine finish.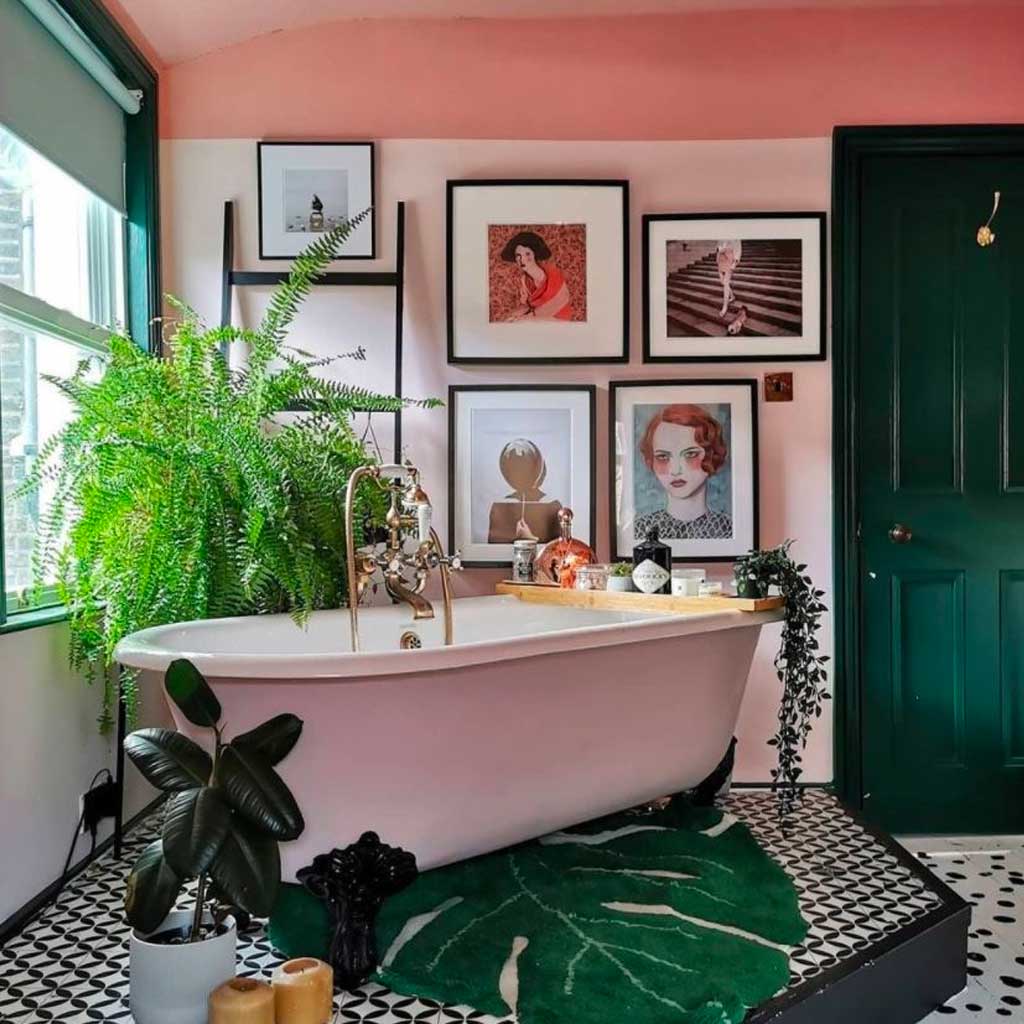 YELLOW FOR WARMTH
If you're a fan of wooden accents and want to emphasise the more grounded, earthy tones of your bathroom, our yellow paint shades are for you.
In particular, we'd suggest a mustard colour, such as Ambition or Cirque, or else a bright but deep shade like Tuscan. Use it to create a feature wall that perfectly complements wooden and wicker items, such as countertops, dressing tables, mirror frames and laundry baskets. The end result will be a room that exudes warmth and comfort, as well as a natural feel that puts you back in touch with the elements.
Want more inspiration? Take a look at our hallway paint ideas to perfect first impressions of your home, or our home office decor ideas for the ideal home-work space.