Inspiration
Our Favourite Gallery Wall Ideas
Is there any feature wall that allows for more versatility and creative flair than the gallery wall? Here at Graham & Brown we're all about the personal touches that really make a house a home.
Find your perfect way to display photos, mirrors and more
Is there any feature wall that allows for more versatility and creative flair than the gallery wall? Here at Graham & Brown we're all about the personal touches that really make a house a home - which is why we love to see how people decorate their walls with hand-picked images and artworks.
Here we've put together a few of our favourite gallery wall ideas - partly to give you some inspiration, and partly because we think they're too great not to share.
THE EVENLY-SPACED PICTURE WALL
If you're a fan of sharp edges and a clean finish, you'll probably like this picture wall, which incorporates 9 images of the same size in square frames. Organised to be perfectly symmetrical, it's an ideal layout for above a sofa or bed, and just the thing if you have a set of pictures by the same artist or with an overarching theme. You could even start off your 'grid' with one of our canvas sets.
THE STAIRCASE GALLERY
The staircase gallery has been a favourite feature in people's homes for a long time, and for good reason. Why waste all that delicious wall space when you can use it to display an array of framed photos or posters? Get creative and see if you can't turn a tedious climb into an aesthetic journey.
THE LIVING WALL
If you're a plant lover (and, these days, who isn't?!), it's time to fully embrace your passion and, even better, merge it with some innovative interior design. Using shelves and hanging plant pots, you can create a living feature wall within your own home. Show off your favourite flowery friends, perhaps with a calming, sky-blue backdrop, to really create the illusion of bringing the outdoors in.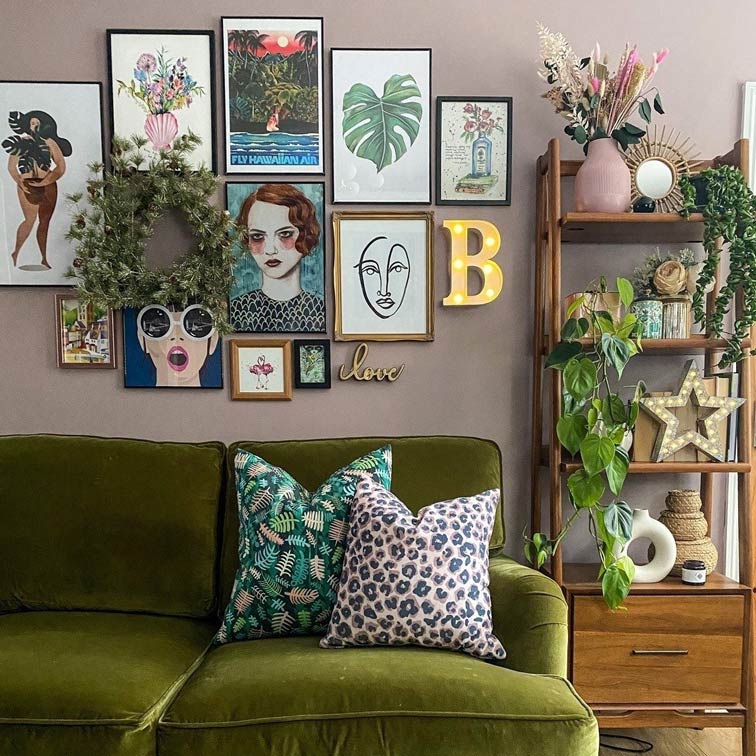 THE TETRIS GALLERY
Bring together all your favourite pieces of every shape and size to create the most satisfying of feature walls: the Tetris gallery. Whether you have framed posters, polaroids or A4 inspirational quotes, there will almost always be a way to fit them all together. Get inventive and try different layouts to find the one that works best for your specific collection. And, if you find that there's a final space or two to fill, you can always check out our selection of wall art.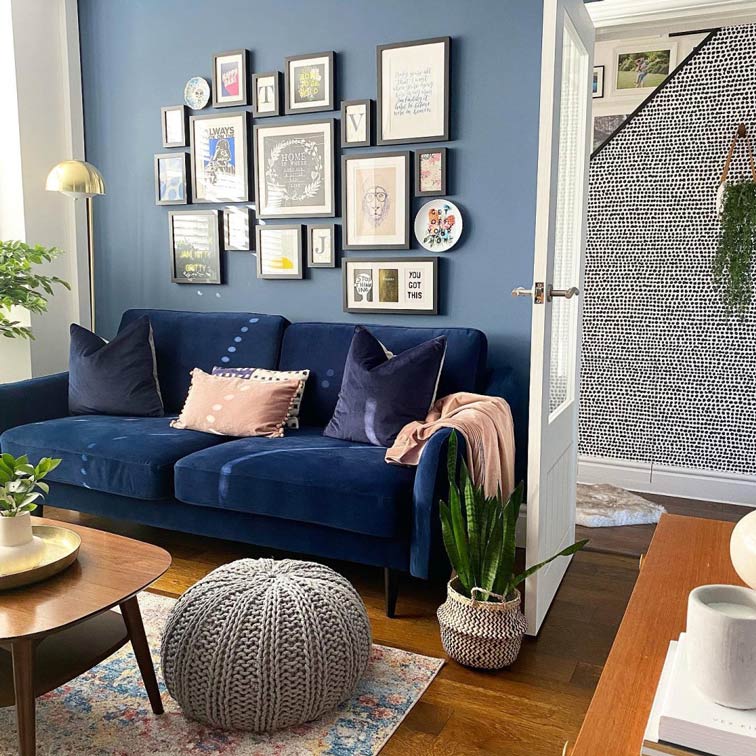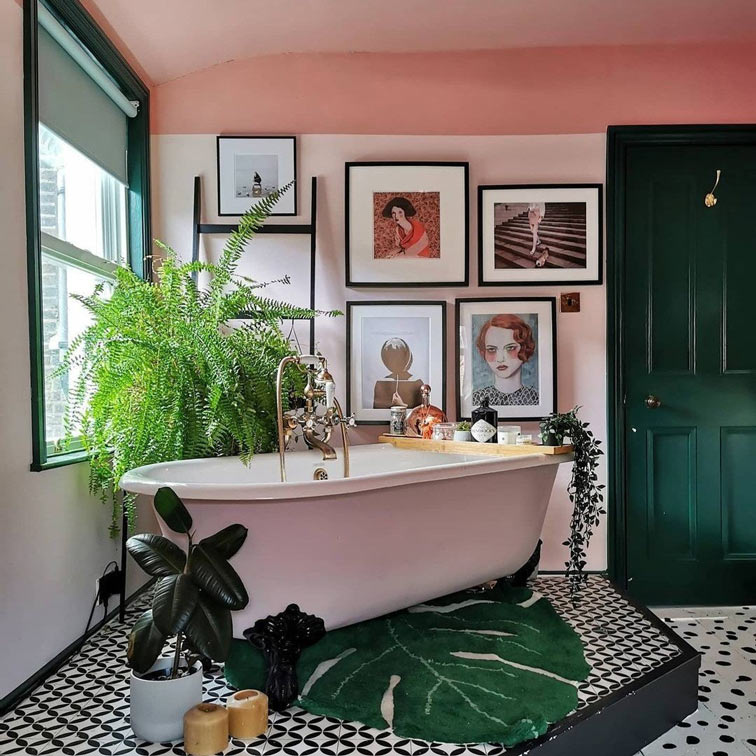 THE DISPLAY SHELVES
It might be that you have things other than images that you want to include in your gallery wall. Perhaps you have a few special hardbacks, a figurine or two, a vase or any number of other things that deserve to be on display in your home. If this is the case, why not do something a little different and put up some shelves or a small display cabinet? These can be interspersed with framed pictures and organised in a similar way to the Tetris wall.
THE MIRROR GALLERY WALL
Is there anything that's nicer to look at than a wall of mirrors, reflecting yours truly back at you? We don't think so - especially when you can find so many mirrors that are unique and beautiful in themselves. Whether your mirrors are round, rectangular, vintage, modern, with ornate frames or pared-back and simple, they can come together for this eye-catching feature wall. We especially recommend this option if you're working with a small room - mirrors are great at tricking the eye and creating the illusion of space.
THE MURAL GALLERY
Not everyone goes through life building a collection of prints and artworks that are going to look amazing in the living room. So if you're keen on a gallery wall and want something to look great with minimal effort on your part, why not simply hang a mural? Graham & Brown teamed up with the National Portrait Gallery to create three bespoke gallery-style murals that bring the art world straight into your home.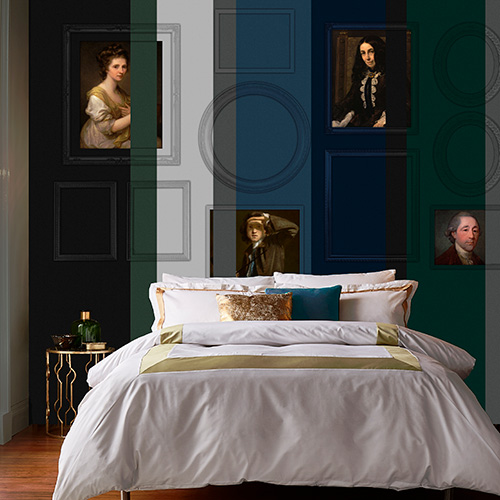 THE FAIRY LIGHTS PICTURE WALL
Delight your inner child by stringing fairy lights across your chosen wall, and use pegs to attach photos and postcards. This is a great way to display a more personal collection of friends-and-family photos, children's artwork, hand-written notes and birthday cards. We think this gallery wall would work best in a bedroom - not only does it allow you to chop and change depending on how you feel, but the lights themselves create a warm and relaxing atmosphere.
THE INSPIRATIONAL GALLERY
If it's words rather than images that spark your imagination, why not create a wall dedicated to your favourite quotations and sayings? Word art can be incredibly versatile and you're sure to find something in a style that suits your aesthetic. You can even take a look at our options at Graham & Brown, which include pieces such as our Midnight Dreams framed wall art and our Tropical Neon Love wall art.
If you're looking for more interior design ideas, (inspire) we have a whole range of blogs dedicated to providing you with inspiration for your home. Keep the creativity flowing with our guide to art deco interiors and our home office decor ideas.