Inspiration
Bathroom Wallpaper Ideas
Turn a functional space into a beautiful part of your home.
Despite often being the smallest room, bathrooms can provide the perfect opportunity to add flare, creativity and style to a home. One of the simplest and most effective ways to achieve this is by using wallpaper. Take a look at some of our favourite bathroom wallpapers, which are all washable and designed to withstand damp conditions and high traffic. It's time to turn a functional space into your own private haven!
BOLD BOTANICAL WALLPAPER
Our Paradise Midnight wallpaper brings together a statement colour palette of dark, midnight blue, greens, pinks and yellows. The botanical theme is bold enough to make it the ideal feature wall, while still transferring a sense of calm and tranquility with its flowing shapes and deep hues.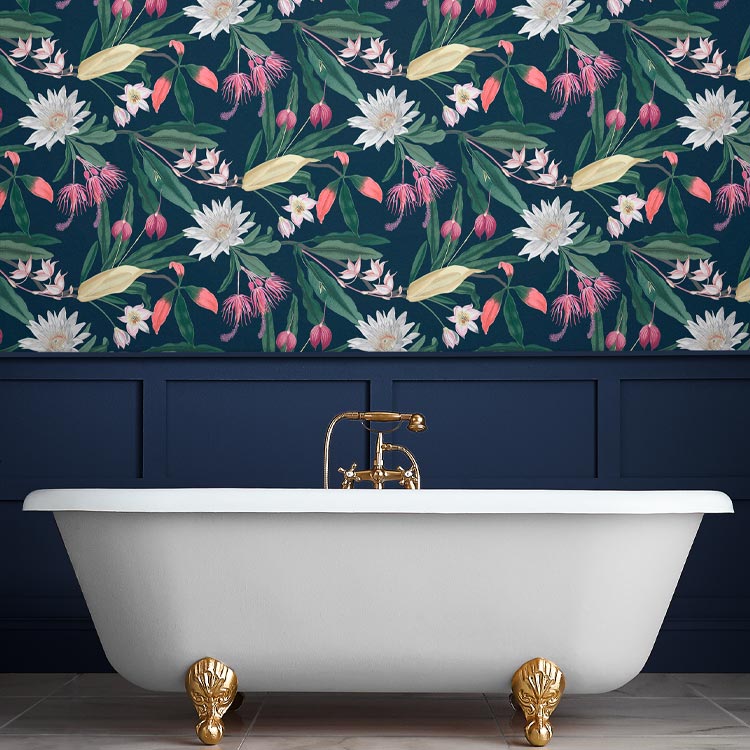 SUBTLE BIRD-PRINT WALLPAPER
Set against a warm, slightly muted yellow backdrop, the blue and pink birds on our Tori Summer wallpaper glimmer like jewels. The sweet and simple repetitive design is perfect to enjoy while you sink into the tub and will bring a liveable brightness to your room.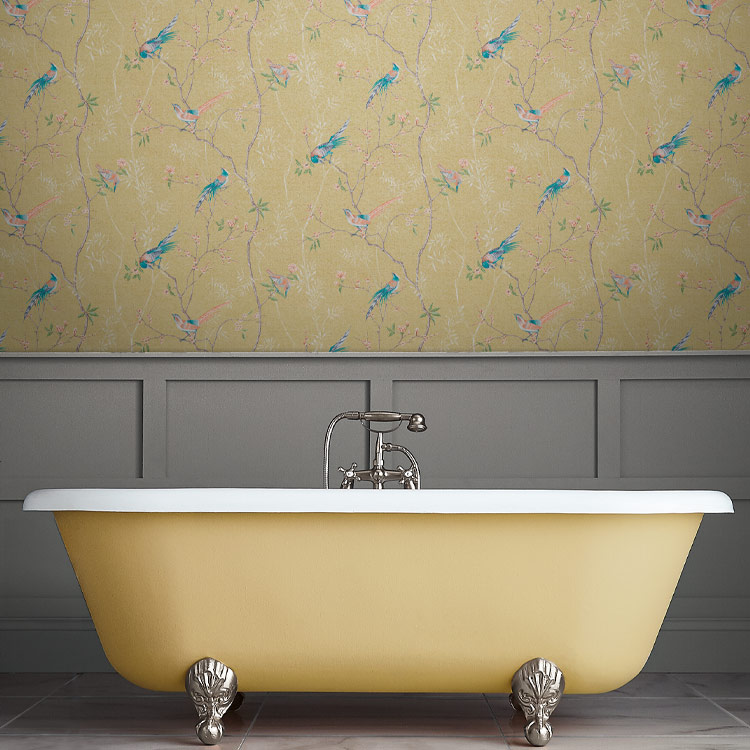 OPULENT 1920S-STYLE WALLPAPER
If you want to add a touch of decadence to your home, there's no better way than by using our Rene Nightfall wallpaper. Inspired by the roaring 1920s and incorporating a Gatsby-esque charm, this wallpaper features a repetitive, fine-line design in a stylish metallic. Its navy backdrop and simple but eye-catching pattern makes it perfect for the bathroom, where it will complement classic countertops, mirrors and white furnishings.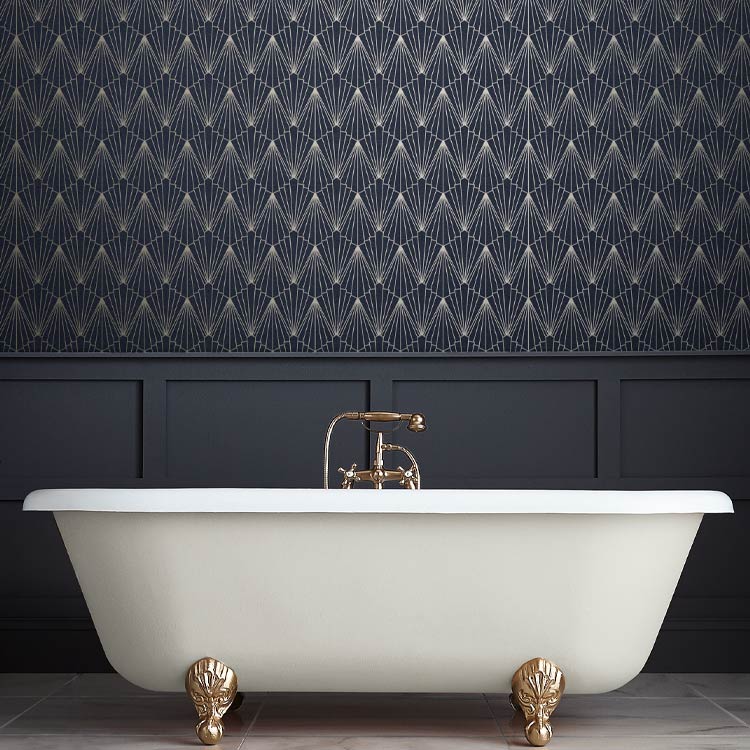 ICONIC STRIPED WALLPAPER
Keep things simple, playful and statement with our Figaro Blush wallpaper. The soft pink, off-white and chocolate-brown stripes put you in mind of ice cream sundaes and you'll quickly find yourself transported to the seaside whenever you step into the room.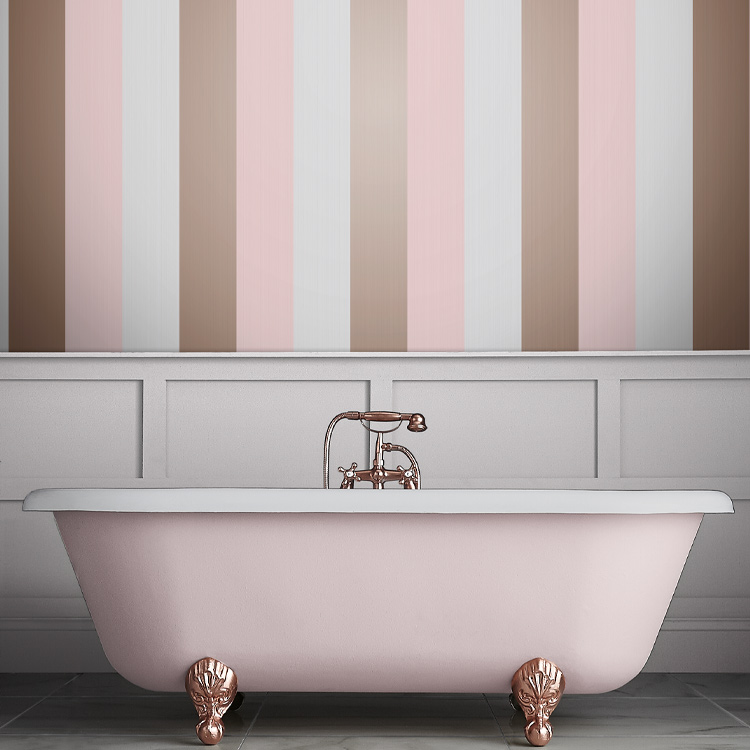 TROPICAL PINK & GREEN WALLPAPER
Add softness to your bathroom decor whilst maintaining an element of fun with our Jungle Blush Green wallpaper. Coloured gently with pastel green and pink, this design combines straight lines with broad, layered leaves, to create a subtle striped effect that calms and pleases the eye. Use this wallpaper to turn your bathroom into a true tropical paradise with heaps of charm.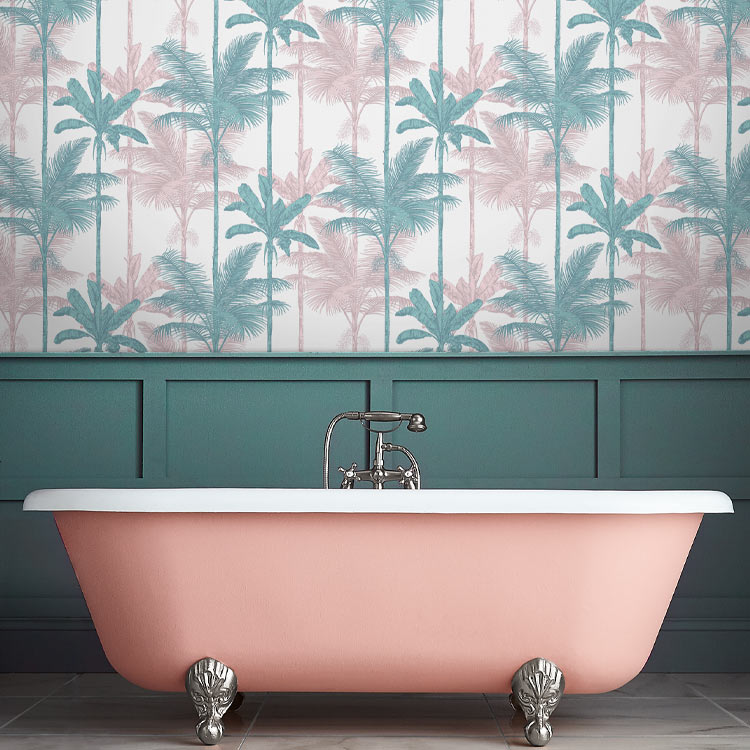 STATEMENT GEOMETRIC WALLPAPER
If you want your bathroom to make a real impression on anyone who enters it, you can't go wrong with our Geo Damask Yellow wallpaper.
White geometric damask detailing merges modernity with the classical, all set against a stunning mustard yellow background. Not only does this wallpaper tell everyone that you have real style, it also adds sunny warmth to any room.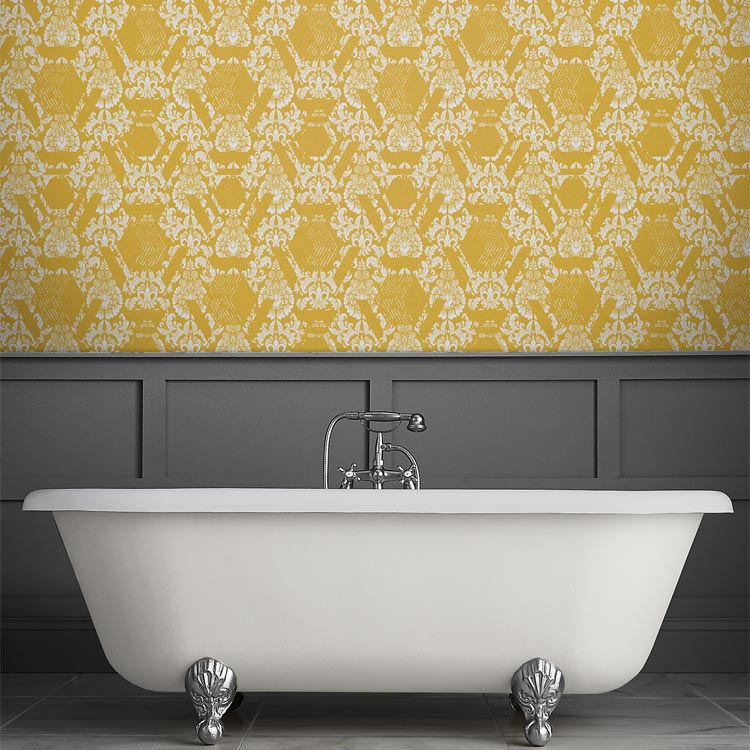 LIVELY FISH-PRINT WALLPAPER
Flow Black wallpaper creates a quirky statement in any home and its under-the-sea theme makes it perfect for the bathroom. Beautiful gold-pink fish swim through an inky backdrop, creating a feeling of movement and a gentle energy that will combine effortlessly with the sounds of running water and fizzing bath bombs
Do you want to paint your bathroom instead? Check out our guide to the best bathroom paint ideas!