How To
How to Paint a Geometric Wall
Follow our detailed step-by-step guide on how to paint a geometric wall and learn how to create striking, contemporary designs in any room in your home.
Bold, geometric paint on a wall can have a real impact in even the smallest space. By adding your own signature look to a room, you can create a place where your personality shines through. The use of colour, shape and design when you add lets you explore your creativity and add your own personal twist to an interior. The results of geometric wall paint are dramatic, but achieving this professional-looking result is actually much easier than you might think.
In this guide, we'll take you through the basics of geometric wall painting, from the equipment you need to the techniques of masking and how to take inspiration from our geometric wallpapers. We'll show you how the steps below can also be used to produce different geometric shapes. So whether you want to brighten up your living room or create a Zen-like tranquillity with some bedroom geometric wall paint, unleash your inner designer and let's get started.
WHAT YOU WILL NEED:
Large protective sheet
Cloth
Wall filler
Sandpaper
Standing platform
Paint roller & brushes
Tape measure
Pencil
Masking tape
Chosen paints
Hairdryer (if needed)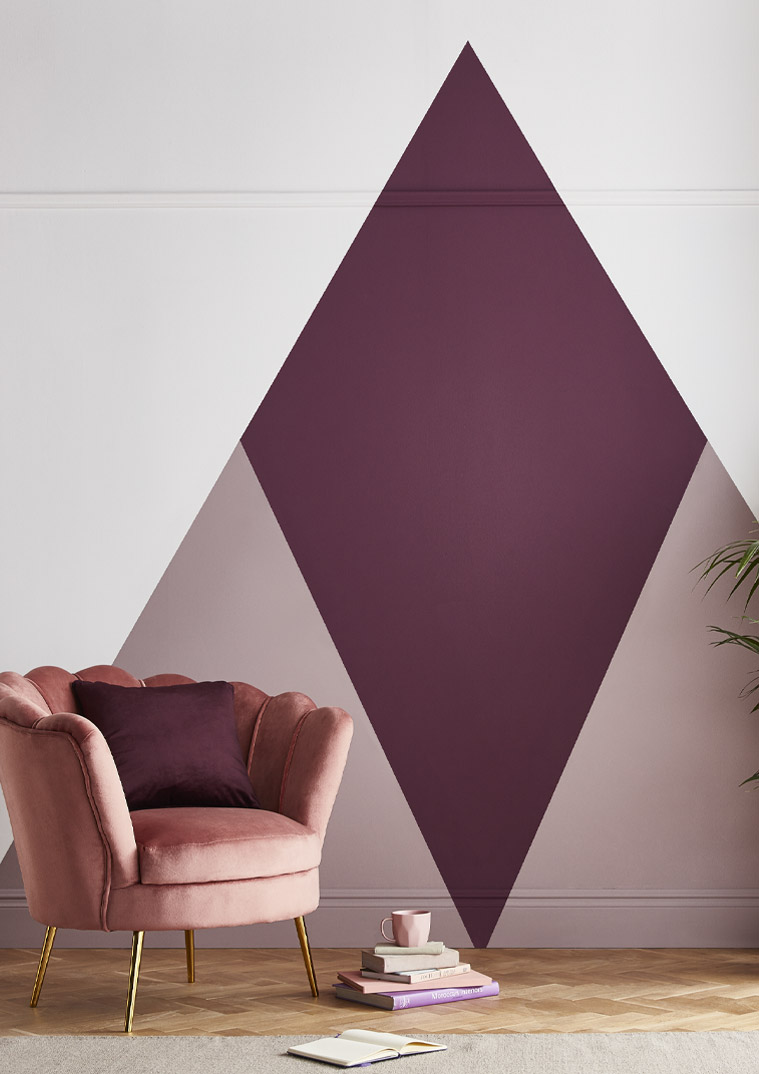 1. PREPARE THE WALL FOR PAINTING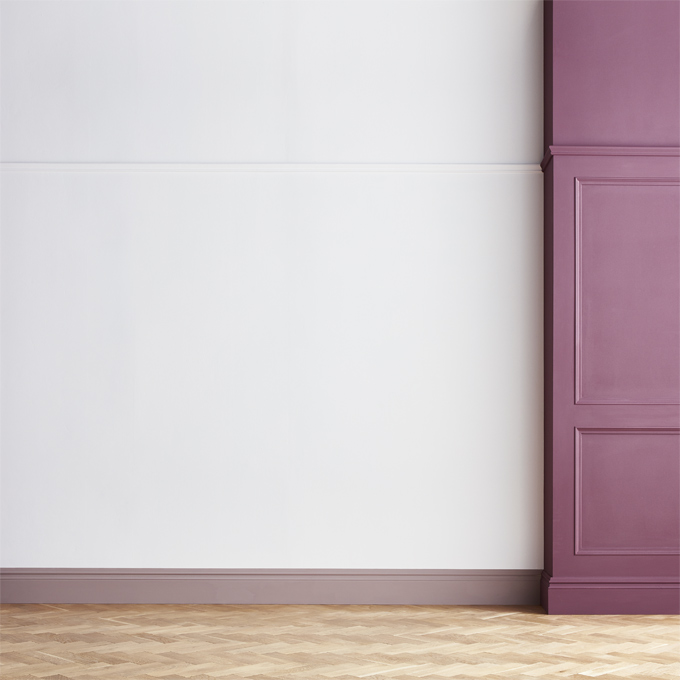 Before you pick up that paintbrush, it's important to ensure that any blemishes or chips are repaired and that any dirt on the surface is cleaned away.
This is key for painting a geometric wall pattern, as lumps and bumps with build-up could leave your edges looking a little less than crisp, and spoil the final result with an imperfect finish. For more detail on preparing your wall, find out how to paint a room with our handy guide.
2. APPLY UNDERCOAT PAINT TO YOUR WALL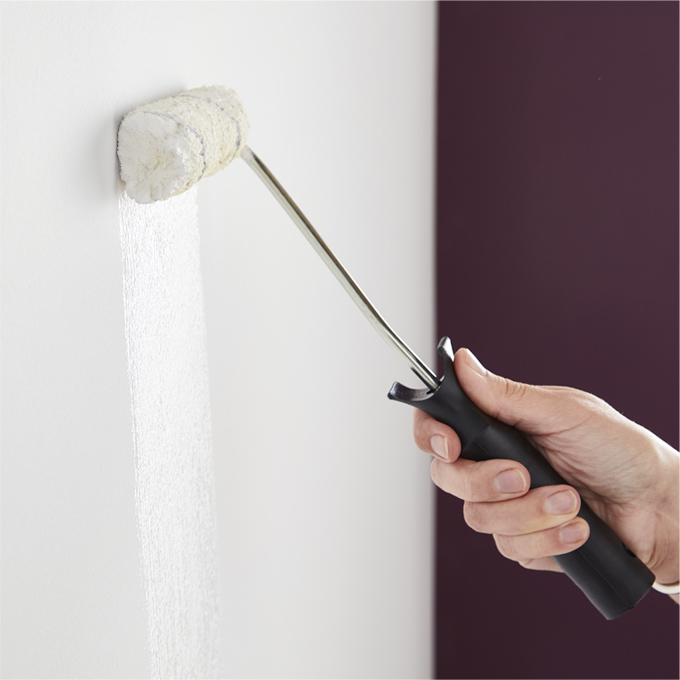 For the undercoat, we have chosen Baby Powder. This gorgeous white gives us a clean backdrop to make geometric shapes really pop. If you are going for a white or neutral backdrop, try to select a shade with complementing undertones to the main colours in your project. However, design is subjective, so if you want to experiment with contrasting colours, then play around with ideas on paper first before you break out the rollers. The possibilities are truly endless – your walls, your rules.
Ensure you stir your paint well for around three minutes, and if your wall requires more than one tin of paint, mix the two together in a clean container.
Apply your first coat of paint to the wall, remembering to always work to a wet edge. Avoid painting all the edges before moving to fill in the middle, as the paint will then start to dry, and you won't get the best finish. The ideal is to work to a 1m squared area before moving on to the next area. Leave for four to six hours to dry, then apply your second coat.
3. PLAN OUT THE GEOMETRIC SHAPES FOR YOUR WALL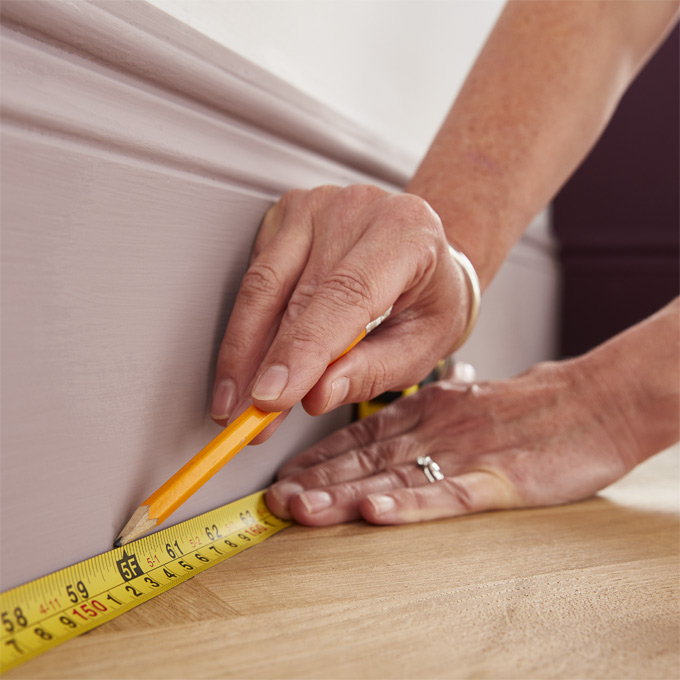 Ensure your undercoat is fully dry before moving on to the next stage, masking the pattern. We would suggest allowing at least 24 hours to avoid the masking tape sticking to wet paint and lifting the paint off later on. This would mean going back to the beginning and starting all over again - deeply frustrating.
To achieve the correct symmetry for the diamond design we've chosen, we need to do a bit of measuring – but don't worry, it's not as tricky as it sounds.
If you're going for a more asymmetrical design, it's still worth marking out a plan before you start applying the tape onto the wall, even if you don't end up sticking to your original design.
Measure the wall or section of wall that you intend to work with and find the centre. Lightly mark this spot with a pencil at the bottom and upper points where you want the diamond to peak.
Then, mark the outer bottom corners by measuring the same distance either way from the bottom centre, creating a large triangle shape.
4. APPLY YOUR MASKING TAPE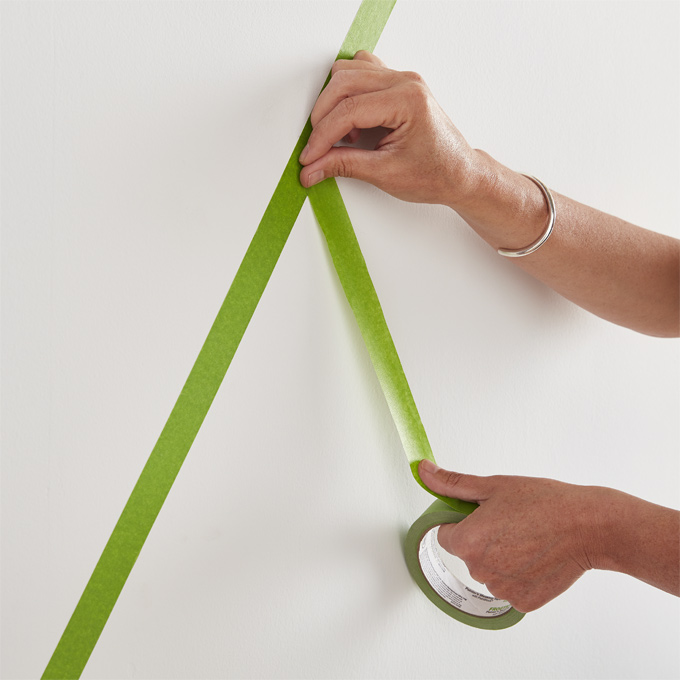 Apply a strip of masking tape from each bottom corner up to your centre peak. Take your time – you want it to be as straight as possible.
To ensure an extra sharp edge, once your tape is applied, paint over the edge of the tape to create a seal. This will help avoid any potential paint bleeding.
With your tape measure and pencil, find the middle height and lightly mark the tape edges of the large triangle. Apply a further two strips of tape from the bottom centre point to these new midpoints.
5. START PAINTING YOUR GEOMETRIC WALL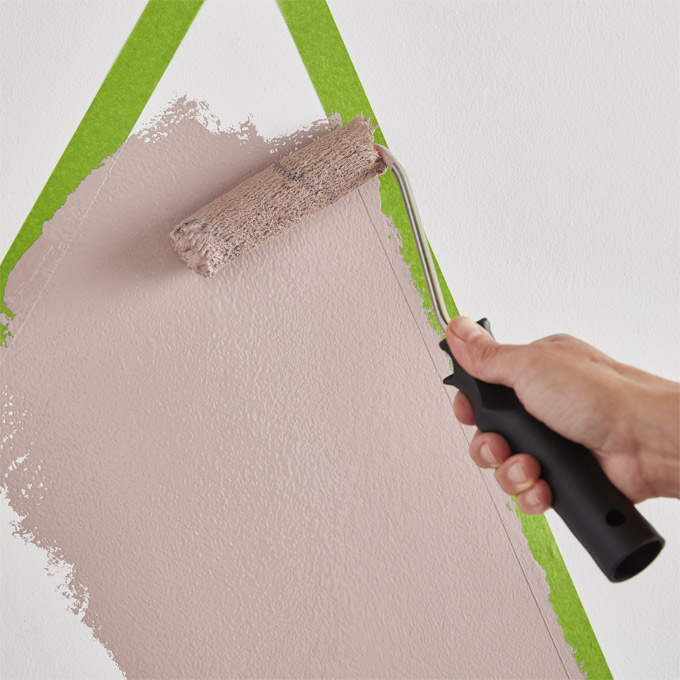 With a paint roller, or brush if you prefer, fill in the two lower triangles with your first chosen paint colour, being especially careful not to go outside the taped lines. We know, right, finally a practical use for all those hours we've spent with adult colouring books. Allow to dry, then add your second coat.
We've gone for the beautiful Spiced Mulberry shade, which perfectly pairs with our hero hue, Epoch. If you want to keep borders between your geometric shapes, you can go on ahead to step 8.
6. REMOVE THE MASKING TAPE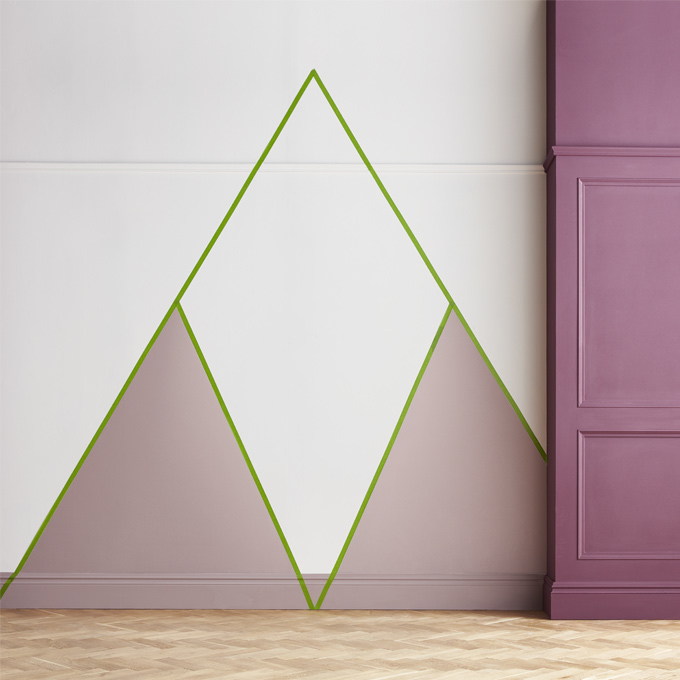 When dry, gently remove the tape on the inner sides of the small triangles. Pull the tape at a 45-degree angle in a smooth motion.
If the tape begins to pull off paint underneath, grab a hairdryer and gently apply direct heat to the tape surface. Keep the hairdryer moving so that you heat up the whole piece of tape. This will help melt the glue of the tape for smoother removal.
7. RE-APPLY THE MASKING TAPE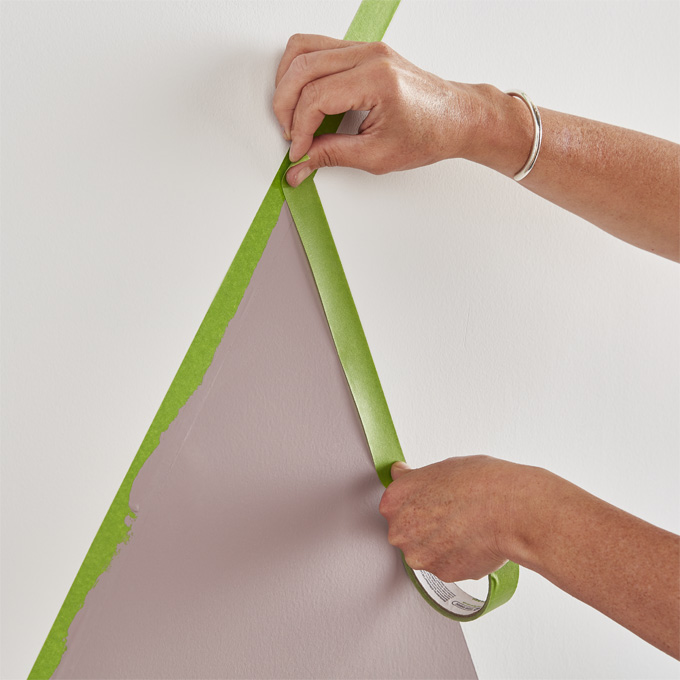 We now need to re-apply the tape over our small triangles. And you know what we're going to say, right? Yes, ensure the paint is fully dry first! If you rush this bit, you'll ruin the effect, so have a little patience and make absolutely sure that the paint is completely dry before you re-apply the tape.
Apply new strips of tape as flush as possible along the inner edges of the triangles. Getting the position perfect can be tricky, so it's better to have a tiny bit of the colour outside the line to avoid your base colour coming through in between the shapes.
8. PAINT YOUR DIAMOND SHAPE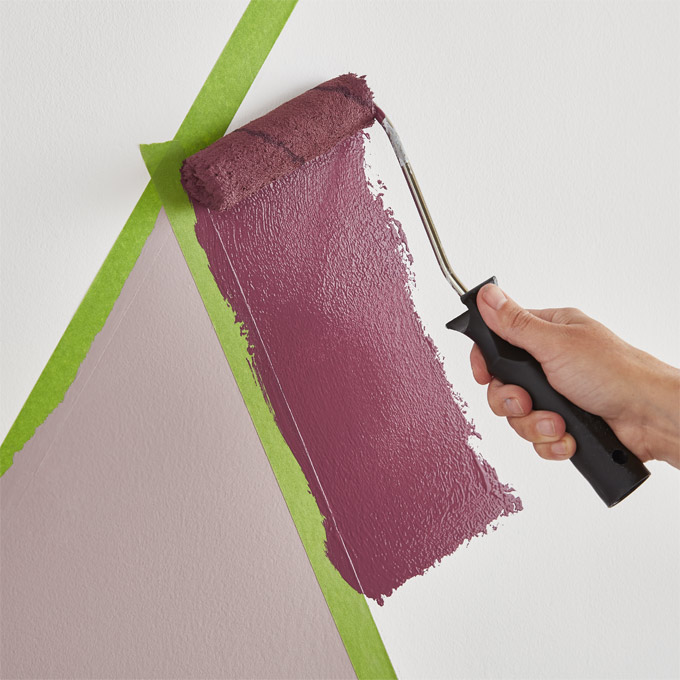 In the same way as in step 5, apply two coats of your main colour to the diamond-shaped area in the middle. Make sure that you allow plenty of drying time between coats to get the best finish. It's best to put two thinner coats on rather than slap a single thick coat to avoid the dreaded drips and runs!
9. FINISH UP YOUR GEOMETRIC WALL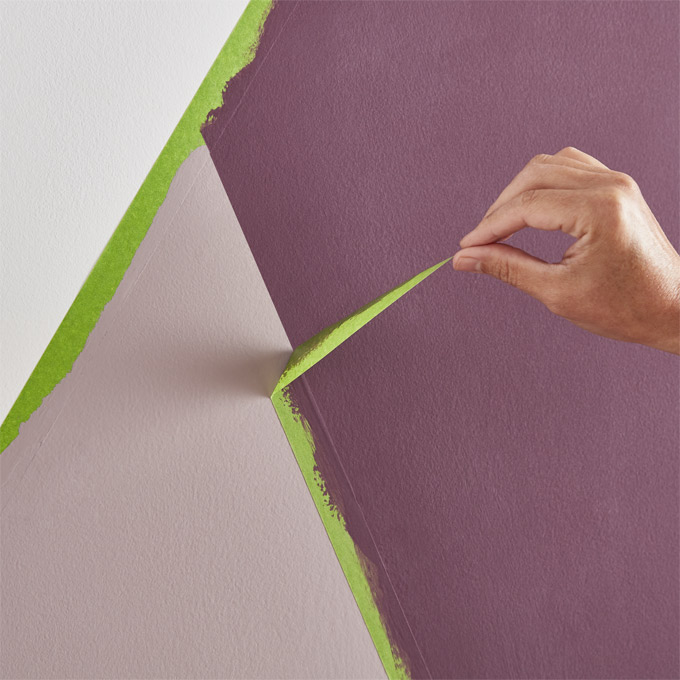 It's finally time to take all that tape off! Go slowly, you don't want to fall at the last hurdle. Plus, it's the most satisfying step of all – savour it! If your tape's a little bit reluctant to part company with the wall, try the hairdryer trick we mentioned earlier. Gently does it, otherwise you'll get a ragged, uneven line, and you'll have to start all over again!
GET INSPIRED BY OUR GEOMETRIC WALLPAPERS
At Graham & Brown, we love geometric designs. They're fresh, they're contemporary, and they're such fun to include in any interior. That's why we have a huge selection of geometric wallpaper for every home, from those that take their inspiration from the Art Deco movement of the 1930s, through to 1950s retro chic and ultra-modern designs. If you're planning on adding a few little geometric wall paint flourishes of your own, you can really get inspired by our designs. Simply take what you've learned about geometric wall paint application above, grab a sketchbook, and get inspired. Here are a few suggestions to get you started.
Atelier Geo Slate Wallpaper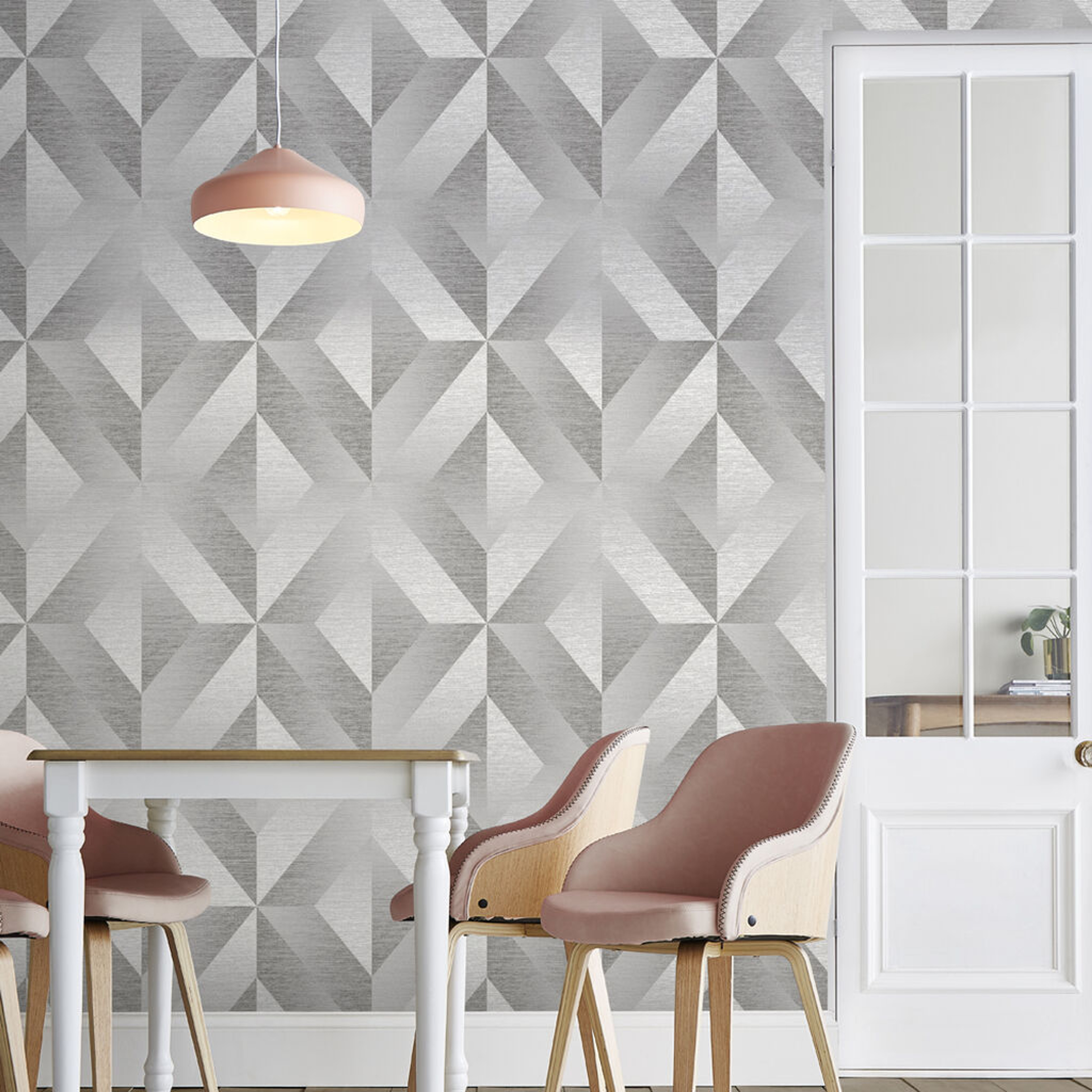 This is a timeless geometric design that incorporates squares, obtuse rectangles, and triangles. Don't worry, it's not nearly as complicated as it sounds. You start with a square, divide it into quarters, and then divide each quarter into four rectangles. It's a striking and bold design that works well with almost any colour combination. Try it in gradients of teal, or go for a dusky pink through to a richer aubergine for real impact. For a more sophisticated and minimalist effect, go for greys, but remember to choose those that have a similar 'hue' to them, so cool blue greys or warm greys with a hint of red.
Retro Denim Wallpaper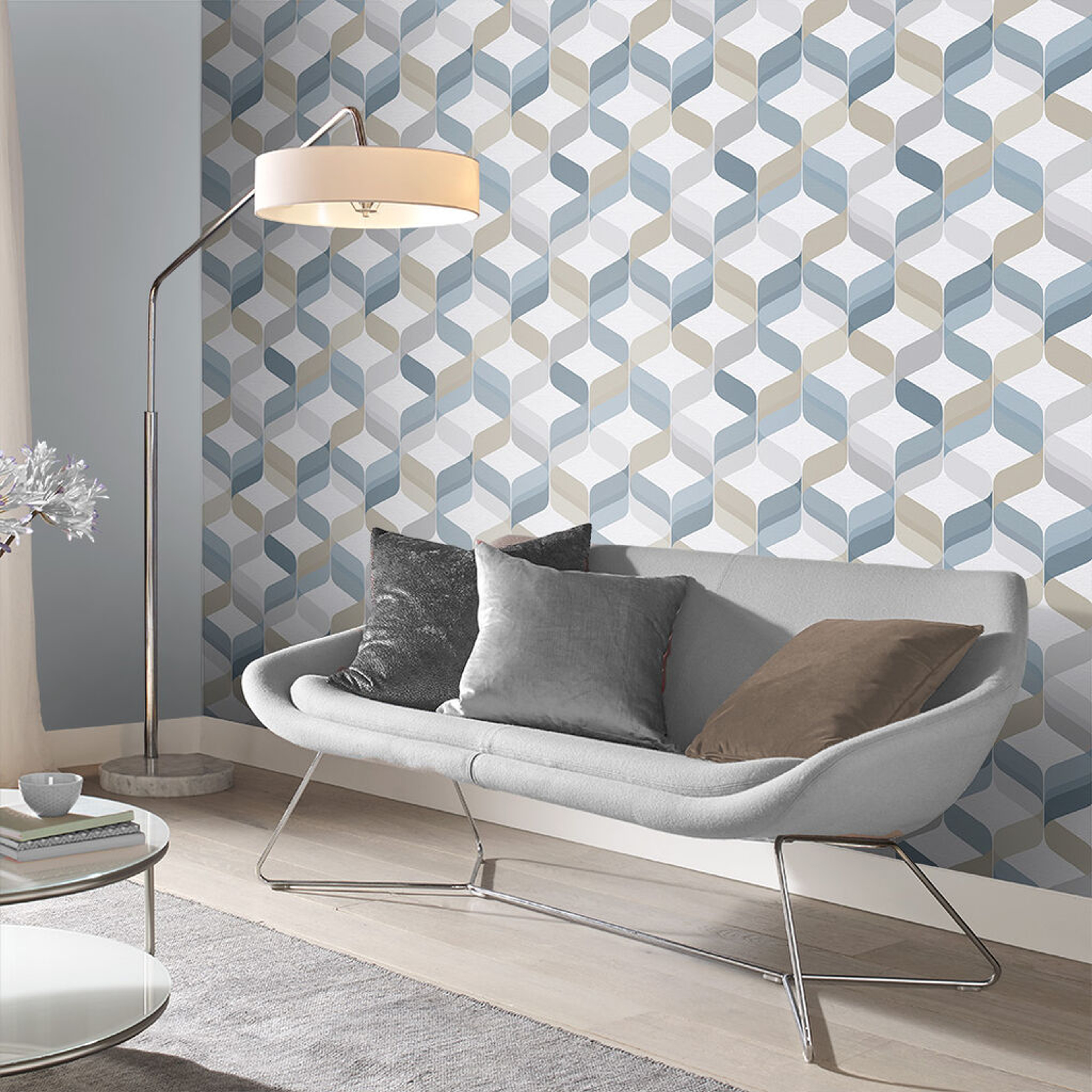 Our Retro Denim wallpaper is gorgeously chic, and uses an inspired colour combination of denim blues with neutral browns to create a more curvaceous geometric shape with softer lines. This one may take a little more concentration to get the curves right, so our top tip is to create a thin card template so that you get each curve exactly right! This geometric paint wall pattern is perfect if you're going full vintage and works beautifully with really zingy colour combinations. Don't be afraid to add colours like orange or sunshine yellow to this pattern and really make it sing.
Palais Sage Wallpaper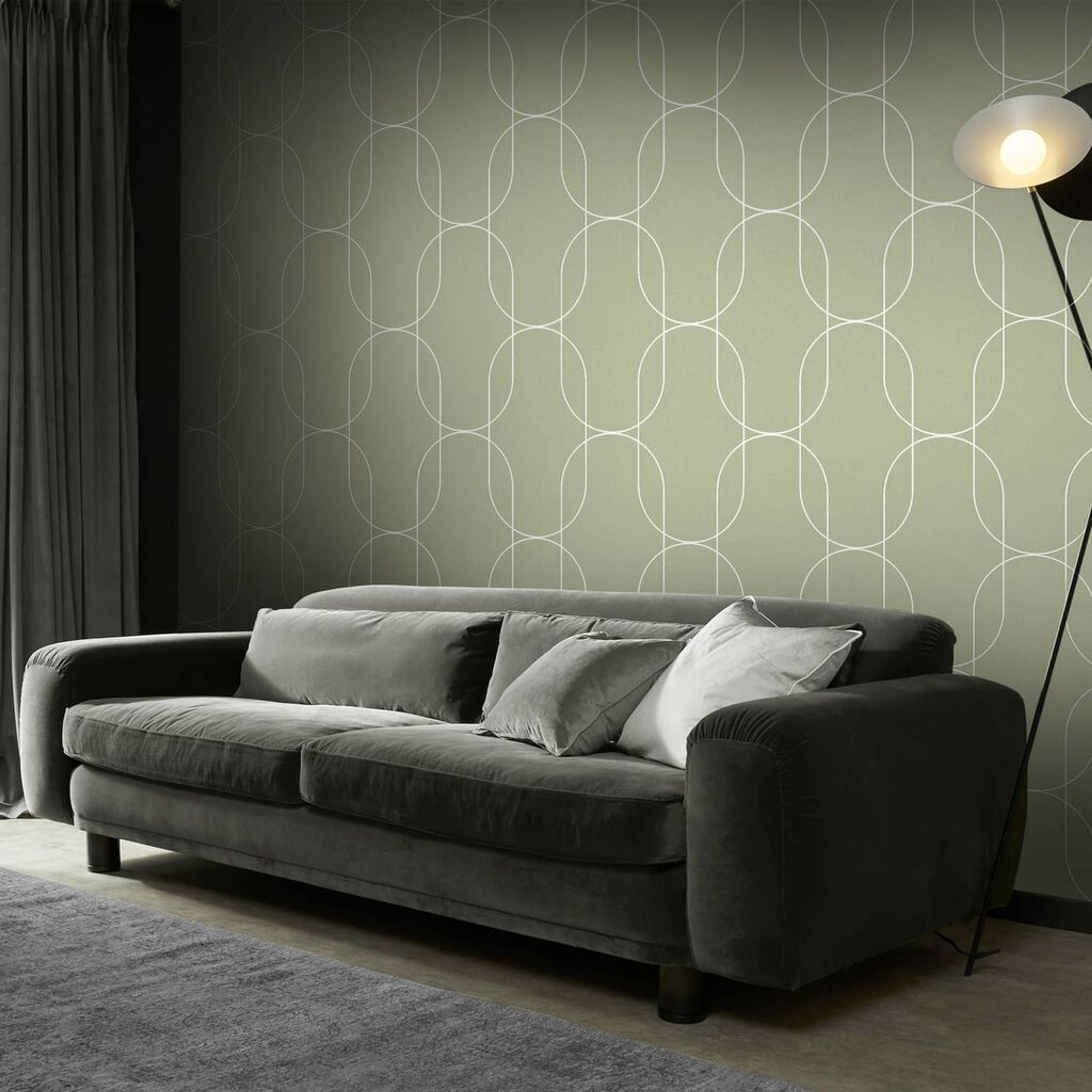 Not all geometric wall paint patterns have to be squares, rectangles or triangles. Geometric patterns can include ovals too, and this gorgeous Palais Sage wallpaper shows exactly what can be achieved with a simple repeat pattern. Again, this is one that we would recommend creating a template for, especially for those curves! It's then simply a matter of overlaying the pattern to get a more complex design. We think this one is well worth the effort, and makes a great bedroom geometric wall paint idea, particularly in softer greens or golds. However, this one works in almost any room, and because you can do it as a pinstripe geometric design, won't overpower a smaller room.