How To
How to Decorate Using Mustard Yellow
Using mustard yellow to brighten your home.
Using mustard yellow to brighten your home.
Mustard and its family of yellow shades seems to be the rays of sunshine that everyone's after in their homes right now. If you're curious about mustard yellow and want to incorporate it into your interior design, we're here to tell you everything you need to know.
WHY IS MUSTARD YELLOW SO POPULAR IN INTERIOR DESIGN?
Yellow is a colour that has always been associated with energy and positivity, which is why it's often under consideration when it comes to home decor. But, where brighter shades of yellow can be too garish, the deeper hues of mustard yellow are perfect for warming a space without stealing the limelight.
Mustard is often seen as a sophisticated alternative to primary yellow or gold tones - it is decadent without being flashy and energising without being overwhelming. Some of its popularity also comes from its versatility. Mustard yellow can work as a feature wall or a four-wall backdrop, and mustard accessories provide cosy flashes of colour.
WHAT COLOURS GO WELL WITH MUSTARD YELLOW?
One of the great things about mustard yellow is that it can be combined with so many other colours. Despite sometimes seeming like a bold choice, it is actually very good at fading into the background. For this reason, you can treat it like a neutral shade - albeit, one of the more exciting ones.
If you're looking for specific colour combinations when it comes to mustard yellow, a popular favourite is grey and white furnishings with mustard walls, or grey walls with mustard furnishings. Mustard also goes beautifully with dark blue, warm green and pale pink hues. You can use the depth of mustard to highlight lighter colours, or use it to bring out richness in other deep shades.
MUSTARD YELLOW DECOR IDEAS
If you've read this far, you probably want to know some of the best ways to decorate your home using mustard yellow. In truth, mustard can be styled in many different ways, from providing pops of colour to being the main theme of a room - but this can make it tricky deciding where to start! Here are some of our ideas:
Use mustard yellow soft furnishings
One great way to start incorporating mustard yellow into your home is to use soft furnishings, such as curtains, CGID (curtains) blinds, CGID (blinds) cushions, blankets and rugs CGID (home-furnishings). Paired with white or light grey walls, this deep shade of yellow will really stand out. Alternatively, you can use mustard yellow soft furnishings to compliment wooden furniture, such as a yellow rug on a wooden floor or yellow table runner on a wooden dining table. Natural shades of brown are beautifully complimented by the warm shade of yellow.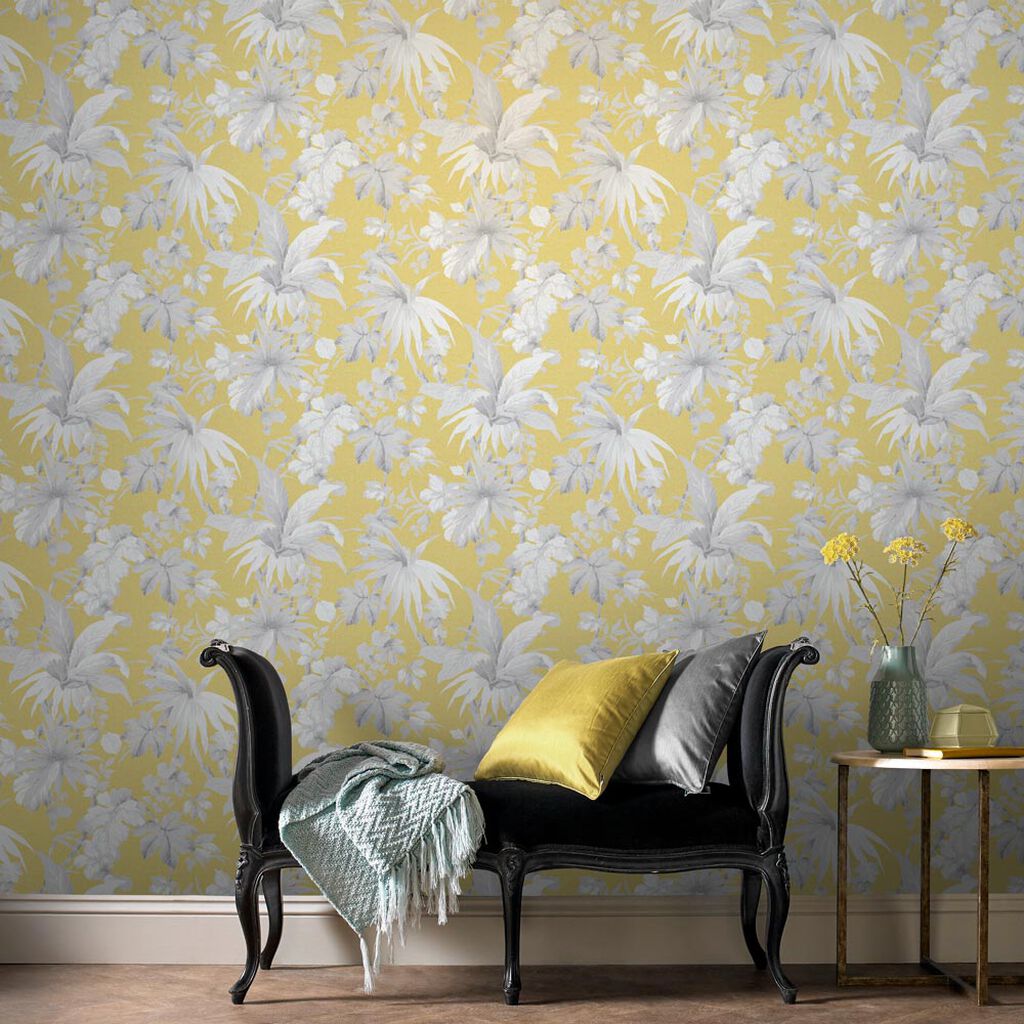 Create a mustard yellow feature wall
Painting one wall mustard yellow whilst leaving the other three walls white creates an eye-catching, but still somewhat understated feature wall. This is ideal for bedrooms - having the feature wall behind your headboard stops the colour from feeling too bright whilst you sleep and gives you a warm, sunny atmosphere as you wake. If you want to be even more daring, you can choose a mustard yellow wallpaper for added texture and design. Combine it with navy blue bedspreads and curtains to create a space that sits between cosy, energising and tranquil.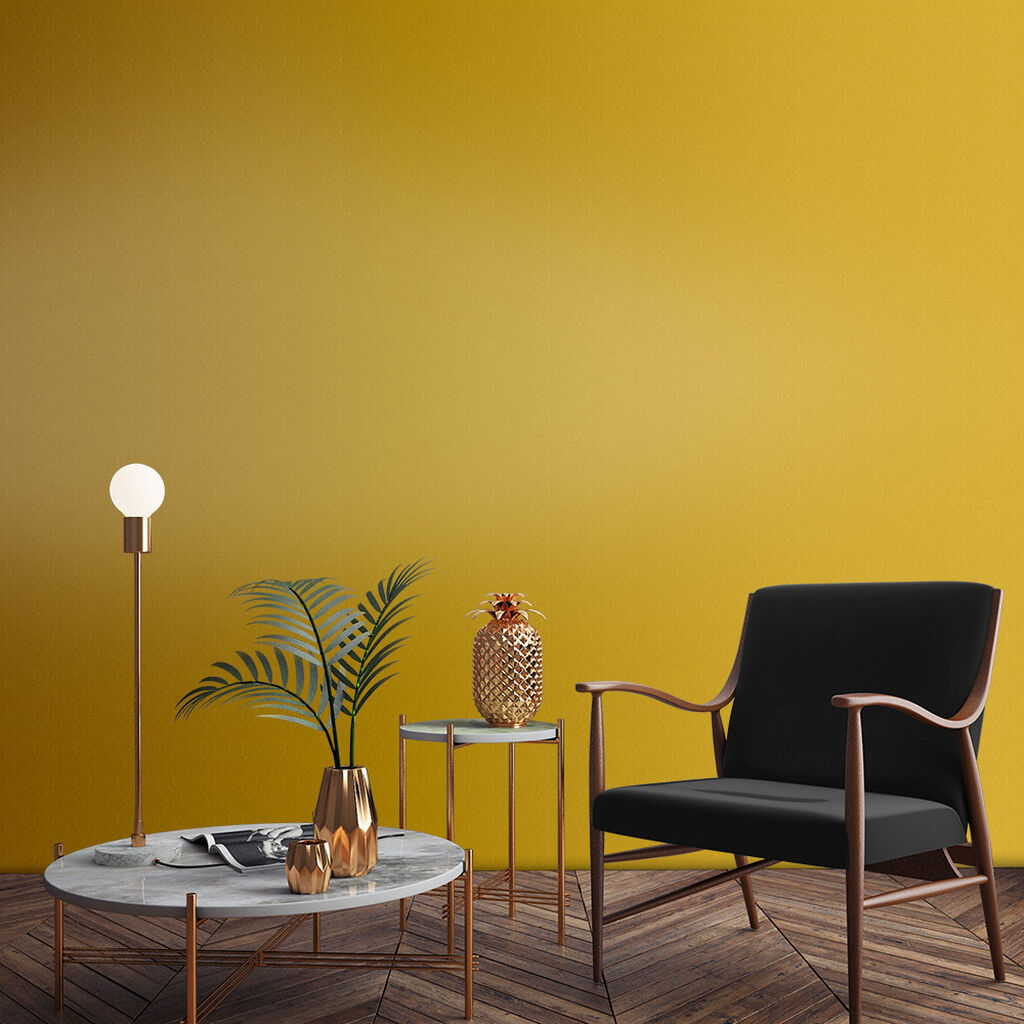 Paint all four walls mustard yellow
Mustard yellow can easily work across all four walls and this is the perfect way to use it as a more neutral, rather than stand-out, colour. Pair it with simple, line art prints or boldly coloured furnishings - you can even decorate with other shades of yellow, such as bright yellow vases or coasters, to create a sunny theme.


Choose mustard yellow furniture
As the popularity of mustard yellow has soared, it has become easier and easier to get your hands on mustard yellow furniture. Choose statement pieces, such as a mustard yellow sofa, and rest it up against a navy blue or pink wall. Mustard yellow lamps would also sit perfectly beside a charcoal or dove grey sofa, or on wooden side tables.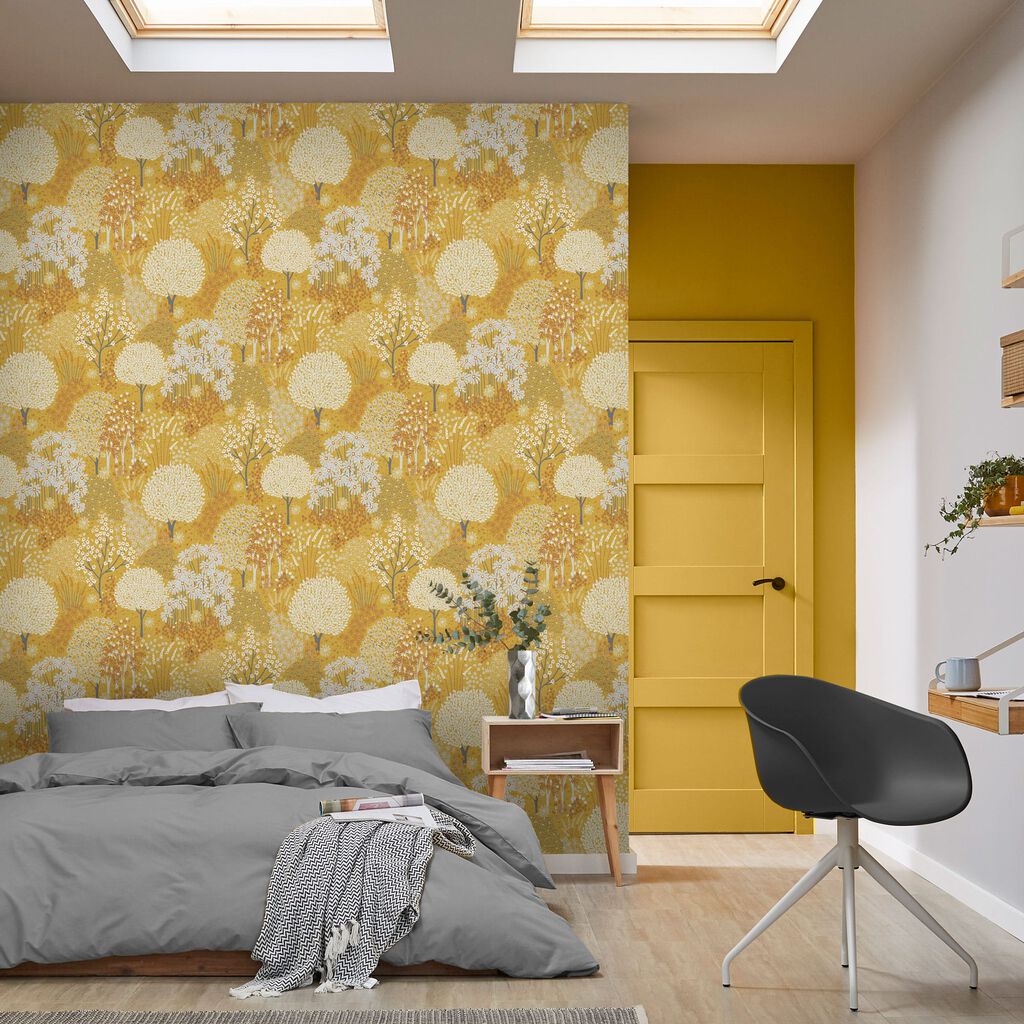 OUR FAVOURITE MUSTARD YELLOW PAINTS, WALLPAPERS & SOFT FURNISHINGS
Now you have an idea of how to use mustard yellow in your home, it's time to find the perfect product to make it happen. These are some of our absolute favourite mustard yellow paints, wallpapers and soft furnishings:
Zen Saffron Wallpaper
A silver metallic finish intertwines with vibrant mustard yellow in this geometric design, inspired by traditional Japanese Shoji screens. The two colours of our Zen Saffron wallpaper complement each other perfectly, with the yellow heightening the grey and the grey levelling out the yellow. The result is a subtle yet bright finish, ideal for using across all four walls in living rooms, bedrooms and hallways.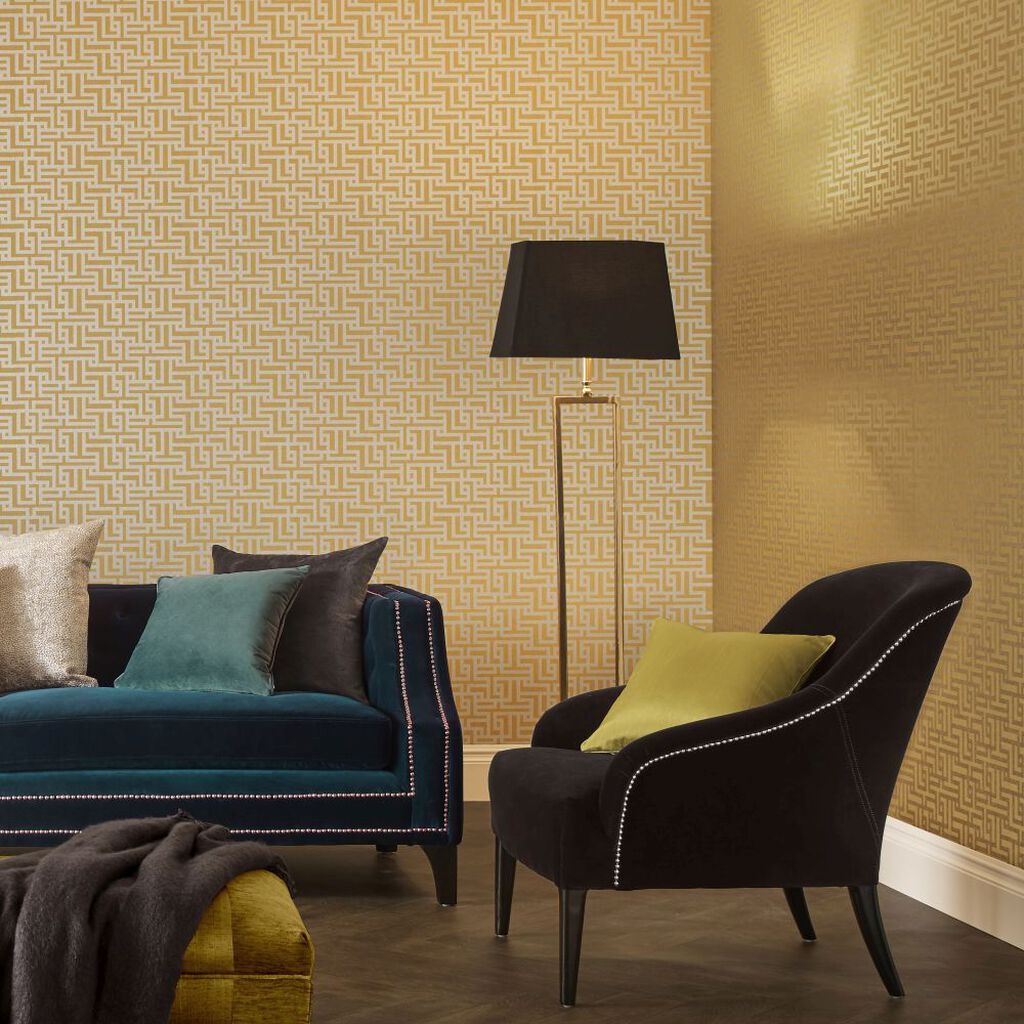 Glasshouse Mustard Wallpaper
Gloriously distinctive, fresh and vibrant, our Glasshouse Mustard wallpaper features an exotic pattern of birds and foliage against a mustard yellow backdrop. Loud and proud without sacrificing elegance, this wallpaper comes into its own when used to create a statement feature wall.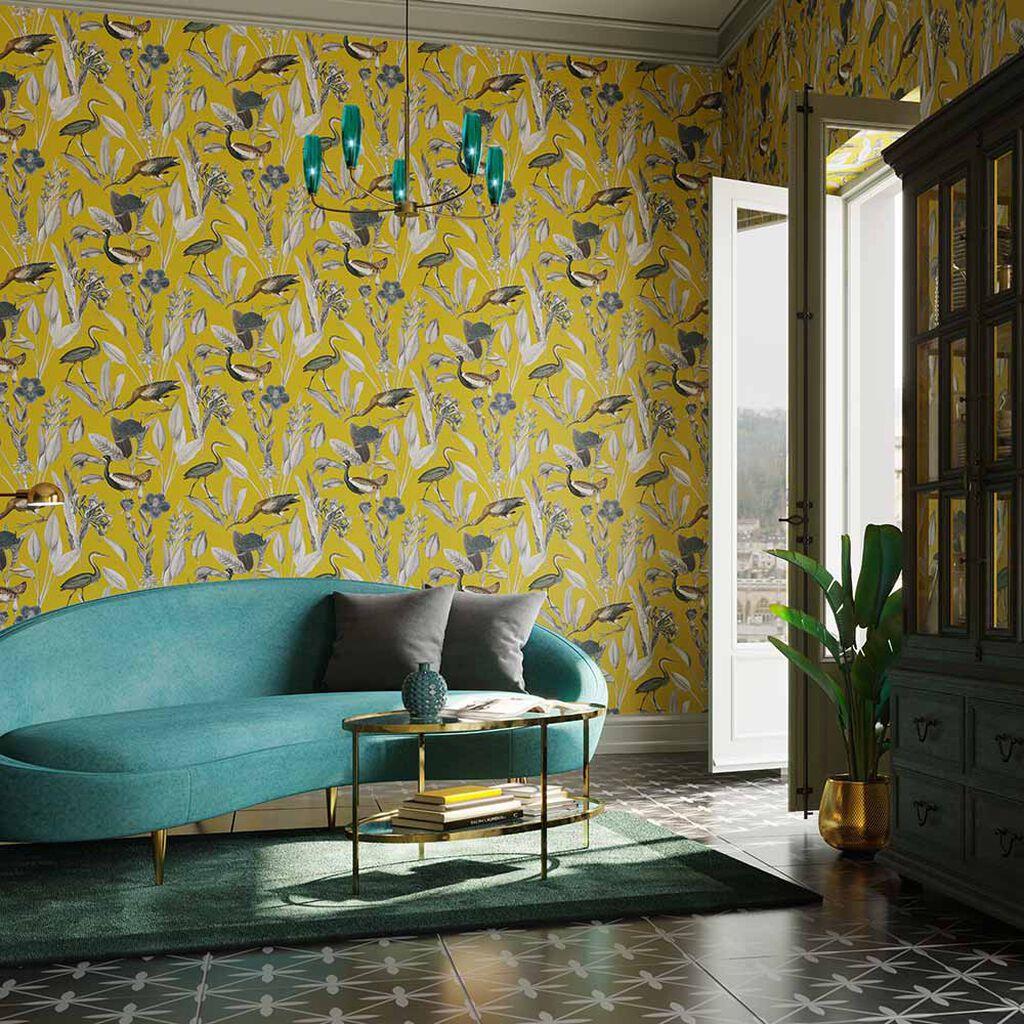 Linum Mustard Roman Blind
Showcase the impressive richness of mustard yellow and add some texture to a room with our Linum Mustard roman blind. Use one of the wallpapers above around your window to emphasise the colour, or combine with a grey backdrop and furnishings.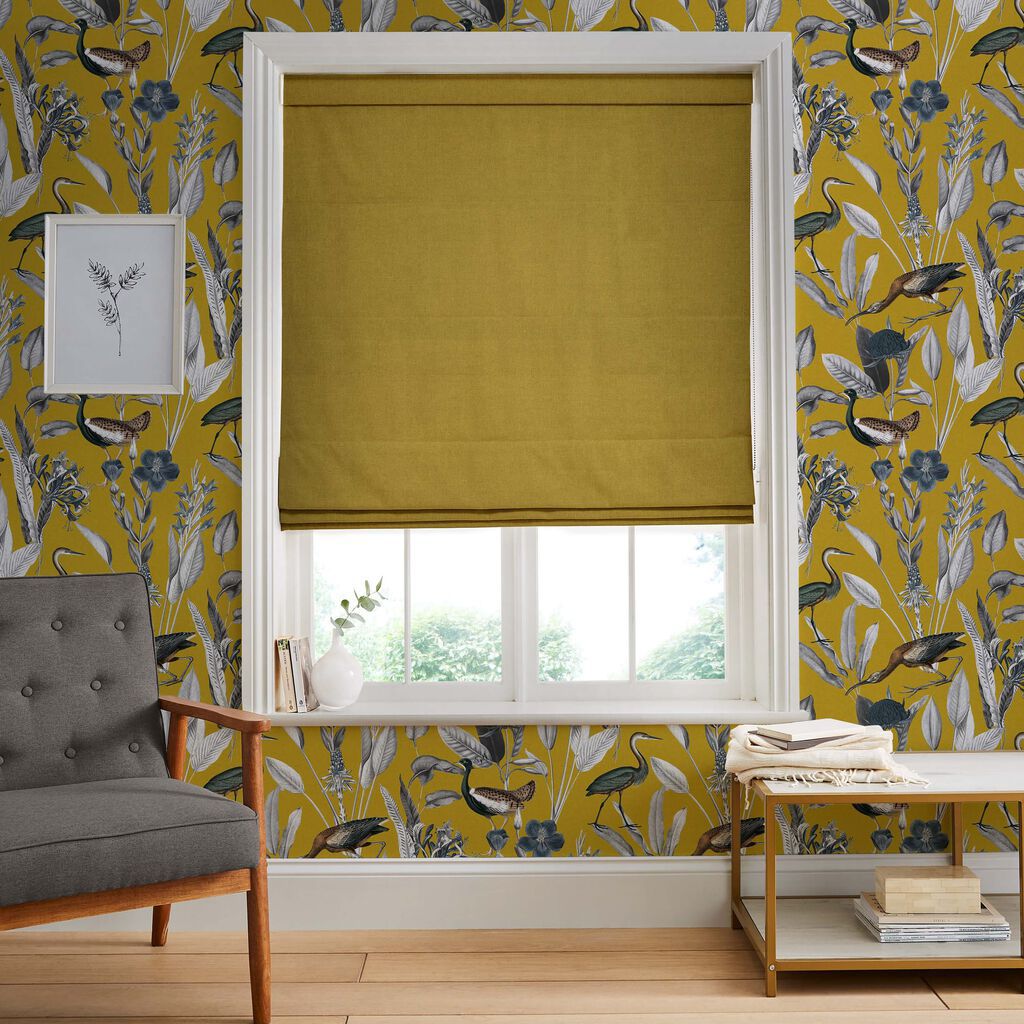 Serenity Mustard Curtains
Bringing together the softness of velvet and the intricately woven tones of linen, our Serenity Mustard curtains are a beautiful way to show off the complexity of mustard yellow. Create a sophisticated colour palette by painting the walls navy blue or dark grey and really make the most of these curtains.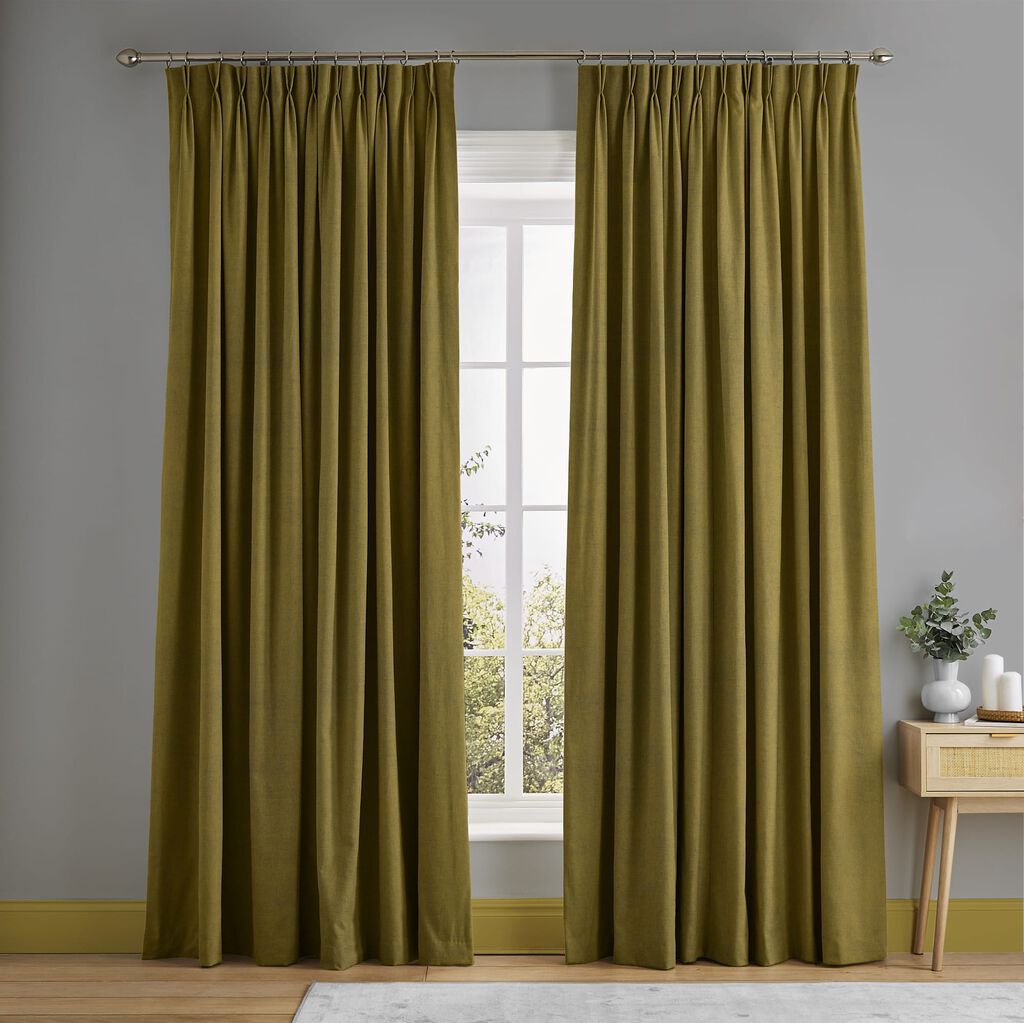 Funkytown Paint
Reminiscent of mustard yellow's rise to popularity in the 70s, our Funkytown paintis for anyone who wants to embrace the colour's retro roots. Effortlessly cheery, this shade of mustard can be paired with other fun and bold colours.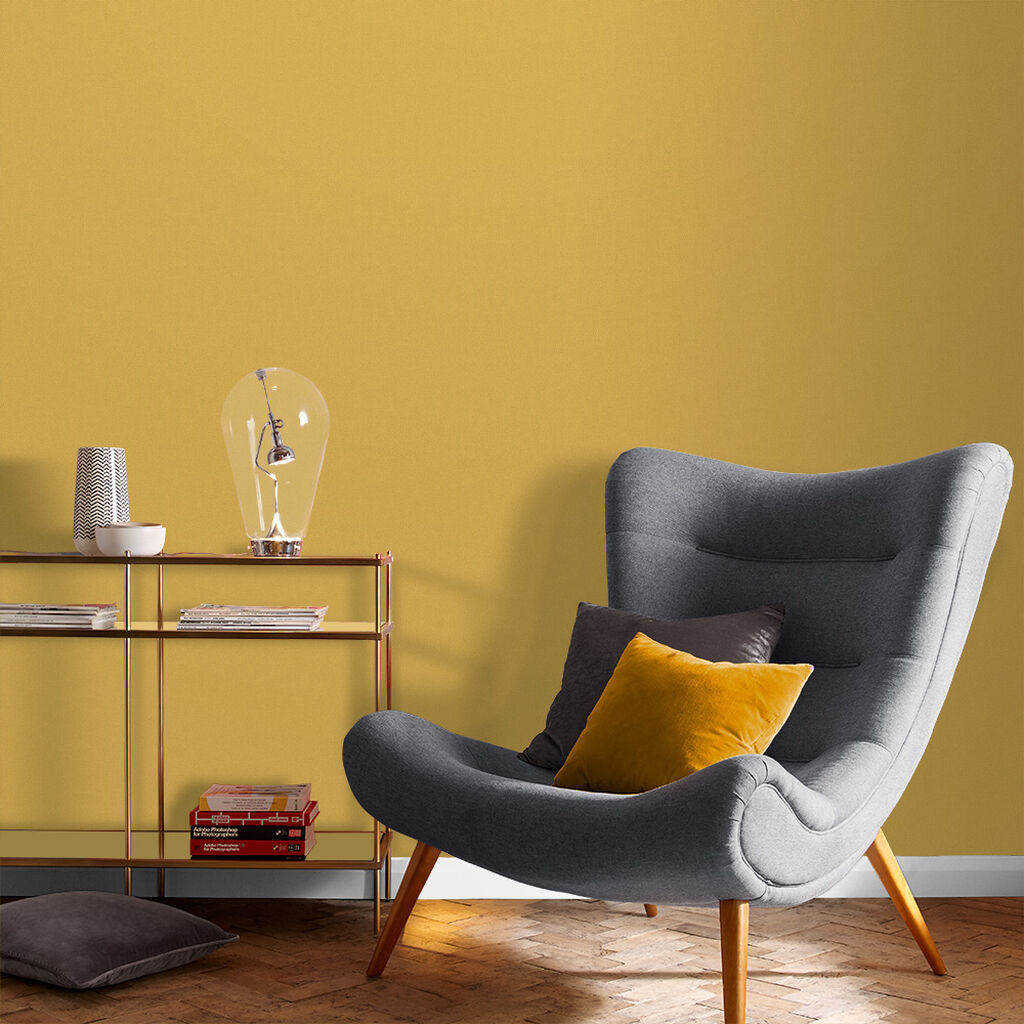 Aurelia Paint
Our Aurelia paint takes classic mustard yellow and pushes it slightly closer to gold. Deep but maintaining a bright and energising essence, Aurelia creates a subtle sense of opulent femininity.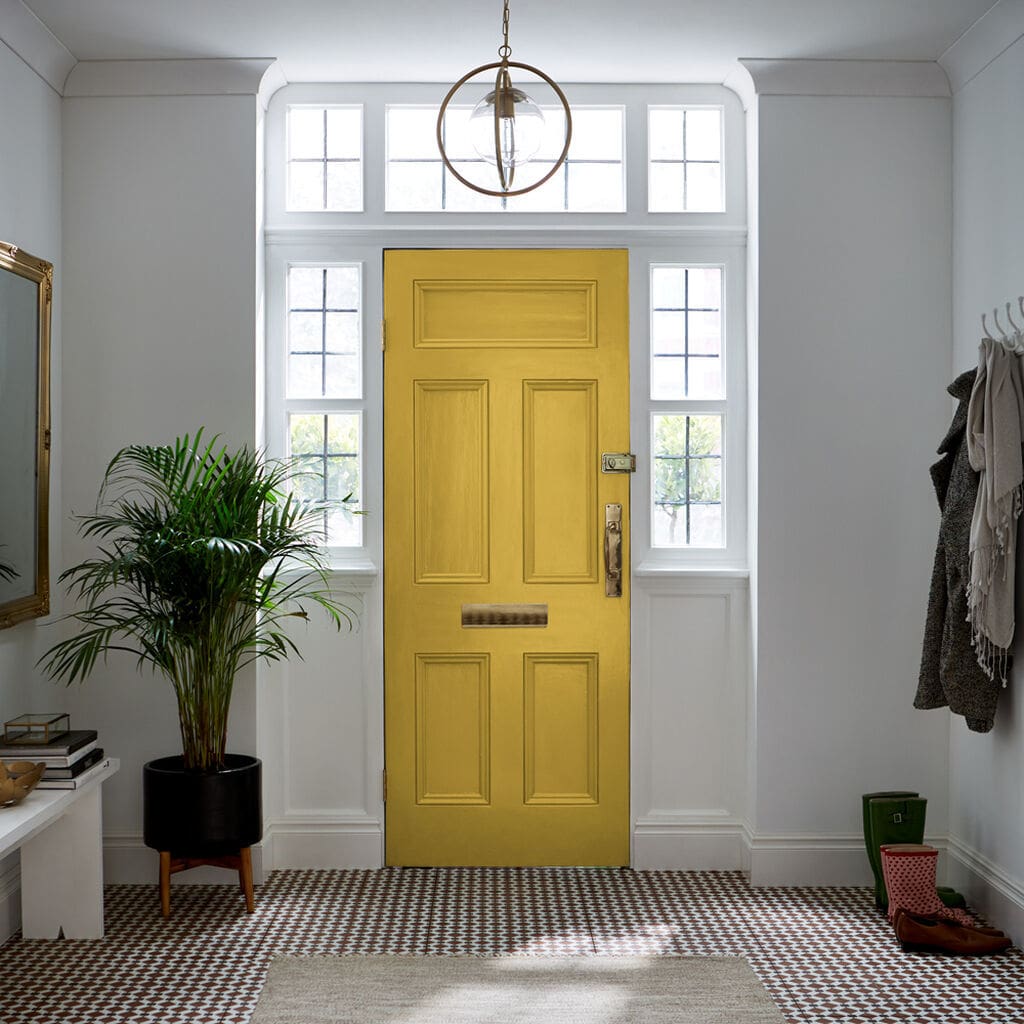 Want more interior design inspiration? Take a look at our hallway paint ideas or find out how to create a cosy home using wallpaper.