Inspiration
How To Use Wallpaper To Create a Cosy Living Room
Using wallpaper and adding accessories for those finishing touches
For days when you want to draw the curtains, curl up on the sofa and relax, having a comfortable and cosy living room to totally unwind in is vital. From adding some indulgent touches to your interior, to a clever use of warm wall coverings, there are plenty of ideas on how you can make your lounge a place you'll want to retreat to.
Find out the best way to create the ultimate cosy living room with our handy tips and techniques – they're bound to ensure success in your next decorating project...
PLAY AROUND WITH DIFFERENT TEXTURES
Ensure your living room is a place you'll want to relax in and add texture into the mix. When we think of adding texture to our homes we instantly think of a chunky knit throw or beautiful velvet cushions to curl up in with a good book, but this isn't the only way.
Textured wallpapers are understated yet beautiful and instantly add depth and definition to your living room walls. The subtle patterns within this type of cosy wallpaper add colour, detail and warmth – perfect for the entire space. Stylish and high quality, a textured wallpaper can also hide a multitude of imperfections, as each is printed on a heavyweight vinyl substrate to help give a smooth appearance on the wall.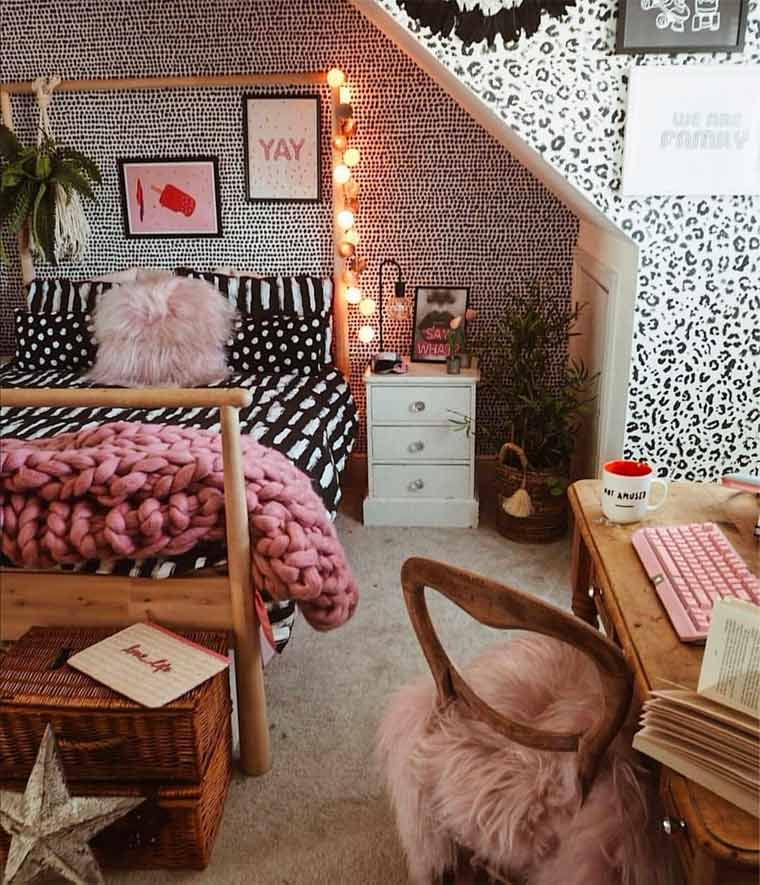 @danielelouisedought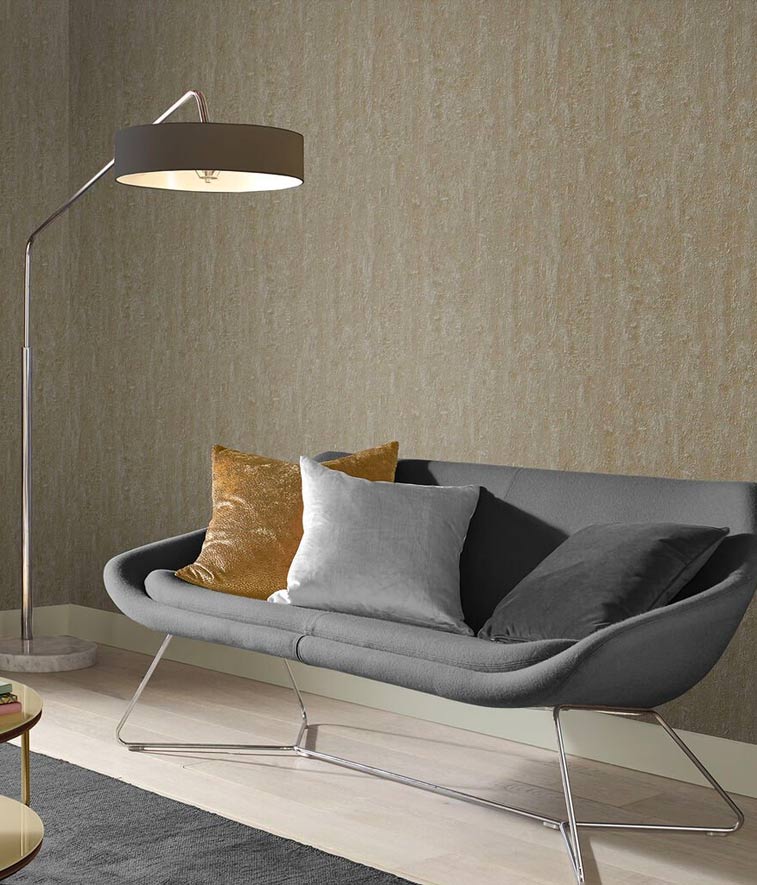 Orbit Gold 105858
USE OF LUXE, EMBELLISHED WALLPAPER
Embellished wallpaper is another way to add a cosy texture to your living room, whether flock or bead, this luxurious added detail creates definition and adds an opulent feel. It's a striking choice in both warming neutrals and rich, statement tones.
Combine these statement designs with velvet furniture and high-shine metallic accessories for a soothing combination of cosy opulence.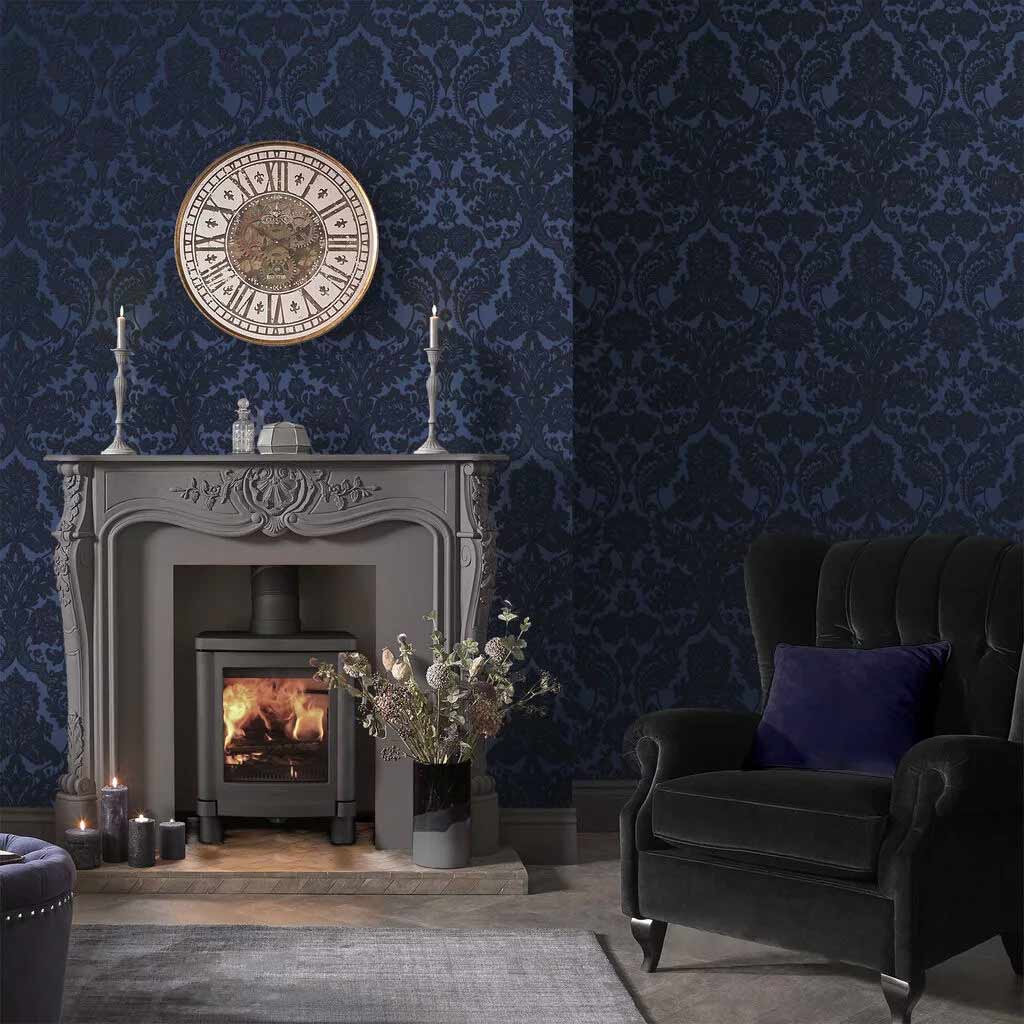 Gothic Damask Flock Cobalt 104563

USE DEEPER TONES AND JEWEL SHADES
Another common perception of a cosy living room is that you need to style with neutrals. In neutrals we do trust - and we are enduring fans - but deep tones can be equally as warming.
Wallpapers with dark backgrounds create a cocoon of cosiness and create a sumptuous base to layer with rich, jewel shades for vibrant warmth. Think a warm wallpaper in emerald green, citrine yellow, ruby red, sapphire blue, or amethyst purple.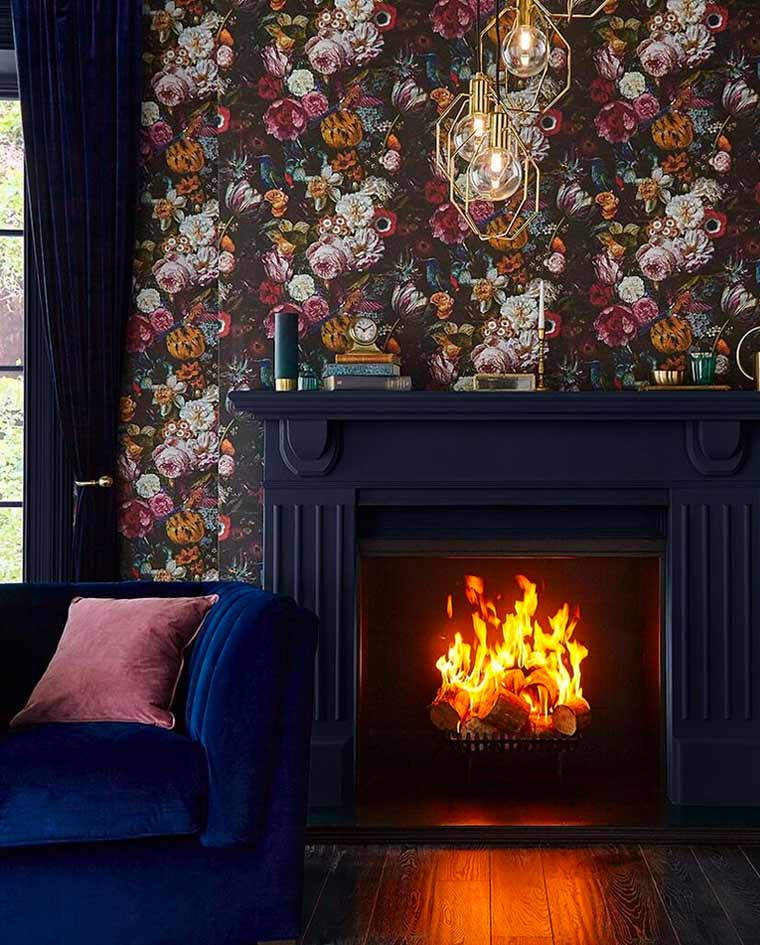 Allure 106443
@layered.lounge
USE WARM, SOFT LIGHTING
Don't be shy to use patterned wallpaper if your main aim is to create a cosy living room, but lighting is just as important when it comes to creating a much-desired atmosphere. Let your pattern shine through – whether it's stripes, florals, or even geometric shapes – but aim for soft background lighting such as a table lamp for a warm glow.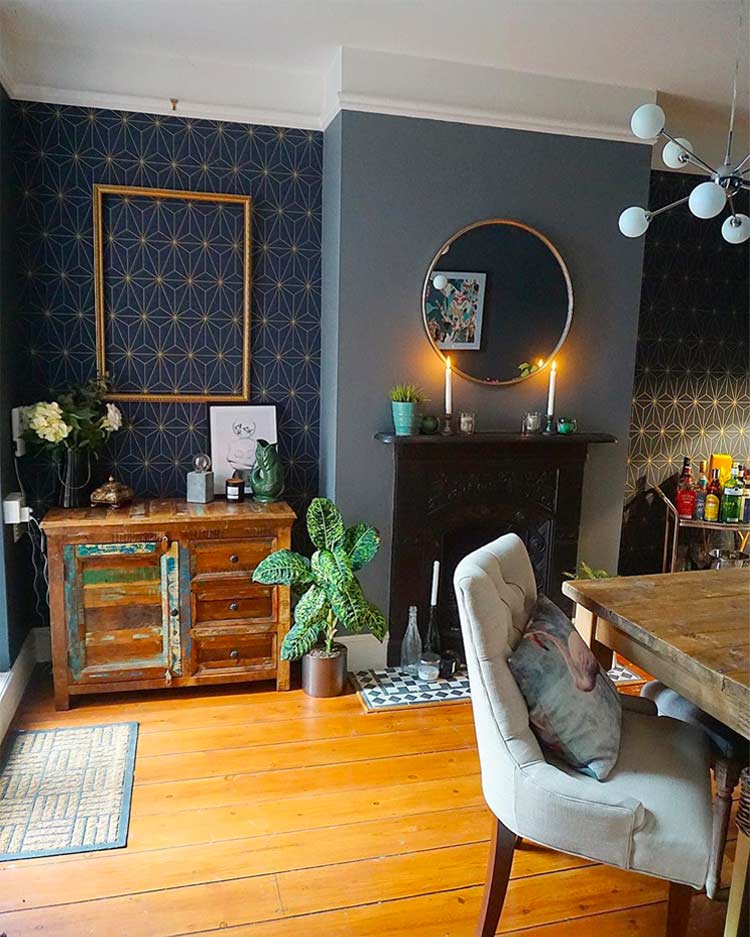 @endoftherow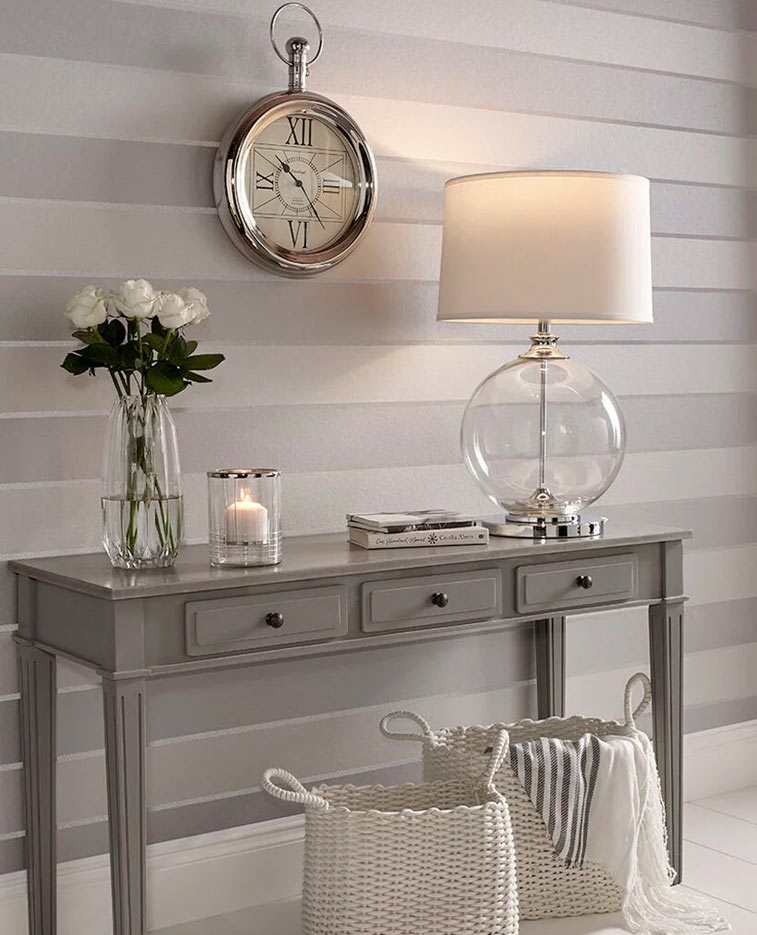 Baroque Bead Stripe Platinum 10382
TRY METALLIC WALLPAPER
Metallic interiors aren't just for Christmas. We love to indulge in some on-trend metallic all year round. Wallpapers with metallic accents have a warming effect, they catch the light beautifully and disperse a warm glow around your home. Position metallic wallpapers near a natural light source such as a window, for different levels of shine from day to night, creating a cosy home with a luxe twist.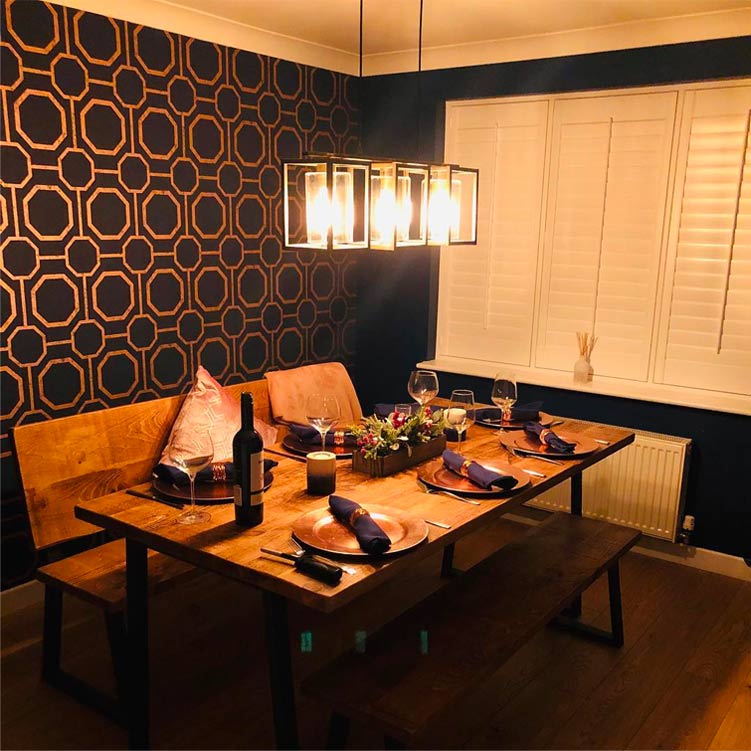 @projectourhousetohome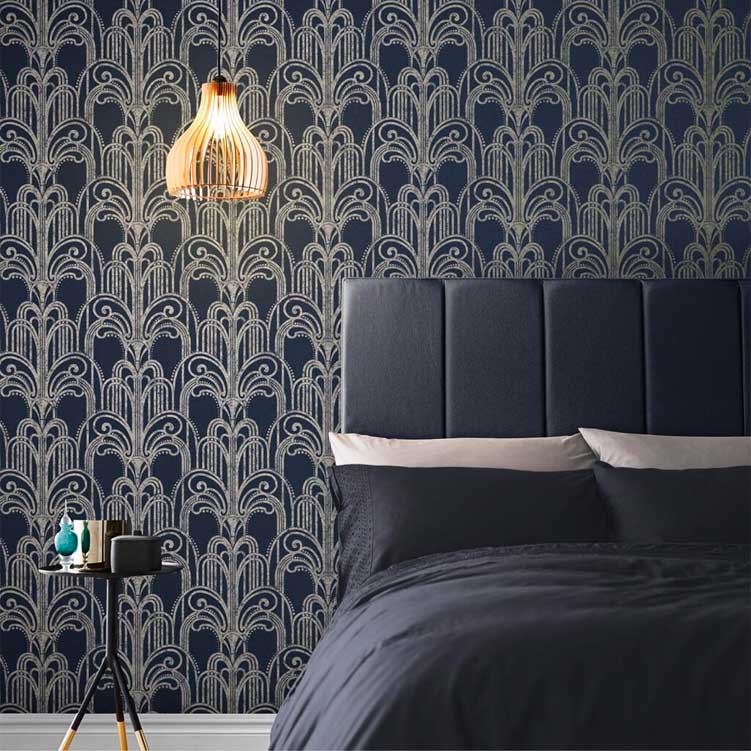 Art Deco Midnight 105920
BRING THE OUTSIDE IN
Lastly, we couldn't finish without showing some appreciation to a cosy style staple. Embracing an organic, natural feel and bringing the outside in has quickly become an interior design classic.
Ultra-cosy palettes of warming neutrals and greys bring to life eye-catching wallpaper designs of intertwining trees, trailing leaves and delicate florals.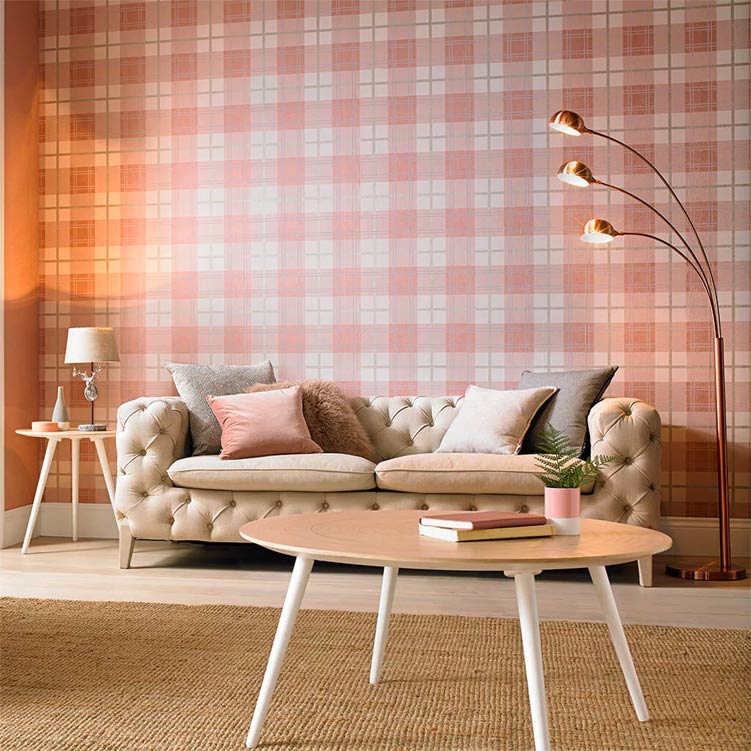 Tartan Pink Wallpaper 104723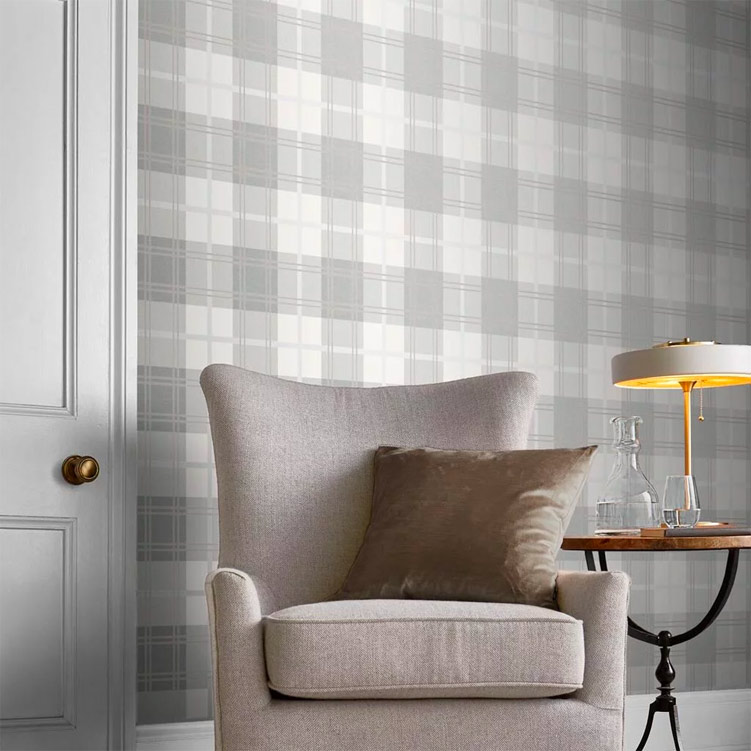 Tartan White Wallpaper 105905
LAYER YOUR HOME ACCESSORIES IN GROUPS
A key styling tip? Follow the rule of three! Consider arranging your home accessories in groups – but just make sure they're of varying sizes.
Arranging them in groups of odd numbers also works, as this tends to naturally capture your gaze, making them look more appealing and memorable. You can use this design strategy to brilliant effect with everything from cushions and wall art, to plants and vases.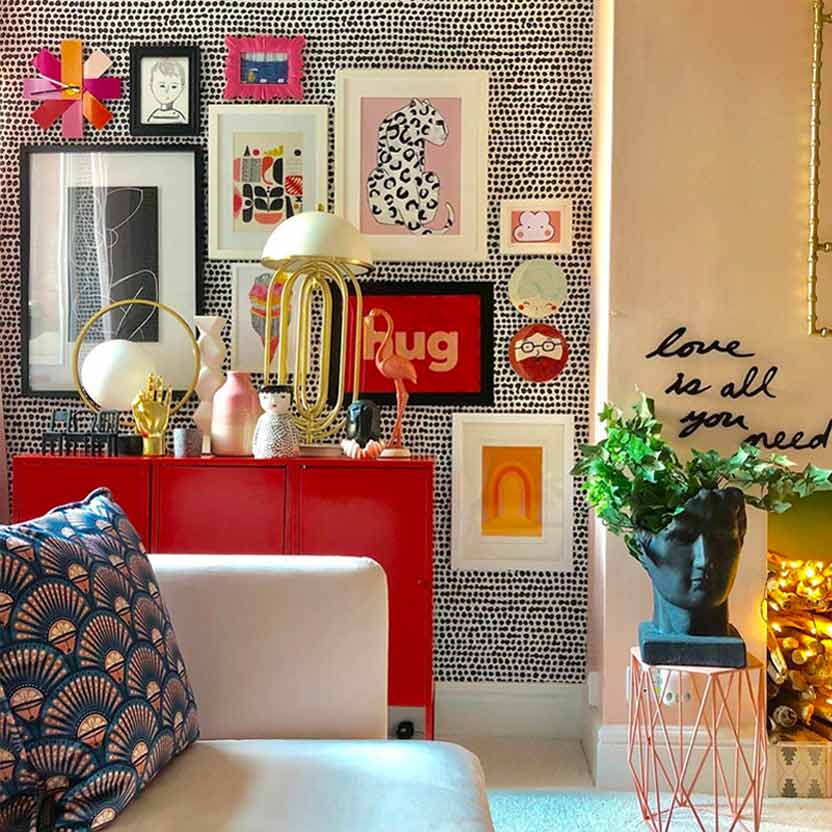 @nudeandthenovice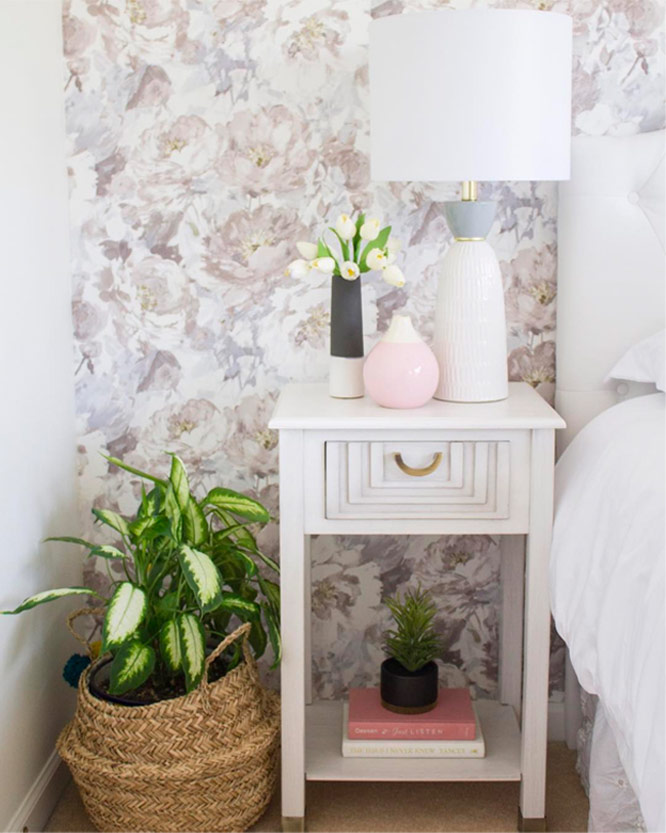 @loveyourabode
OUR FAVOURITE WALLPAPERS TO CREATE A COSY LIVING ROOM
Looking to create a warm and snug lounge to relax in? Here at Graham & Brown, we've got plenty of exclusive wallpaper designs that will work seamlessly in your living room and make it a much more inviting space.
1. ART DECO NATURAL WALLPAPER
Ceilings are often overlooked when you're refreshing home décor, but can have a major impact on the cosiness of your living room. Although adding colour, pattern or texture to your ceiling with wallpaper may still be an unconventional decorating idea, it's one that certainly has the wow factor. We love the warm, neutral hue, soft gold metallic highlights and 1920s-inspired print on our Art Deco Natural wallpaper to achieve the look.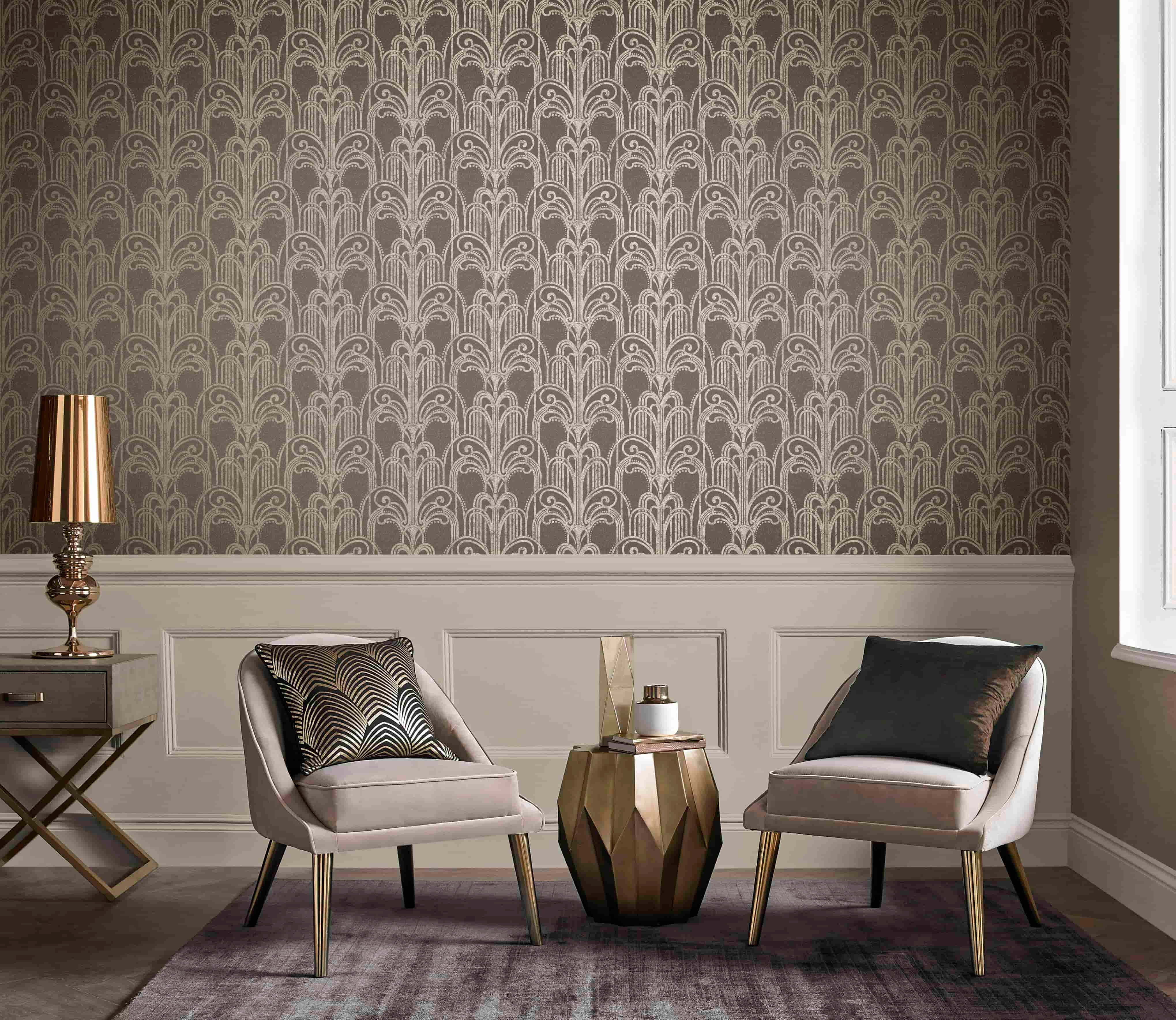 2. WOOD GRAIN NATURAL WALLPAPER
One of the best ways to add a warm, rustic feel to a cosy living room scheme? Wood! Offering up a great way to soften your space, use a wood-effect wallpaper on all four walls or as a feature. Ideally suited for that true hygge haven, our Wood Grain Natural wallpaper combines a soft, neutral palette with an organic design.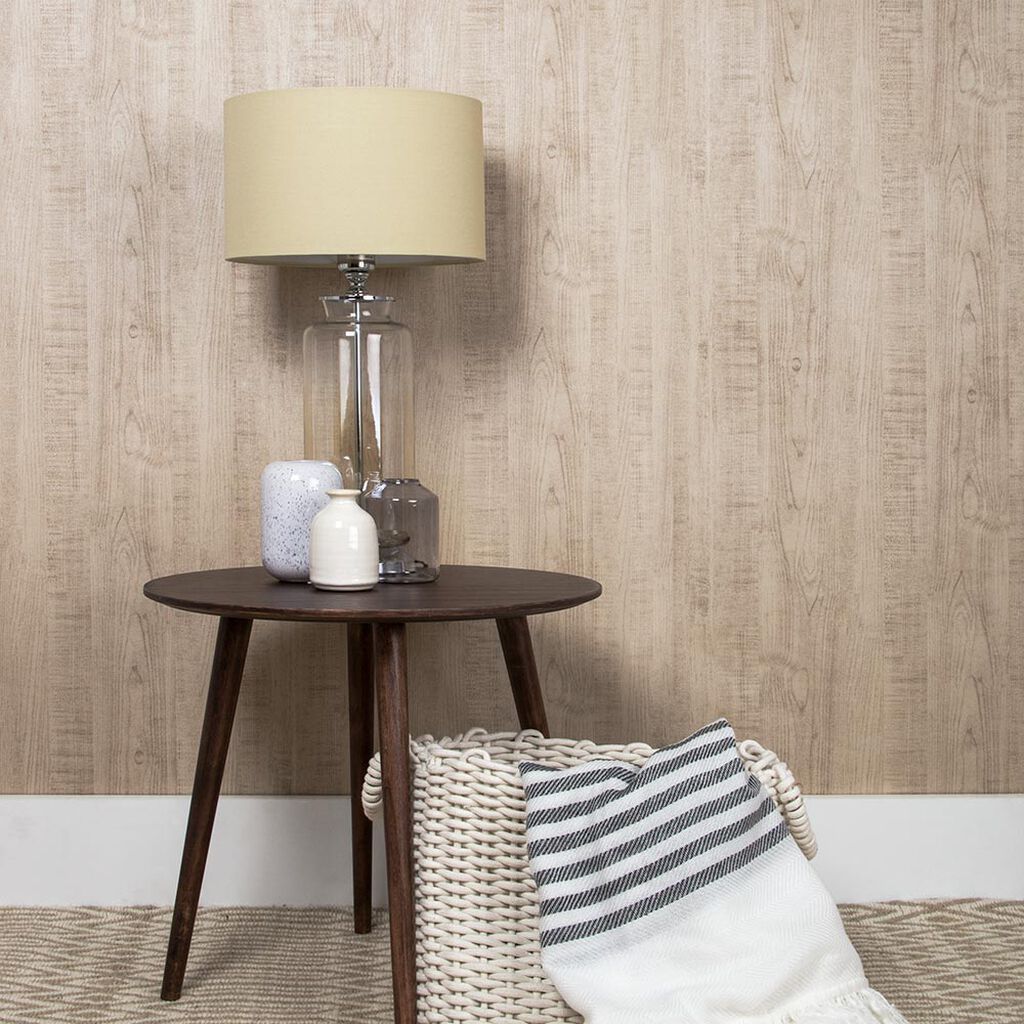 3. MIDNIGHT NAVY WALLPAPER
Decorating with rich and deep colours is an effective way to give an impression of cosiness and warmth, which is why our Midnight Navy wallpaper is one of our favourites. The understated design and gorgeous navy hue offset the luxurious textured finish for a truly elegant aesthetic.