Inspiration
What is Japandi Interior Design?
If you're a close follower of interior design trends, you've probably heard of Japandi - one of the latest takes on minimalism.
What it is and how to use the style in your home.
If you're a close follower of interior design trends, you've probably heard of Japandi - one of the latest takes on minimalism. This blog is here to tell you all about the key features of Japandi, why it's becoming so popular and how to implement the style in your own home.
What is Japandi?
Japandi is a style that combines the simplicity of Japanese aesthetics with the functionality of Scandinavian design. It embraces the Japanese concept of wabi sabi, which in simple terms, means finding beauty in imperfection. The result of this is that Japandi design welcomes flaws and encourages the mending and recycling of items. This comes together with the Scandinavian concept of hygge, used to describe any place that embodies comfort, cosiness and a general sense of wellbeing. Warm fireplaces, wooden furnishings and knitted blankets are all essentials for a hygge household.
With the combination of these concepts, Japandi is born. It's a style that is minimal but not stark; cosy but not stuffy. It is truly the best of both worlds.
How is Japandi Different from Minimalism?
One of the main differences between these two styles is their origins and purpose. Minimalism was born out of the Japanese concept of a zen lifestyle - one that encourages calmness and clarity. When this is applied to interior design, you are left with clean lines with a very minimal use of accessories. Minimalism is the name given to a movement, rather than just an aesthetic: it is a whole way of life.
Japandi, on the other hand, is much more of an aesthetic style rather than an extension of a broader lifestyle or concept. It comes from combining aspects of minimalism with aspects of Scandi design to create clean, warm and simple interiors.
How do Japanese and Scandinavian Designs Complement Each Other?
The classic Scandi interior designs that we know today came from a need to create warm and inviting spaces in Scandinavia, which is a very cold country. This meant bright walls with cosy furnishings, and the use of curved geometrics like round mirrors and archways. The Japanese style is sleeker but employs richer colours, such as dark natural woods. Both styles have a focus on functionality and any accessories you see will likely be essentials rather than decorative frills.
When these two styles come together, you get a space that is both welcoming and simple, combining cosy natural elements and furnishings with neutral colours and simple, functional decor.
What are the Key Elements of Japandi Interior Design?
Neutral Colours
A room designed in the Japandi style will likely use a neutral colour palette of whites, creams, beiges and browns. Muted hues are given precedence and you can expect very minimal use of bright or bold colours. Walls are often painted an off-white and furnishings are usually beige or brown. If there are brighter colours, they will likely come from a natural source, such as flowers.
Sustainability
Japandi encourages the use of natural materials, such as wooden furniture and flooring. The emphasis on simplicity also means a lack of excessive lighting or plastic accessories, making Japandi the perfect style for anyone looking to go green in their homes.
Aesthetic functionality
One of the most important things to remember about Japandi is that it is very aesthetically oriented, whilst still having a focus on functionality. Functional items, such as lamps, tables and sofas, are purposefully chosen, with equal weight given to both their utility and aesthetic value. Complementing colours, textures and shapes create an interior that is pleasing to the eye without being over-cluttered or using non-functional items.
How Do I Start Decorating in a Japandi Style?
If you're interested in Japandi design, here are a few ways to get started:
Declutter
To create a Japandi style in any room, it's important to declutter. Consider your possessions in terms of their functionality and aesthetic and prioritise objects made from natural materials. If you have a busy home where this becomes a very difficult task, consider storage options such as woven baskets and wooden containers.
Invest in long-lasting, well-crafted furniture
Since Japandi encourages longevity and the continual use and reuse of furnishings, you should look for furniture that will stand the test of time. Try to avoid buying one-use objects for your home, or anything made from materials that will harm the planet. The best furnishings are ones that will work with your decor for years to come.
Use plants as accessories
If you're fond of splashes of colour, one of the best ways to introduce them in a Japandi home is by using plants. Leafy greens sit beautifully against a neutral backdrop, and plants are very in-keeping with Japandi's focus on outdoor, natural elements.
Choose muted colours
Stay away from bold paints and busy wallpapers and instead take a look at simple designs and muted colours. The base palette of a Japandi room is made up of off-white and beige shades, which emphasise simplicity, create an inviting, bright atmosphere, and complement natural furnishings.
What are the Best Japandi Paints and Wallpapers?
If you're ready to start redecorating a room in the Japandi style, it's important to have a good idea of which paints and wallpapers work best. Here are some of our favourites:
Hygge Paint
Our Hygge paint is inspired by the Scandi hygge trend, which is an important part of Japandi style. A warm shade of grey with slight yellow pigmentation, it is the perfect backdrop for a Japandi room.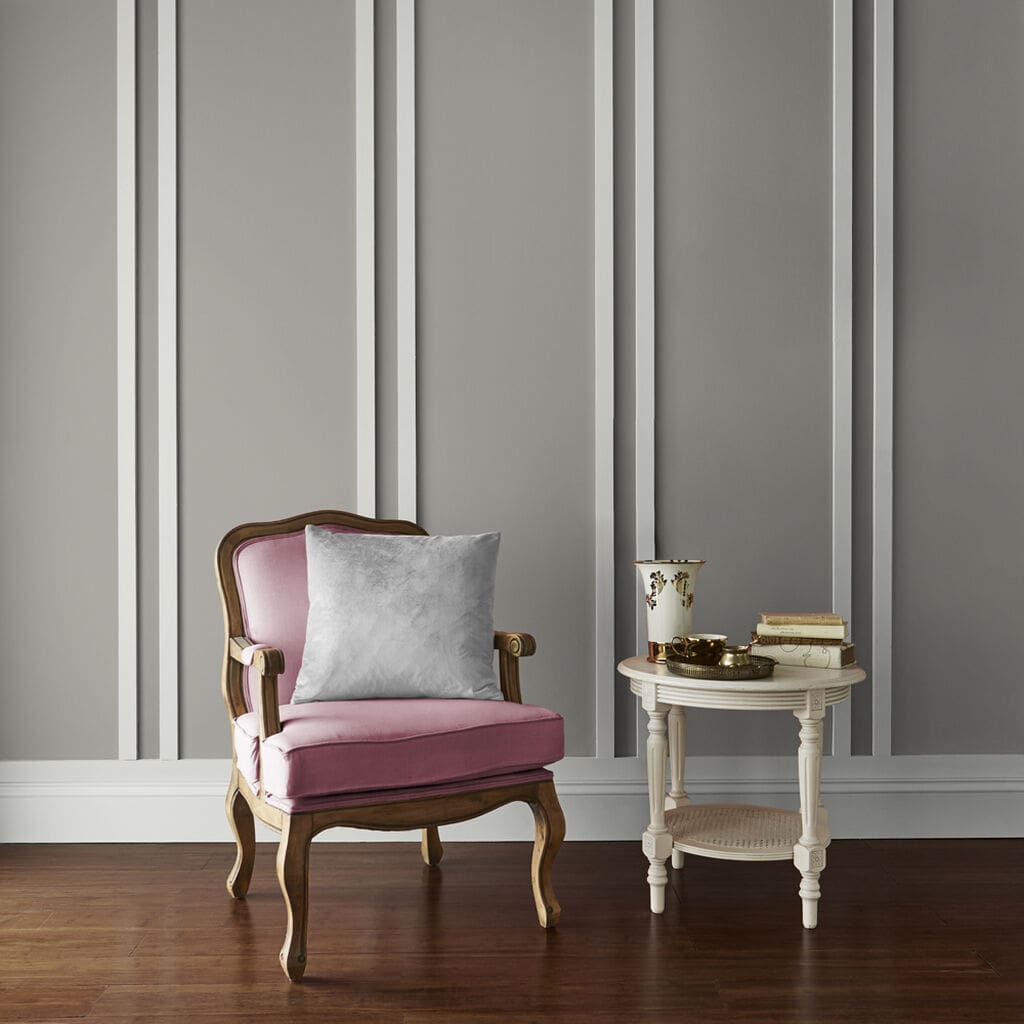 Linen Beige Wallpaper & Samantha Paint
If you want to add some texture to your walls, our Linen Beige wallpaper is the ideal choice. Inspired by the breathable nature of linen, this is an extremely livable textured wallpaper with intricate, yet very subtle, detailing. You can use it on all four walls or combine it with Samantha - a beige paint with a flawless finish.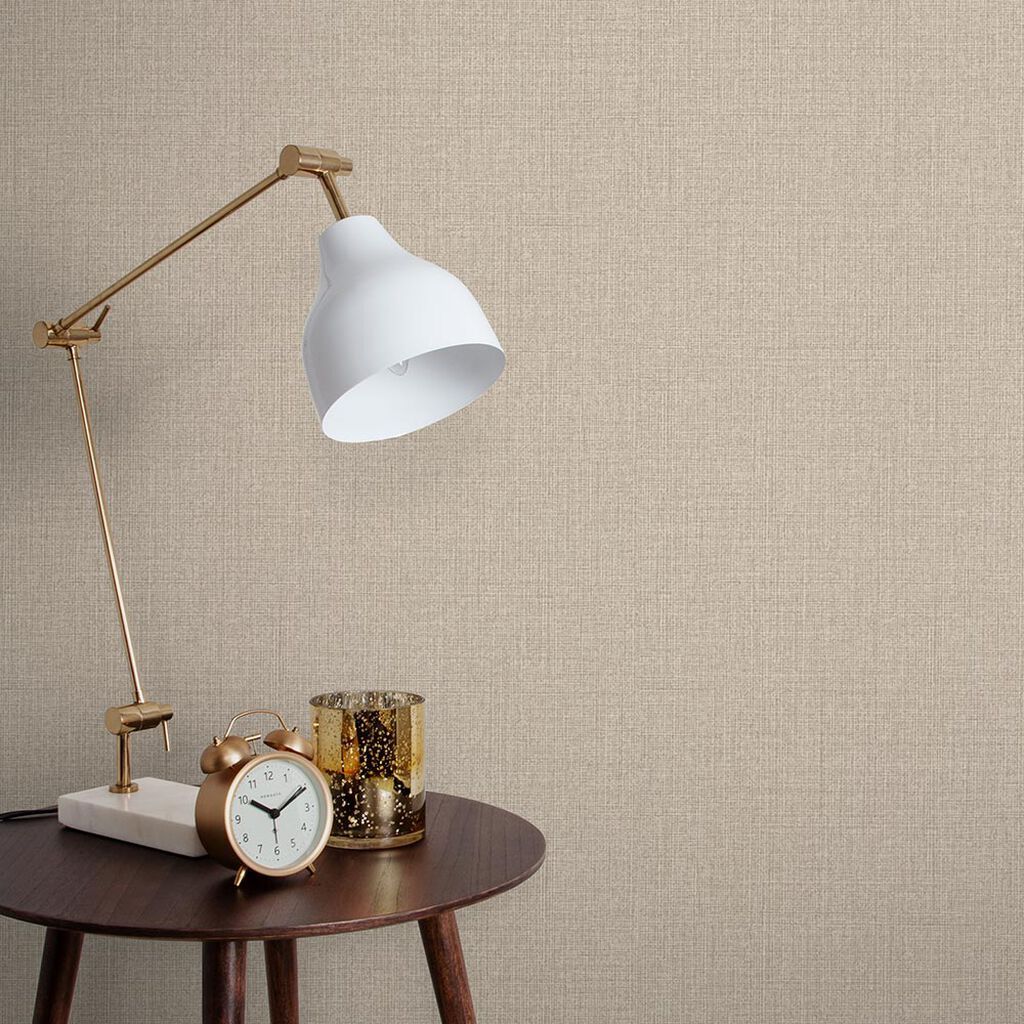 Smoky Night
Dark, modern and sophisticated, Smoky Night is a grey paint that embodies the essence of minimalist Japanese trends. It's a great choice if you're planning to offset your room with lighter wooden furnishings or green plants.


Gowns and Crowns Paint
Gowns and Crowns is a neutral shade with a touch of opulence in its finish. It is the perfect combination of both natural and warming, ideal for a Japandi backdrop.


Origin Ground Wallpaper
Our Origin Ground Wallpaper strips things back to their roots. It's rich brown colour palette and subtle detailing makes for a soothing yet luxurious feel. Reminiscent of wood grain texture, it is perfectly in-keeping with the Japandi aesthetic.
If you want to learn about other interior design trends, take a look at our favourite cottagecore wallpapers and explore the Graham & Brown Inspire page.