How To
How to Paint Behind a Radiator
We're here to tell you the two best ways to paint behind a radiator.
We're here to tell you the two best ways to paint behind a radiator.
When it comes to painting a room, most things are fairly straightforward. There might be a couple of tricky corners and a windowsill, but not much that takes a huge amount of head scratching.
That is unless you have a radiator. However good they are at keeping a room toasty warm, radiators can feel like the bane of your existence when it comes to redecorating. That's why we're here to tell you the two best ways to paint behind a radiator.
Method 1.

REMOVE THE RADIATOR

The most obvious way to paint behind a radiator is to take the radiator off your wall. It might sound like a lot of hassle, but if you've got another pair of hands to help it's a job you can get over and done with in an afternoon!
WHAT YOU WILL NEED:
Dust sheets/floor protectors
Bucket
Spanner
Sponge & sugar-soap solution
Sandpaper
Paint brush/paint roller & rolling tray
1.

PREPARE THE AREA

It's likely that your radiator has been attached to the wall for a very long time. Dust and general grime will probably have been building on the side you can't see, plus you're going to have to drain the radiator water. To avoid any of this coming into contact with your flooring, put down some protective dust sheets that you can place your radiator on once it has been removed from the wall.
2.

TURN THE HEATING OFF

The last thing you'll want when removing your radiator is for it to be piping hot. Make sure to turn off the central heating well in advance so that the water inside your radiator has completely cooled before you set to work.
3.

TURN OFF THE RADIATOR VALVES

Turn the valves on either side of your radiator off by twisting them anti-clockwise. When it comes to turning off the lockshield valve, count how many times you need to turn it and write down this number. This is so you can bring your radiator back to the same 'settings' once you turn it on again later.
4.

REMOVE THE RADIATOR FROM THE WALL

Use your spanner to loosen the nuts that are between the valves and the radiator, taking care not to let the water spill out. Then, preferably with someone helping you, lift the radiator away from the wall, keeping it over the dust sheet. Tip it to one side to drain the water into a bucket, and then place the radiator down on the dust sheet.
5.

PAINT BEHIND THE RADIATOR

Now that your radiator is out of the way, you can get to painting! Take your sponge and sugar-soap solution to clean the area, then wait for it to dry. You may also want to sand some parts down so help you get an even finish. Then, using either your paintbrush or paint roller, apply a layer of your chosen paint to the wall. Once it has dried, you may want to apply a second coat.
6.

REPLACE YOUR RADIATOR

Once your paint has dried, it's time to reattach your radiator to the wall. Use help to lift the radiator and put it back into its wall brackets, replace the nuts and tighten up the valves. Only tighten the lockshield valve by as many turns as you loosened it with. Once everything is back in place, open the radiator vent at the top in the same way as you would when bleeding it. Leave this open until water starts to come out and then close it again.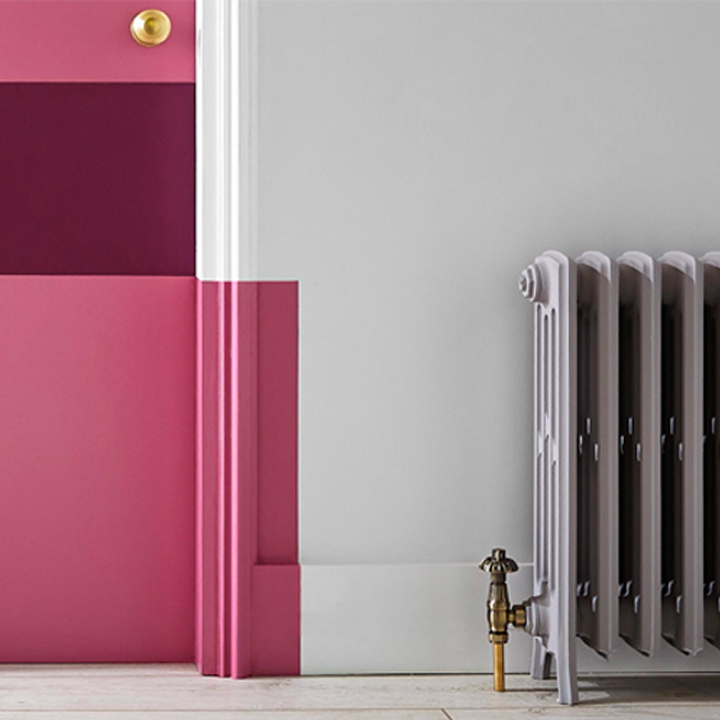 Method 2.

PAINT BEHIND THE RADIATOR WITHOUT REMOVING IT

Although removing the radiator is the best way to get a truly professional and tidy finish, we're definitely not above cutting a few corners. If you want the space behind your radiator to get a new lick of paint but aren't interested in getting your hands too dirty, this is the method we suggest.
WHAT YOU WILL NEED:
Narrow strip of wood (e.g. bamboo cane)
Sponge
Stapler
Scissors
Dust sheets/an old blanket
Masking/parcel tape
1.

CREATE A DECORATING TOOL TO REACH BEHIND YOUR RADIATOR

Although it is possible to buy long and thin paint rollers, you'll be hard pressed to find one that manages to reach all those far-away, sneaky spots behind a radiator. That's why many people choose to create their own homemade decorating tool, using a strip of wood and some strategically-placed sponge.

To create the tool, make sure your sponge isn't too big to easily slide down the back of the radiator. Use your scissors to cut it into smaller rectangular pieces. Then take your stapler and use this to attach the sponge to the end of a long, narrow piece of wood, such as a bamboo cane. Try to keep the staples flat against the wood so that they don't end up causing any scratches on the wall or damaging the paint job.
2.

PROTECT YOUR RADIATOR

Before getting out your paint, put an old blanket or dust sheet over your radiator to protect the top and sides. If your radiator has separated pipes, wrap these with masking or parcel tape.
3.

PAINT BEHIND THE RADIATOR

Now all you need to do is dip your new decorating tool into your paint. Then, insert it down the back of the radiator, pressing it against the wall. Use the tool to paint the whole area, reapplying paint when necessary, and replacing the sponge if it rips.

Once the paint has dried you can remove the protective sheets and enjoy your room, newly painted from top to bottom!

Still not finished redecorating? Check out our blog on how to paint a radiator!