Inspiration
Teenage Bedroom Ideas
The transition from childhood to adolescence can be a scary one - but it's also very exciting. Your child's tastes can change dramatically, from music and clothes to the type of bedroom they want.
Turn a child's room into a teenager's room with these top tips
The transition from childhood to adolescence can be a scary one - but it's also very exciting. Your child's tastes can change dramatically, from music and clothes to the type of bedroom they want. At Graham & Brown we've come up with some great teenage bedroom ideas for that important time in your child's life.
By the time your child is a teenager, they'll probably have their own sense of style and a good idea of what they want their room to look like. But it never hurts to have some extra inspiration. This blog will take you through our favourite concepts and ideas, as well as some tips on how to make the space both practical, homey and unique.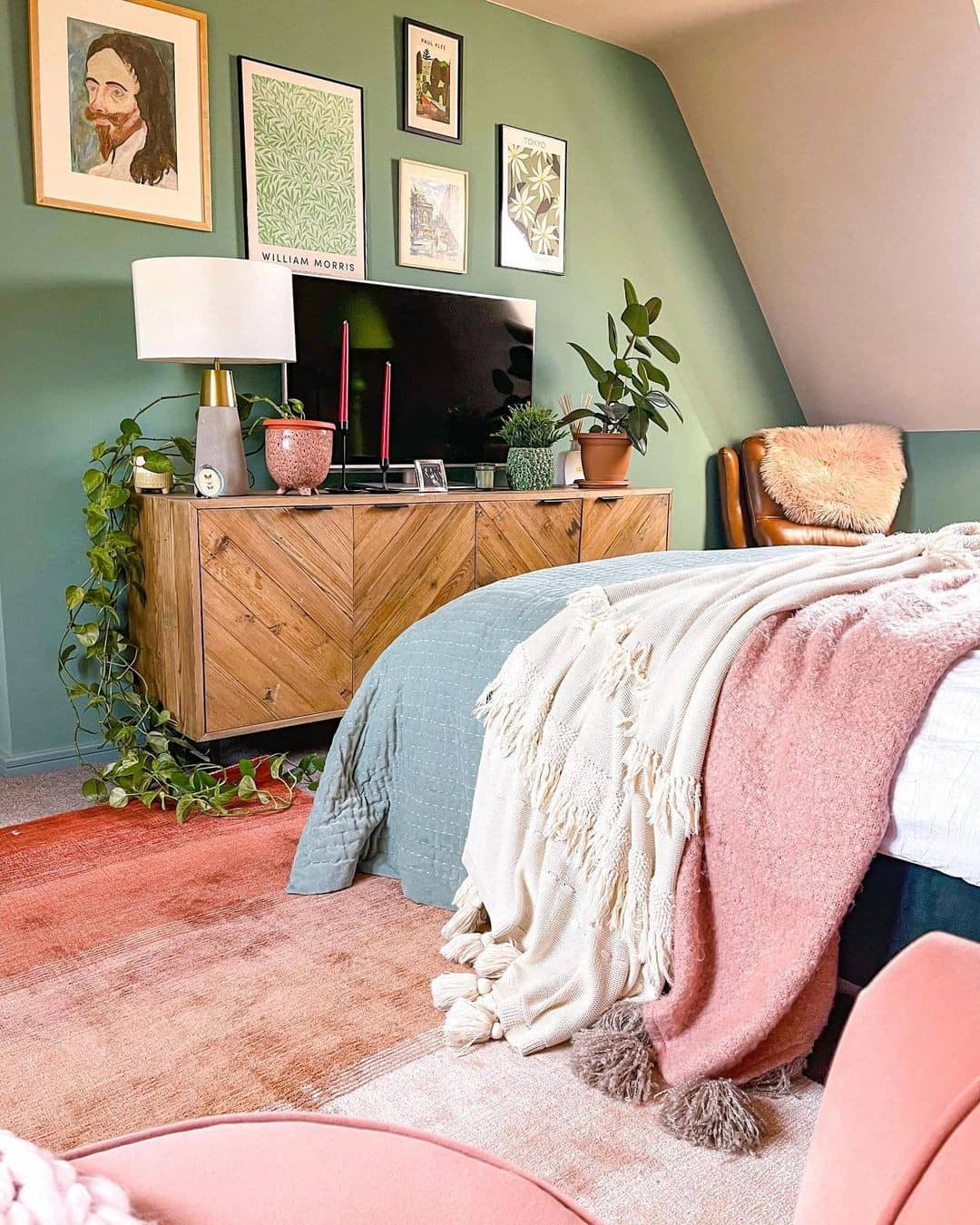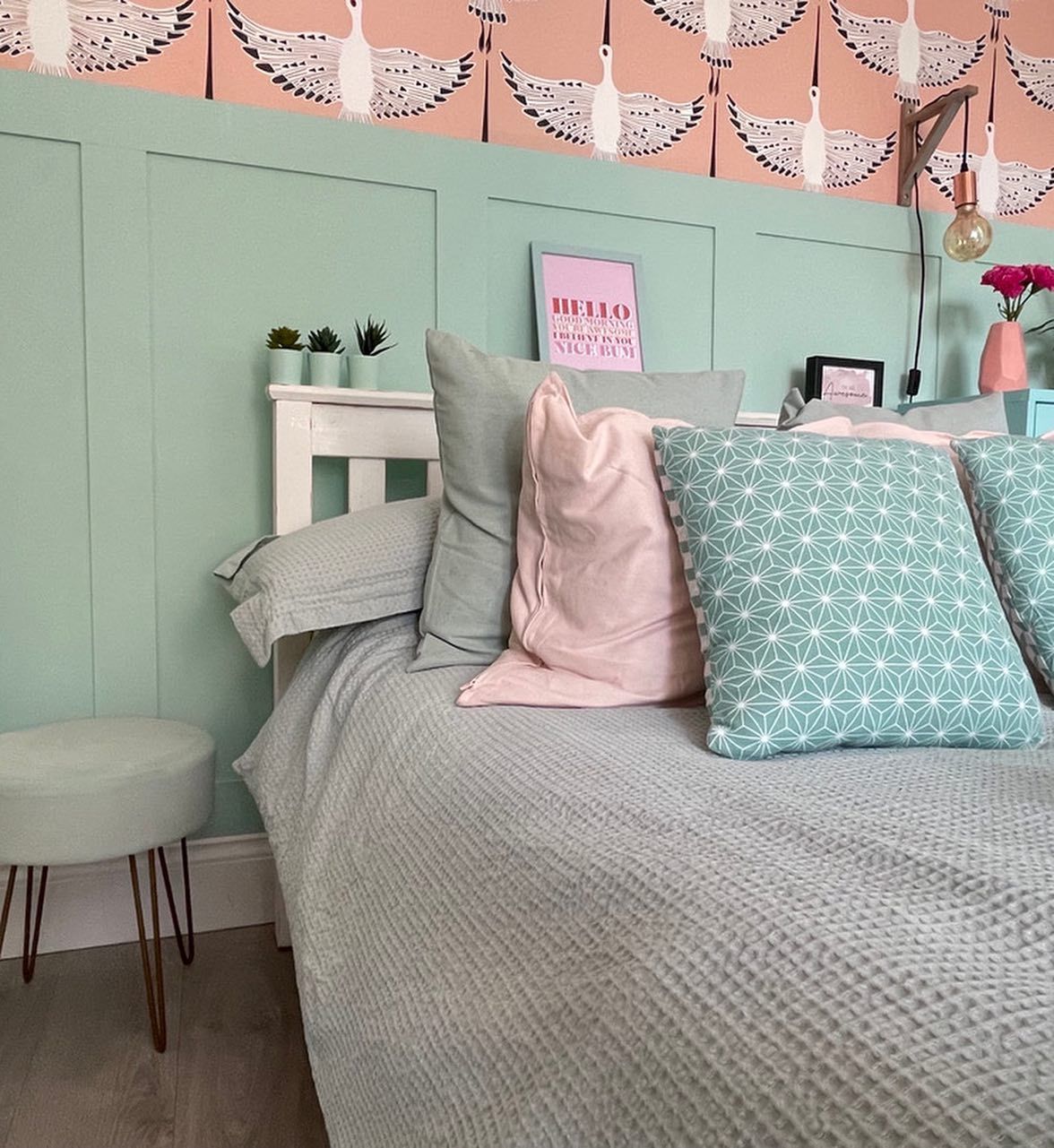 EMBRACING BOLD COLOUR SCHEMES
If this is your child's first time overhauling their space, they'll probably have a lot to say about the colour scheme. Your child's favourite colour might have strayed very far from baby blues, pinks and yellows, and it might be time to embrace much bolder hues. Keep things tasteful whilst still fresh and invigorating with some of our favourite paints:
RED MINNIE
Minnie is our rebellious red shade and is perfect for teens who have something to say with their aesthetic. While it's a bold, intense colour, it has a subtly that gives the hue a softer tone. It's silky-smooth to the touch and is robust enough to cope with typical teenage life without chipping or cracking under pressure. The darker red shade and matt finish keeps it refined, so your teenager's bedroom will fit in with the rest of your interior décor. Fiery yet sublime, it works particularly well with Ava White to give it a fresher, lighter feeling. Or if you're worried about it overwhelming a smaller space, pair it with cooler whites.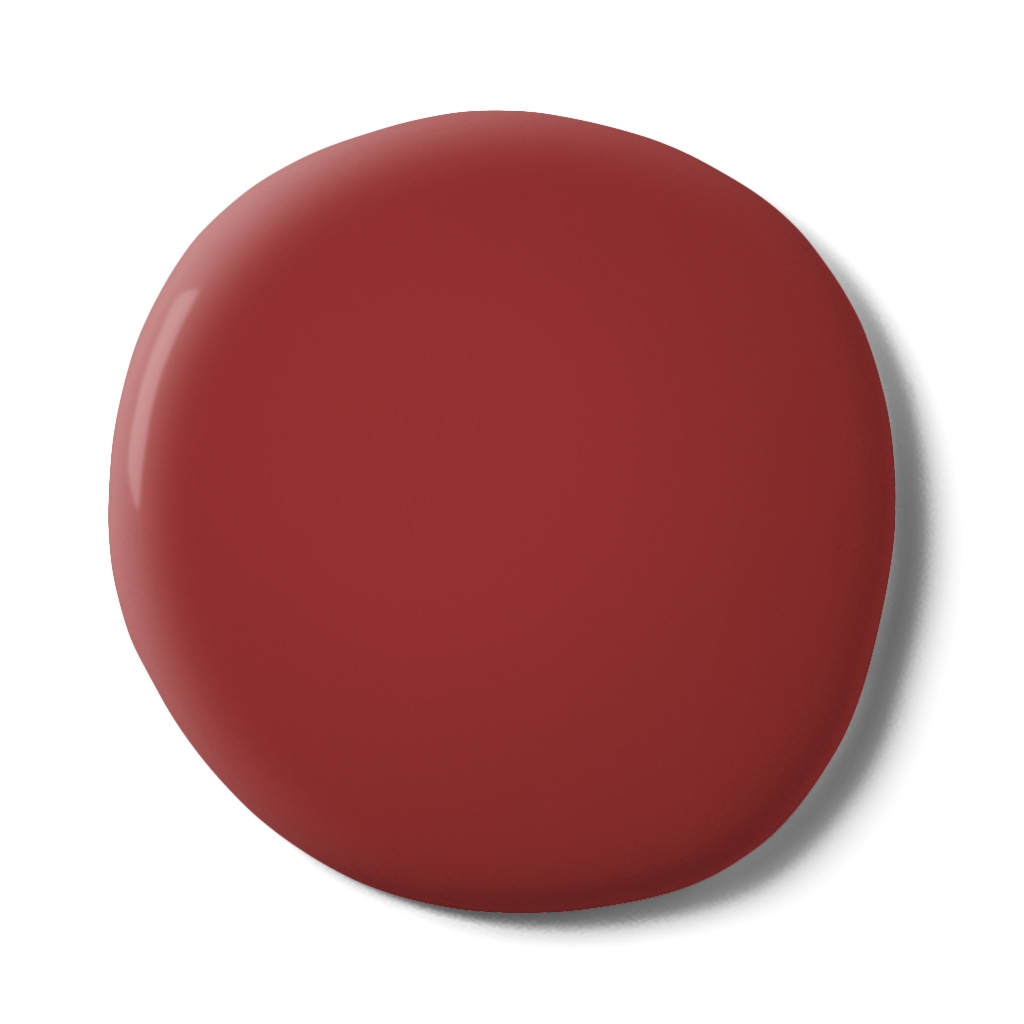 BLUE - PANORAMIC
This beautiful blue calls to mind wide open skies and shimmering lakes. It is a definite step away from nursery shades, but still retains a softness and serenity and is ideal for bedrooms. The teal tint is absolutely on trend and will appeal to any style-conscious teenager. The soft matt finish also makes it an ideal non-reflective background for those cool selfies or vlogs. It creates a subtle canvas for displaying artworks to allow your teenager to express themselves. To capture that gorgeously serene beach feel, team it with deeper blues or add a feature wall for interest.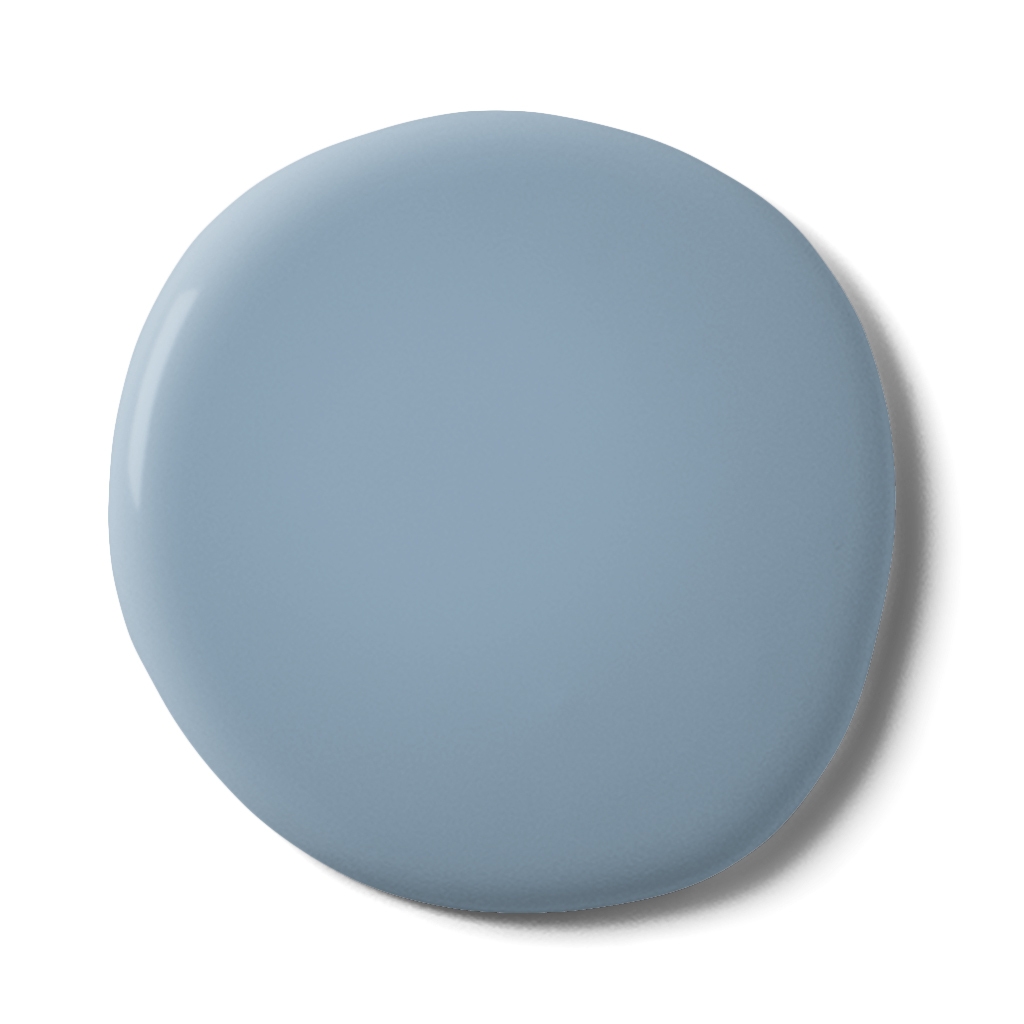 GREEN - APPLE CRUMBLE
Fun and playful, Apple Crumble is a shade we're very fond of. It looks incredible when used for detailing but also makes a great stand-alone feature wall. It's a real 'heritage' colour and works particularly well in more traditional rooms, yet the modern tone of this very special green gives it a contemporary twist that will appeal to younger décor fans. For a wonderful eco-theme, team Apple Crumble up with a fabulously ornate wall mural such as the Paradise Jungle Palm. Or balance that intense green with a lighter shade and accent door and window frames in Sage or Minami-Za.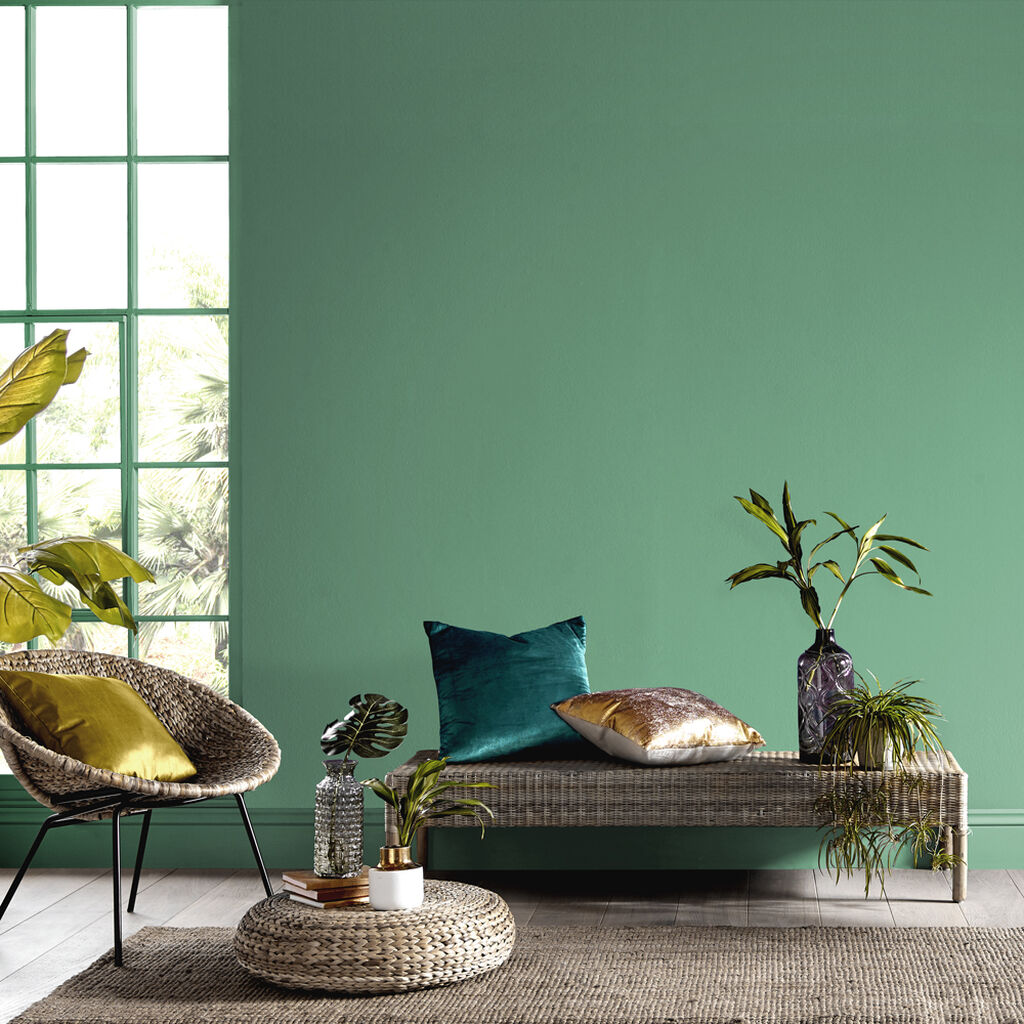 ORANGE - ARANCIA
Keep things warm and just a little bit different with Arancia, our bold and simple orange paint. Arancia is Italian for 'orange', and this vibrant tone reminds you instantly of sweetly perfumed orange orchards, and that wonderful warmth from the midsummer sunshine. The subtle matt finish ensures that it isn't too overwhelming, giving it a softness that works well in any space. It can be used as the primary wall colour, or as an effective accent colour to give any room a pop. If your teen likes to stand out and is a fan of tropical colours and themes, this is the paint for them.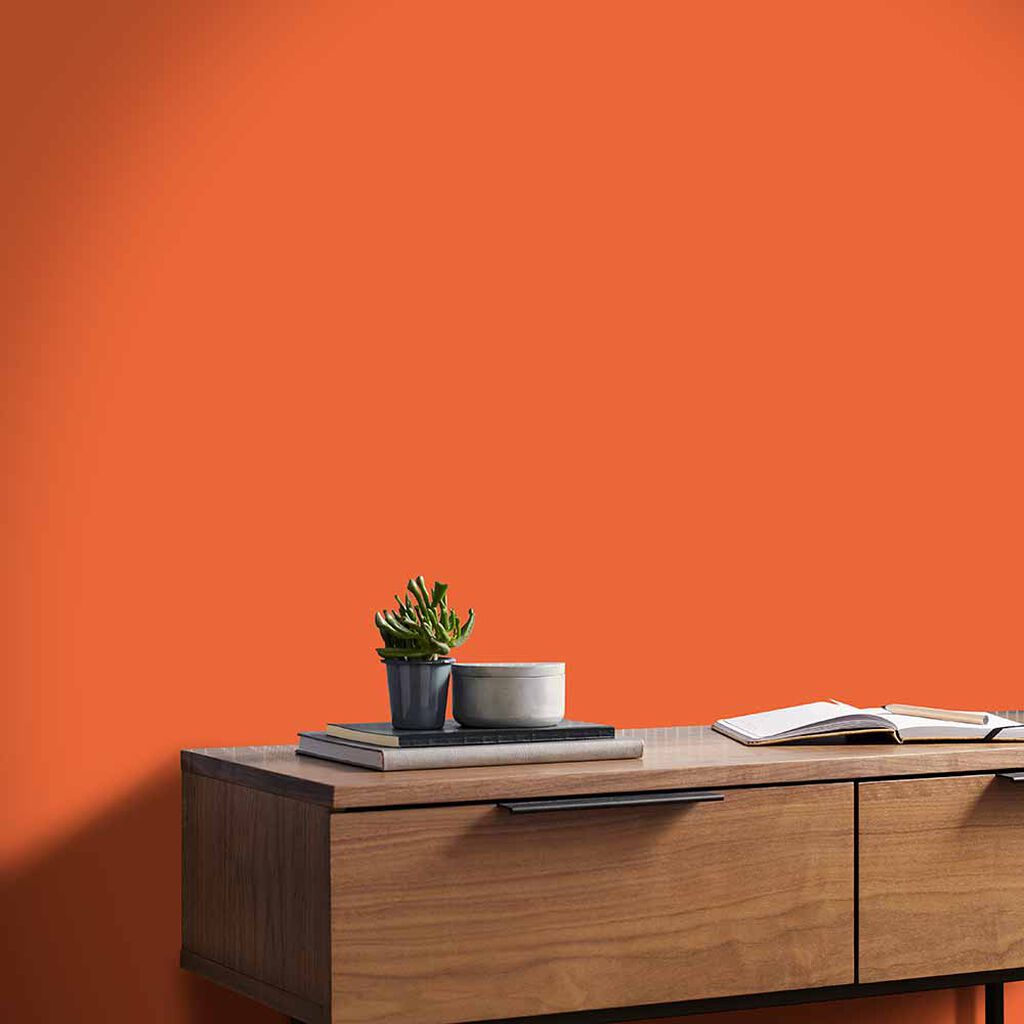 PINK - ROBIN
Wave bye-bye to baby pink and say hello to this flawless fuschia. Pink Robin is named after a small bird native to Australia, and this glamorous and rich pink adds a true blast of tropically-inspired soft colour to any room. Bold, imaginative, and a vibrant alternative to paler shades, it can be used as a feature wall, or teamed up with a richly indulgent Jardin Magenta wallpaper or a range of softer, complementary pink paint such as Penelope or Flower Girl.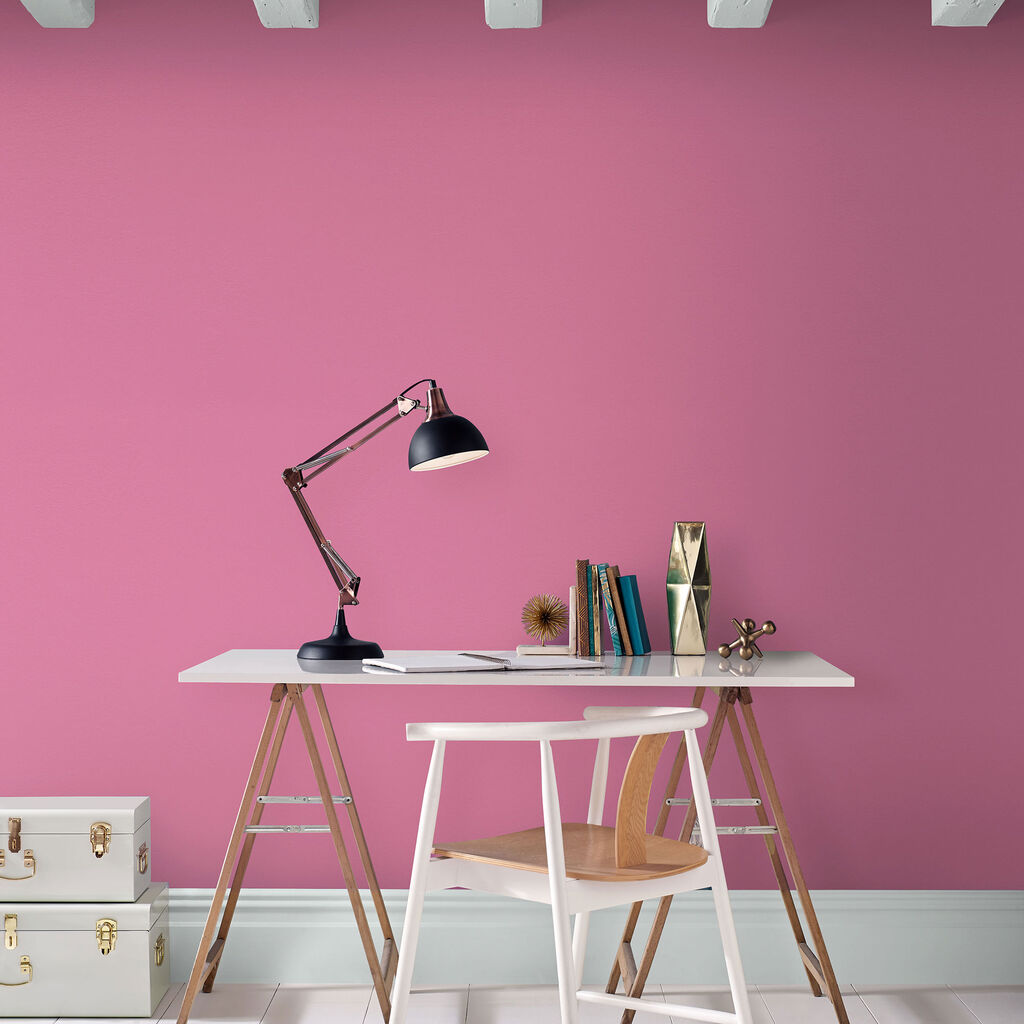 SOME EXTRA SEATING FOR THEIR FRIENDS
Teenagers often have rich social lives and are starting to build friendships that can last a lifetime. A comfortable, relaxing space is vital for young people where they can spend time together, share ideas, study together, or just relax and have fun.
This building of social bonds is something that can be reflected in their bedroom décor by including extra seating for when friends come around. Cushions can tie in with the décor, especially if you browse the selection of accent cushions at Graham & Brown. Or bring a plain wall to life with some wall art that sits easily alongside band posters and pop art pictures.
If your teenager has a wall mural, why not pick up on the theme with linen that complements or cushions that repeat the patterns? Teenagers are just as particular about how an interior comes together, and if it reflects their personal style they'll feel more confident, more comfortable, and more at ease when friends come around. You can keep things casual too, by including super-cool beanbags or small sofas, to give your teenager some independence when it comes to socialising.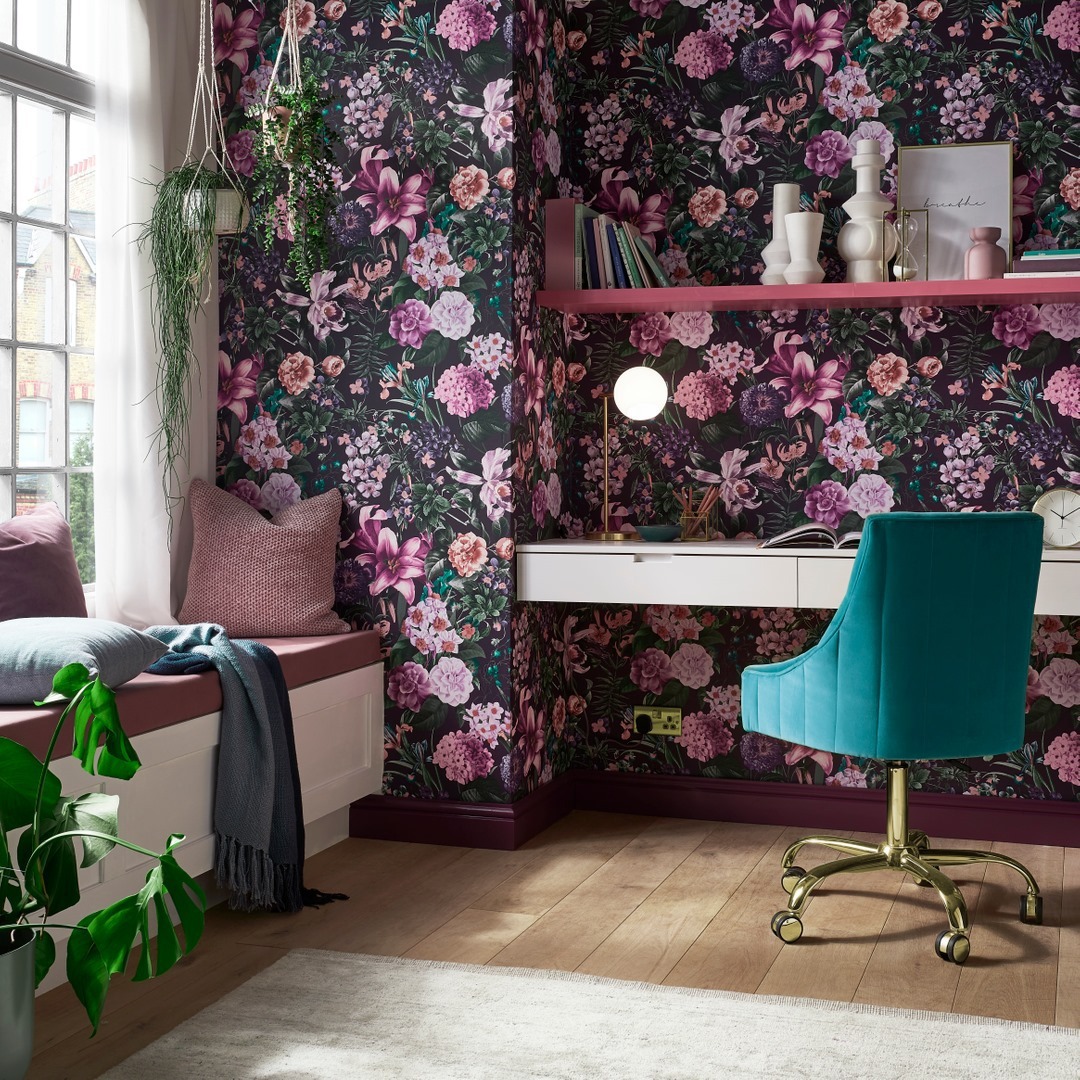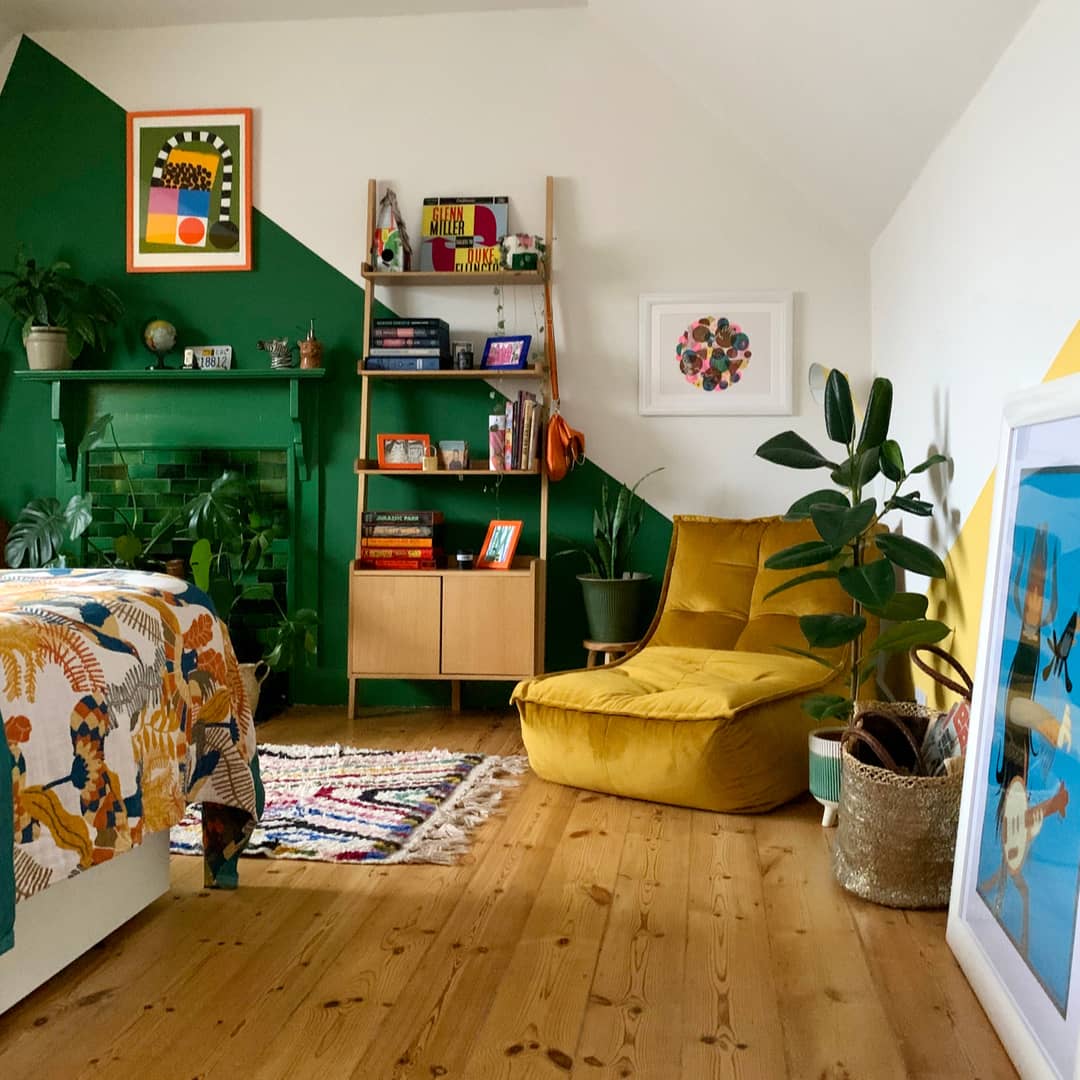 PROVIDE PLENTY OF STORAGE
Help your teenager stay organised and keep their new room tidy by providing plenty of storage solutions. Under-the-bed storage and wall-mounted cabinets and shelving are great space savers, and you can find two-in-one furniture like desks and dressing tables with drawers.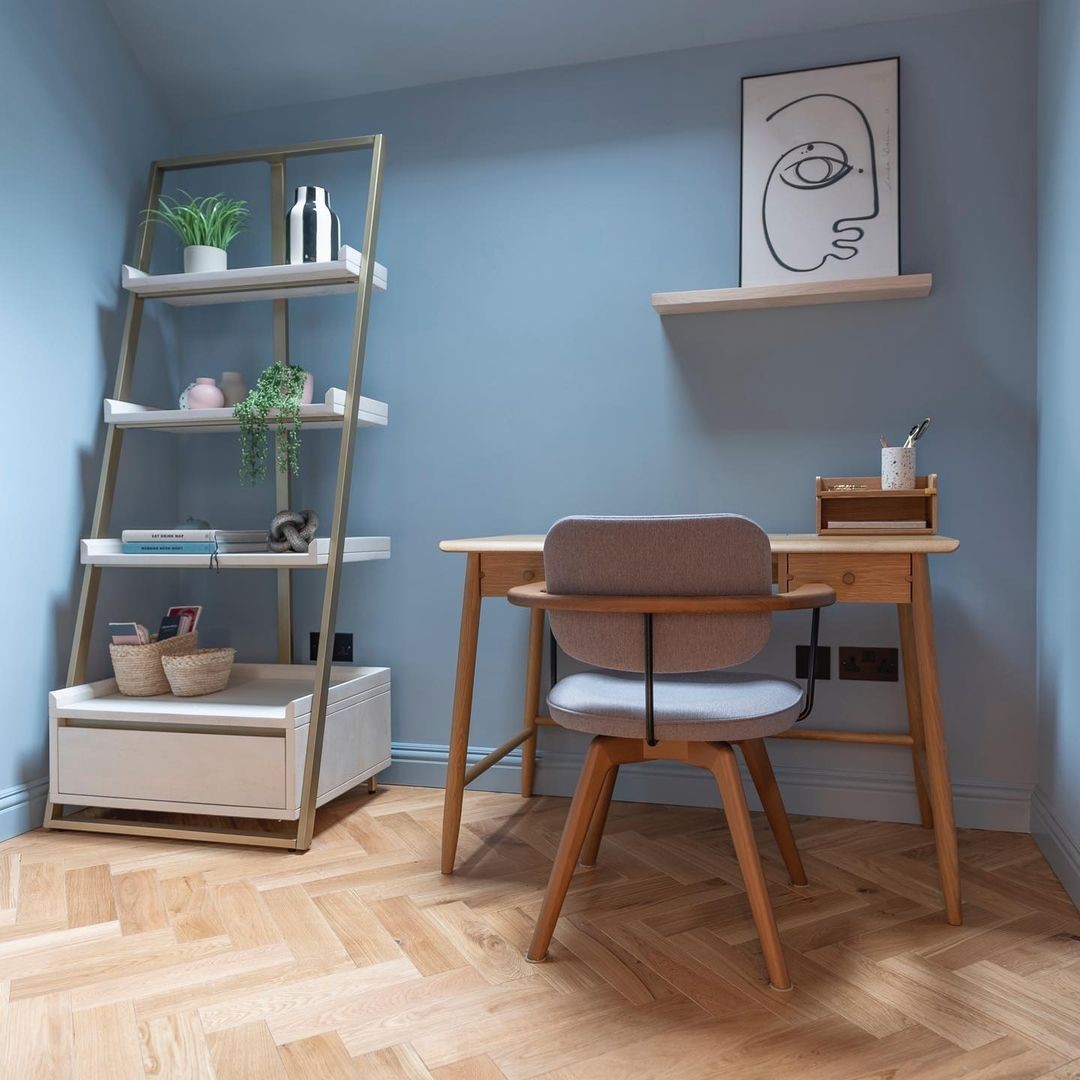 GO BOLD WITH A GEOMETRIC FEATURE WALL
If your teen favours a cool aesthetic with a bit of edge and flair, they'll probably love geometric designs. Geometric feature walls are creative, stylish and a great talking point. They can even be a lot of fun to paint and, if you're feeling brave, you could let your teenager design it themselves. Check out How to Paint a Geometric Wall for more tips, or take a look at our geometric wallpapers.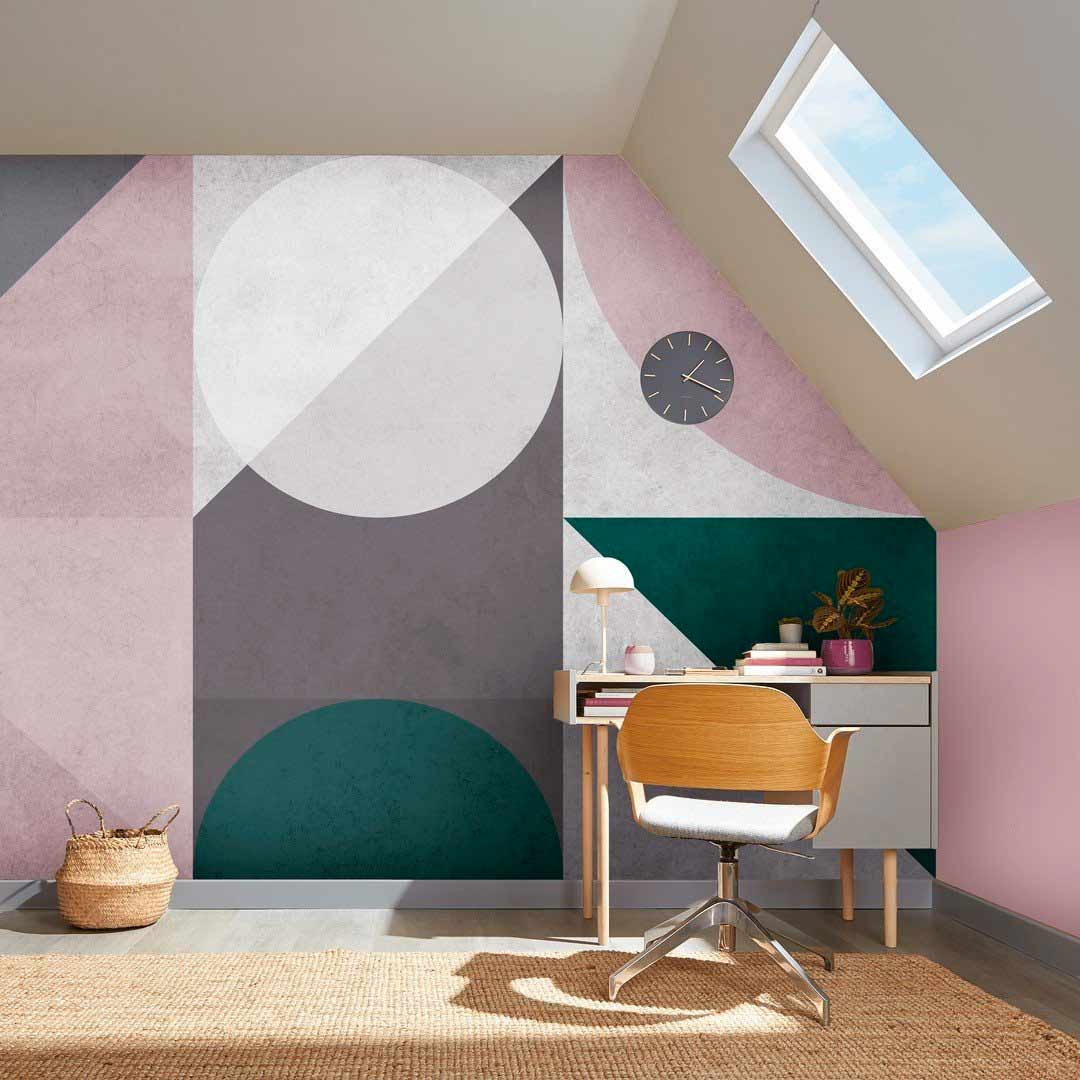 PRIVATE AREAS - GIVING YOUR TEENAGER SOME SPACE
Teenagers and young adults need and value privacy, just like anyone else. Arguably, it is even more important during adolescence to have a space that is just for you and no one else. Introduce a four poster bed with hangings, or section off a small area of the room with curtains to create a cosy, private nook.

DECIDE ON A THEME
By the time your child is a teenager, they'll probably have a few well-rounded interests that they'll want reflected in their room. Whether it's space, sports, books, cats or skateboarding, you can use their passions to create a bedroom theme that they'll love.
If you need help building a cohesive theme, here are some of our wallpapers and murals to get you started:
This repeating pattern of adorable doggy line art is just the thing for puppy lovers. Buckley Monochrome Wallpaper features delightful abstract drawings of dachshunds frolicking in that inimitable way that 'doxies' do. The pattern is reminiscent of a French Impressionist sketchbook, so while it's as cute as a button, it's a little more grown-up which will appeal to older teenagers.
The simple monochrome colourway makes it perfectly suited as a feature wall in any colour scheme. Showcase your teen's love of animals, and maybe you won't have to buy them the real thing for a little while longer...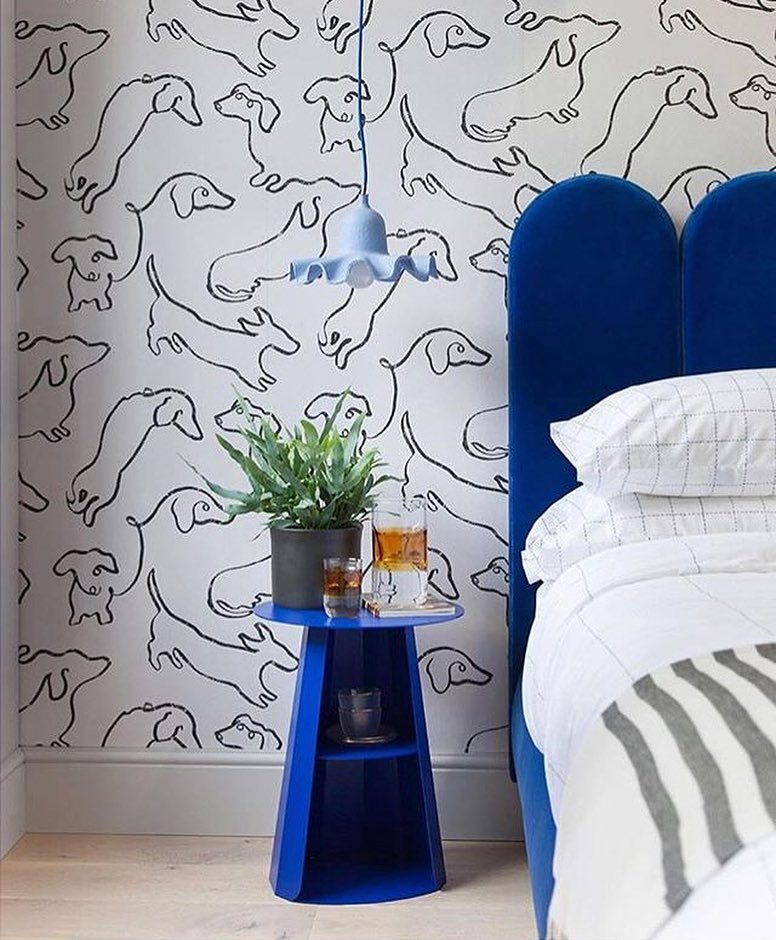 If your child is a fan of all things deep-sea, they'll love our Aquarium Lush wallpaper. This bold design features tropical fish darting between rich green leaves and is a great way to add colour to a room. It's a quirky design that's packed full of movement and interest, making it a fabulously fishy choice for a feature wall.
Offset it with a soft green accent colour such as Stargazer, or go a little more intense with Ecuador, which picks up on the green of the plants within the pattern.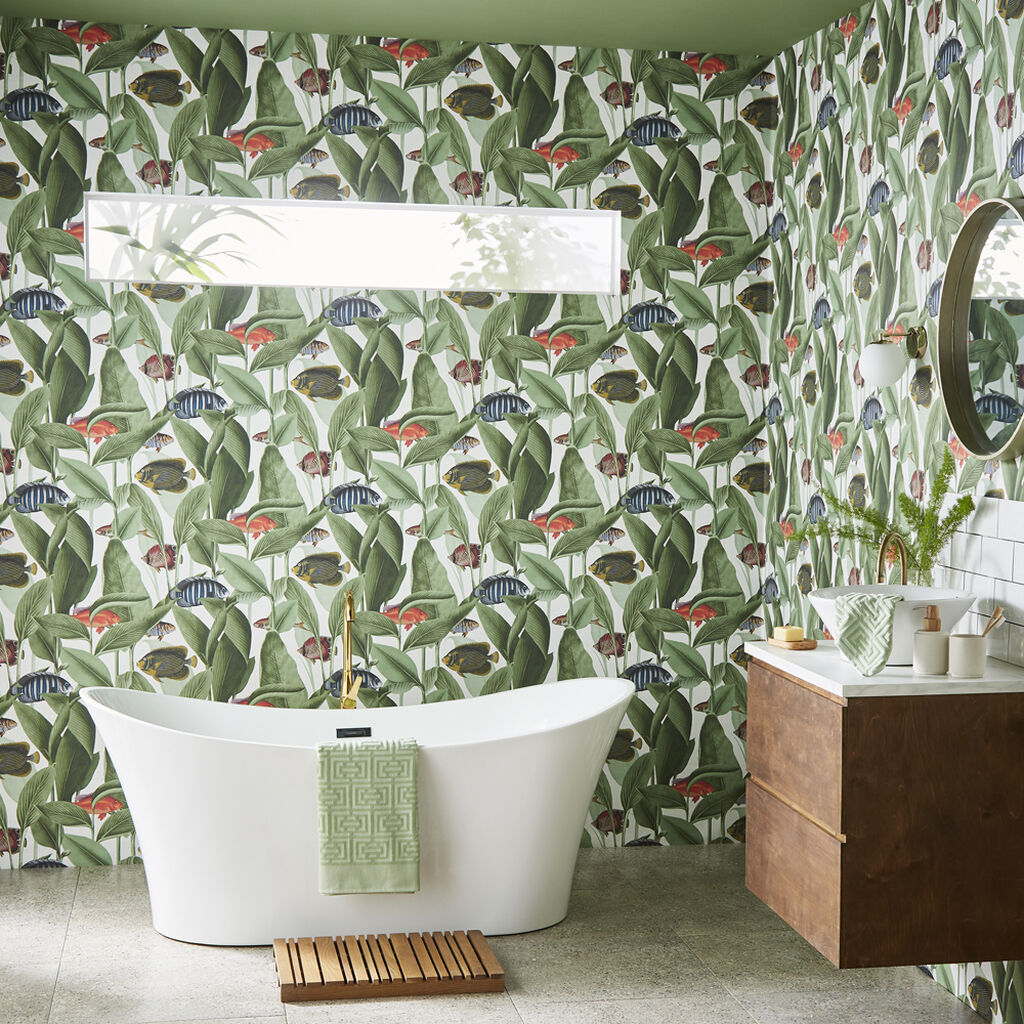 Turn your teen's bedroom into an adventurer's haven with our Paradise Jungle Palm wall mural. The mural takes you deep into the secret heart of the jungle, where pops of colour add interest, and you can almost smell the rich scent of the forest floor.
The mural fades into the distance, giving this mural a real 3D effect that's visually striking without being overwhelming. The pale greens and misty background bring the outside in and create a sense of calm. This mural perfectly pairs with soft Angel Dust paint and Palm White curtains to complete the look.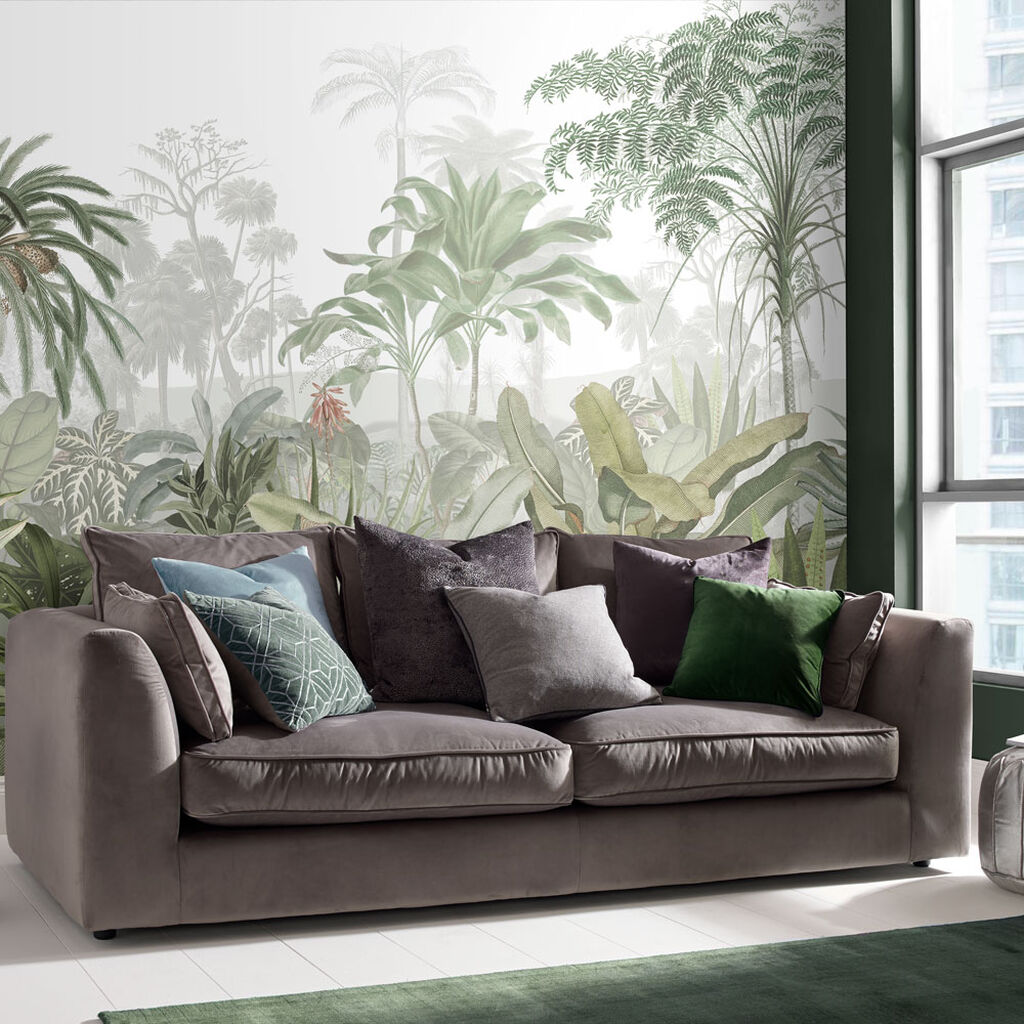 If the world of magic turns your child misty-eyed, this might be just the thing for their bedroom. Create a space just as enchanting as they are with our Fantasy Floral Twilight Mural. This whimsical wonder hints at the magical time between day and night when the fairy folk are at large.
Soft blues and pale lilacs create a floral border where, if you look closely, you might just see a pair of eyes peeping back at you. Enhance the effect by perfectly pairing the mural with soft Celia paint or the ethereal blue-grey of Rowing Boat paint.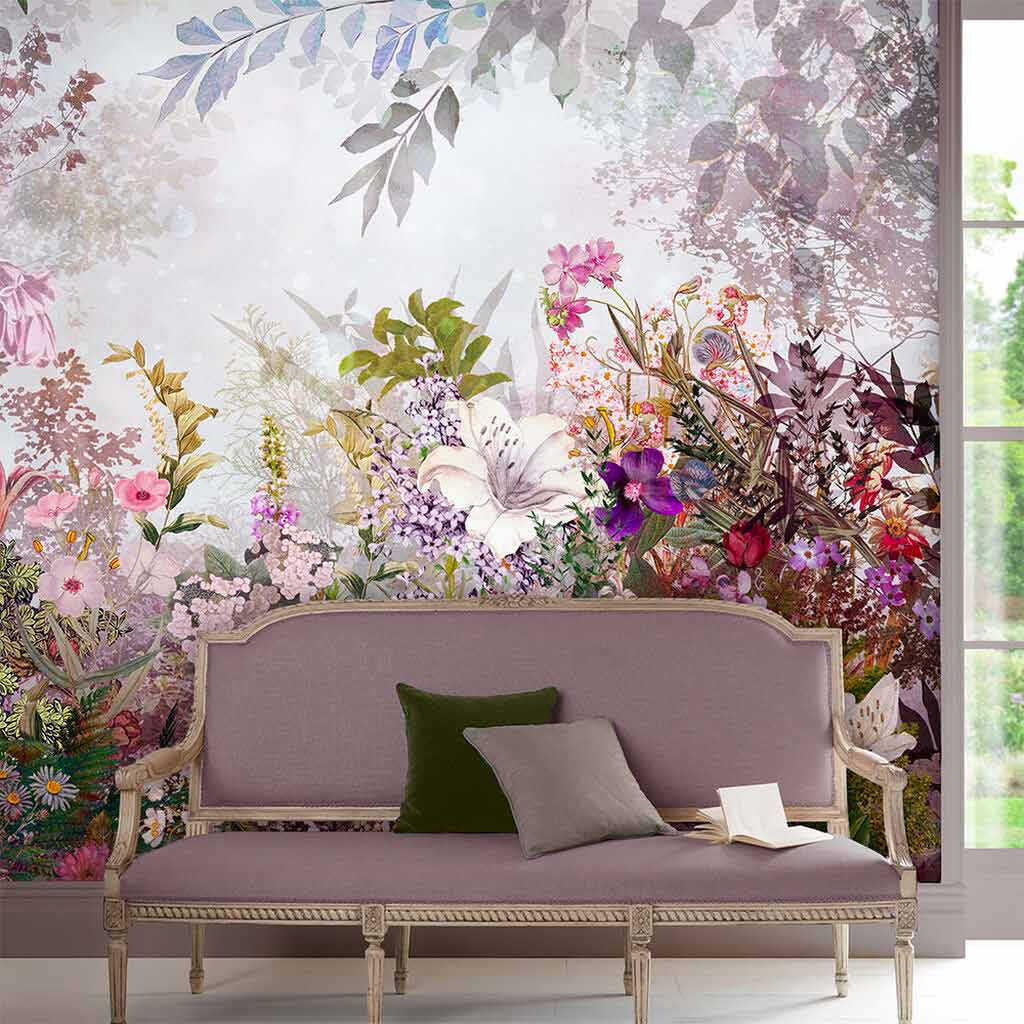 History buffs, Gatsby-wannabes, and teens with a refined sense of style will love our Harmony Grey wallpaper design. Still exciting and a bit different, its muted colours make for an understated, endlessly stylish effect. The soft dove-grey background is accented with a network of rose-gold metallic geometric shapes that tip a nod to the angular designs of the Art Deco period.
The tactile paper has a contemporary feel that feels decidedly 'grown-up' and is especially suitable for older teenagers who want a dash of sophistication in their environment. Perfectly Pair it with Chesterfield paint that picks up on the soft rose-gold tones, or the blue-grey of Highcliffe Rock paint.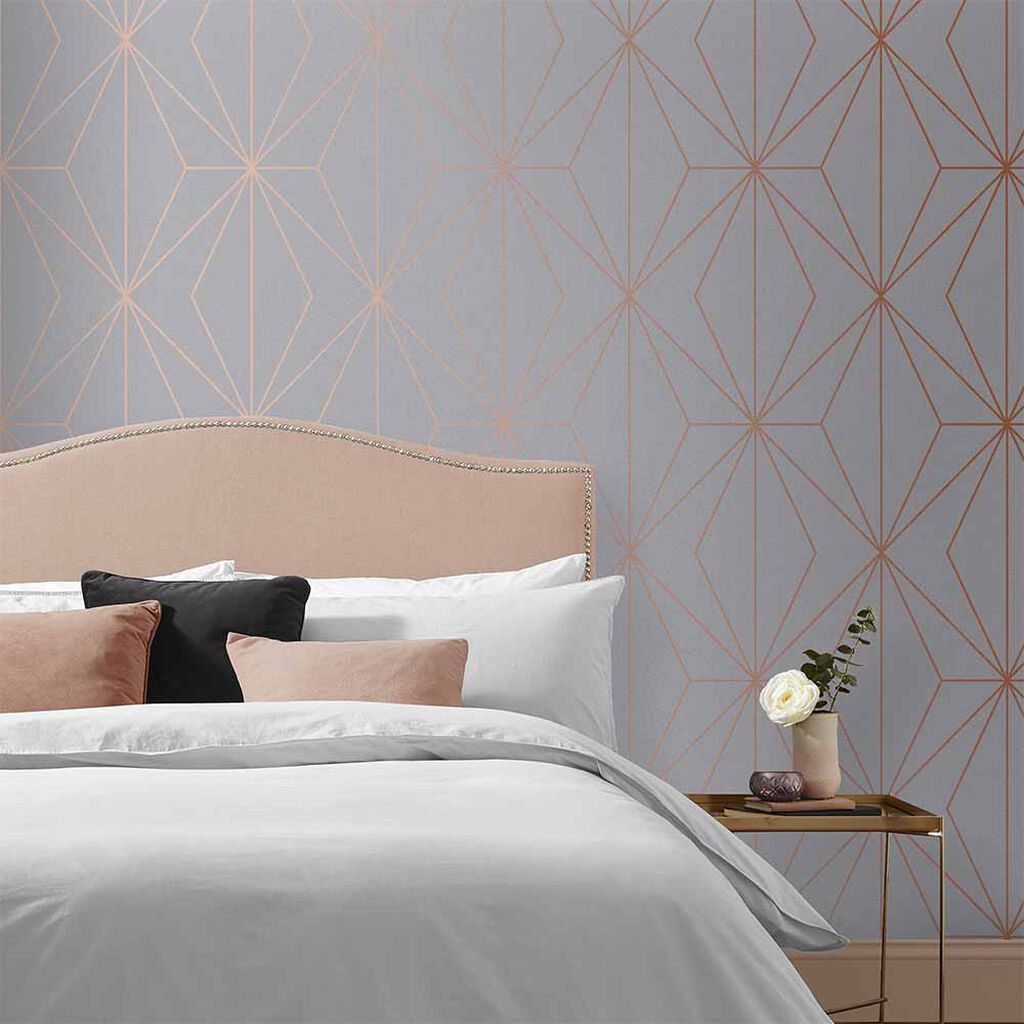 Teens who are firmly grounded in the real world, and who have a love for travelling and the big city, will be amazed by our Streets of Brooklyn Mural. With the iconic Brooklyn Bridge in the background and a busy street scene to the fore, it's a stroll on the wild side without leaving the comfort of your bedroom.
The Streets of Brooklyn Mural is incredibly detailed, with every brick in those classic NY 'redbrick' buildings, the cobbles on the street, and even the One Way sign perfectly rendered. Send them on a journey whenever they step into their room with this cool and sophisticated cityscape.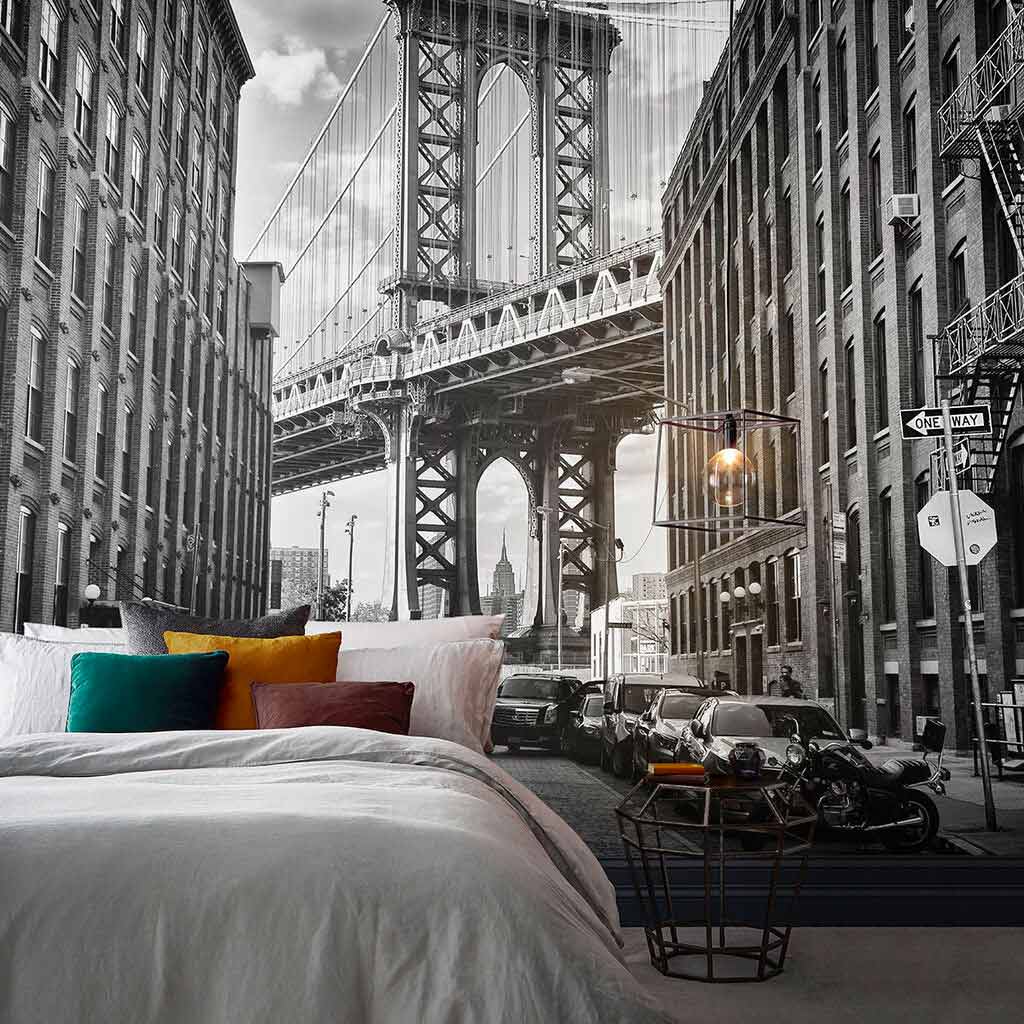 CREATE A PHOTO GALLERY WALL
Over the years, your teen has probably built quite a collection of photographs. They might even own a polaroid, and the stacks of images have been piling up. Show them off with a gallery wall to add a truly personal touch to the room's decor. For more ideas on how to display your teen's photos, check out our gallery wall ideas.
Looking for more interior design inspiration? Have a read about our home office decor ideas.