How To
How to Wallpaper a Feature Wall
Adding a Feature Wall is a Great Way to Inject Colour and Personality
Adding a Feature Wall is a Great Way to Inject Colour and Personality
Adding a feature wall to a room with wallpaper is a great way to inject colour and personality, but it doesn't have to be bold and bright to make a statement. Neutral coloured wallpaper with a delicate pattern can make a huge difference in an otherwise simple room.
HOW DO YOU CHOOSE WHICH WALL TO MAKE THE FEATURE?
Choosing which wall to make your feature entirely depends on personal preference, but bare it mind this will become the focal point of your room so choose wisely.
We would recommend the wall which you first see as you walk into the room as this will have the biggest impact, although chimney breasts make a great choice for a feature wall wherever they are situated in your space.
Your feature wall doesn't have to be just one wall either! Decorating opposite walls in a space can make it feel cosy and draws the attention away from just one singular focal point.
PERFECTLY PAIRING WITH YOUR FEATURE WALLPAPER
Each one of our wallpapers has four perfectly paired paint colours to either match or contrast to create the most beautiful room setting and make it easy for you to decorate all four walls!
If you would rather wallpaper your whole room, try our vast collection of plain & textured wallpaper to get you started or alternatively a wallpaper with a subtle design such as a stripe can make a big impact alongside a feature wall.
There is no right or wrong way to decorate your rooms with wallpaper and ultimately the decision comes down to personal preference so let your imagination run wild.
1.

PREPARATION

Preparing your walls for wallpapering is super easy and quick to do.

First start by ensuring they are clean by using a damp sponge to gently wash off any grease, dust or dirt. We recommend a sugar soap solution but washing up liquid and warm water works just as well. Be sure to get rid of any residue of your chosen solution with clean water.

Once they are clean and you have allowed time for them to dry, it's time to create the perfect wallpapering surface!

Fill in any small cracks or holes with filler, wait to dry and lightly sand. If you are still unsure whether your walls are smooth enough just pop some lining paper up first before your wallpaper.

Lining paper has the added benefit of ensuring no wallpaper shrinkage even if your room temperature isn't quite right.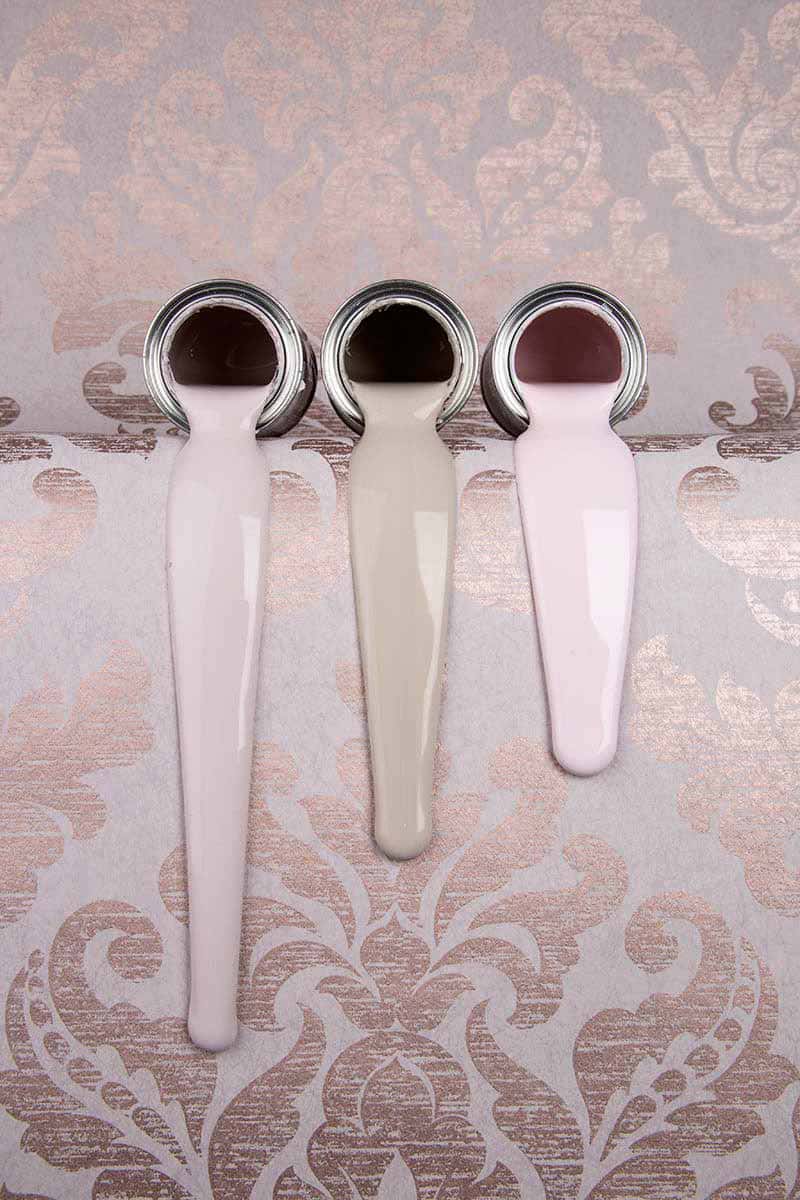 2.

HANGING THE WALLPAPER

First find the centre point of your feature wall, the easiest way to do this is measure across at the top, middle and bottom and then line the three dots up with your plumb line.

Then draw a plumb line down the middle, you will be hanging your first strip of wallpaper in line with this so be sure to check it is perfectly straight!

Apply wallpaper paste directly to the wall about 1 and a half wallpaper strips wide and the full length of the wall.

Hang the feature wallpaper straight from the roll and use your wallpaper smoother to achieve the perfect finish, don't worry if there are a few tiny air bubbles these will disappear once the paste dries.

Trim with a sharp blade and move onto your next strip!

Paste your next section and slide the following wallpaper strip into place until the pattern has matched. Repeat this same process throughout until your feature wall is finished.