Inspiration
Five of our favourite grey bedroom ideas
Grey is this year's big interior décor trend, especially grey bedroom ideas that create restful, tranquil spaces to relax in at the end of a busy day. But don't be fooled into thinking that there's only one shade of grey to choose from – there are dozens.
From grey bedroom paint ideas that team up beautifully with soft pastels, to grey bedroom wallpaper suggestions to create an unusual feature wall, this article might change your mind about that most overlooked of colours!
Which colours go best with a grey bedroom?
Because it's a neutral colour, grey works with almost any colour you can think of, including other shades of grey. From metallics to pastels, primary pops, or whimsical white, every colour can partner with grey.
One of the big colour combinations right now is teaming up the softness of dove grey with bold orange, burnt umber, and tangerine colourways. The orange family of colours is difficult to match with other colours without tipping over into that slightly cheesy 1970s palette. However, bring grey into the mix, and you have a match made in heaven. If the thought of a whole wall in orange fills you with trepidation, try accenting a grey bedroom with pops of colour, and matching furnishings with wallpaper or paint to get a synergistic effect.
Other combinations that work particularly well are navy blue and grey, pink and grey, or if you really want to go for that minimalist Zen look, white and grey. Remember to pick your grey carefully, though. If you look at the selection of grey paint ideas at Graham & Brown, you'll see that many have hints of other colours within them. So you'll find greys that have a warm pink undertone, while others have a cooler blue tint.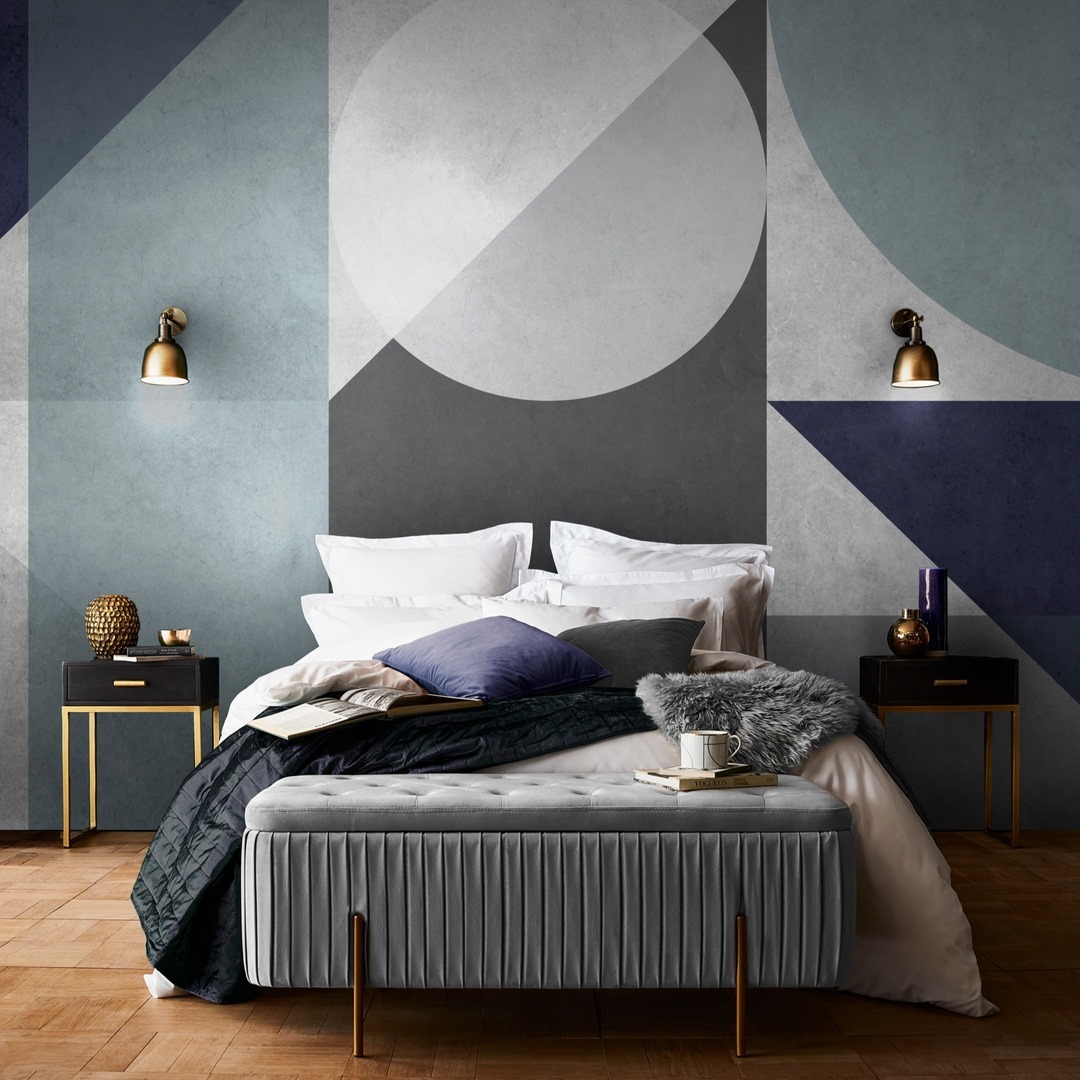 Five grey bedroom ideas
With so many options open to you, we've broken them down into our top five grey bedroom ideas. From accents to focal points, warm greys, or adding texture, here are some design suggestions you can easily try for yourself at home.
1. Accent grey walls with bold furnishings
Grey gives you an effective 'blank canvas' with which to work. It's a wonderful choice for a bedroom as it can create a surprisingly warm and restful interior. However, if you love a little splash of colour or bold patterns, grey paint or wallpaper allows you to push the boat out with your furnishings and accessories, as well as adding in a feature wall or even a mural.
It's easy to add colour and vibrancy to a grey bedroom through vibrant cushions, curtains, throws, and bed linen. Pick your grey carefully, bearing in mind that each shade has its own subtle undertones. It will also depend on the amount of natural and artificial lighting in your room. Before you accent grey walls with coloured furnishings, take a step back and see what hues you see. If you're using a grey with a reddish tint, choose furnishings and fabrics that cover this end of the colour spectrum, from warm orange and golden yellows to bold reds.
If there is more of a blue tint to your grey paint or wallpaper, pick curtains and throws that have bright pops of blue in them to bring complement the colour of your walls. Accenting is your chance to play with colour to create a grey bedroom that's anything but 'just grey'!
2. Choose warm grey tones for a cosy feel
We've already talked about 'warm grey,' but what exactly does it mean? If you browse our grey paint collection, you'll quickly see that there are wide variations in the tone, depth, and even the colour of all of our grey paints. For example, if you look at Seize, you'll see it has a deep red undertone that gives it real warmth. This makes it easy to pair with red or maroon tones to create a cosy atmosphere. This is what we mean when we talk about 'warm' greys – those that have softer, richer undertones that complement red, orange, and earthy tones, as well as on-trend metallics like rose gold.
Sometimes, a darker grey offers up a wealth of possibilities to bring new colour combinations together. Our wonderfully rich Chimney Sweep paint has a deep green undertone that can be easily combined with a jungle mural wall and accented with a deep green such as soft Sage or balanced with a lighter tone like So Swamped.
If you're not sure which grey to go for to create that cosy warm feel, why not pick up a packet of peel-and-stick samples? These adhere to the wall so you can step back and make a decision that factors in the natural light or existing wallpaper that you want to keep as part of your bedroom décor.
3. Create a focal point with a feature wall
One of the best ways to incorporate grey into your bedroom is to create a focal or feature wall. Grey paint is so adaptable and so easy to incorporate into your bedroom décor that it gives you the chance to have a bit of fun with a feature wall. If you love the hustle and bustle of the city, a Manhattan Street mural is ideal. Not only is it a bold statement, but because it's a monochrome mural, you can team it up with almost any grey paint. Ideas will start to flow as soon as you realise just how flexible grey is as a complementary colour.
If you love the natural world, a bold floral feature wall is beautifully balanced by grey paint that subtly picks up on tones within the design. For example, the enchanting and ethereal design of Fantasy Floral Bloom has subtle hints of lilac grey in it, so your perfect paint partner would be the soft tones of Seize grey paint.
The feature wall doesn't have to be a mural, though. There are plenty of grey wallpaper ideas that can be incorporated into the overall décor, giving you more sophisticated, refined options. If you love Art Deco or the wonderfully geometric designs of the 1950s and '60s, you can make a feature out of the soft grey and rose gold combination of Eclipse wallpaper. Team it perfectly with Anastasia grey paint or the featherlight tones of Dove Grey, and you have a winning combination.
4. Use light grey tones to brighten your bedroom
If your bedroom tends to be a little dark, brightening it up with lighter colours and grey wallpaper ideas will bring it back to life. If you really want to bring a little dazzle into your décor, try teaming up grey paint with grey wallpapers that have a metallic shimmer, especially silver and rose gold. This will reflect both natural and artificial light and give your bedroom a lighter, brighter feel.
The trick, though, is to ensure that you don't overdo it. A bedroom should be restful and soothing, so using light grey tones will help you achieve the right effect without the décor becoming too bright and garish.
A tone like Alanna Paint is a real favourite for achieving that brighter look. This pale grey paint has subtle undertones of both blue and red, making it a versatile addition to any palette. It works really well with light floral wallpapers, so if you want to go for a classic cottage look, this makes a perfect combination.
Dove grey is always a winner, and easily picks up accents in both grey wallpaper ideas, murals, or as a balancing colour to more vibrant primary tones. Dove Feather has a subtle blue undertone, while Shuttleworth has a delightfully pretty pink hue that works well with lilacs and soft pinks.
5. Add texture by layering grey tones
Grey paint ideas don't stop at single blocks of colour. Layering your grey wallpaper and paint ideas from dark to light can create a fascinating palette that works in both contemporary and traditional-style bedrooms.
A great way to add interest to your grey bedroom is to add texture by layering different tones within your décor. The best way to do this is to combine at least three different levels of intensity, so there isn't a jarring contrast between two different tones of grey.
By graduating the transition between tones, you get a softer effect that also gives you the chance to add texture as well as colour. If you have light grey walls, create that layered effect by complementing them with mid-grey furnishings and throws and a dark grey bedspread. If you have a light grey bed, transition up through the layers with mid-grey walls and dark grey curtains or blinds. Accent with white or pops of colour to add interest.
Our favourite grey bedroom wallpapers
We've given you lots of grey paint suggestions, so let's take a quick look at some amazing grey wallpaper ideas too. Here are our five favourite grey bedroom ideas for wallpapers that are right at the cutting edge of interior décor trends right now.
Boreas Soft Grey Wallpaper
Combining a soft grey textured background with an ethereal, rose-gold metallic sprig design, this charming grey wallpaper is perfect for almost any room, including bedrooms. The subtle design is easy to live with and perfectly pairs with subtle Thrace grey paint and Breeze Pale Lilac curtains.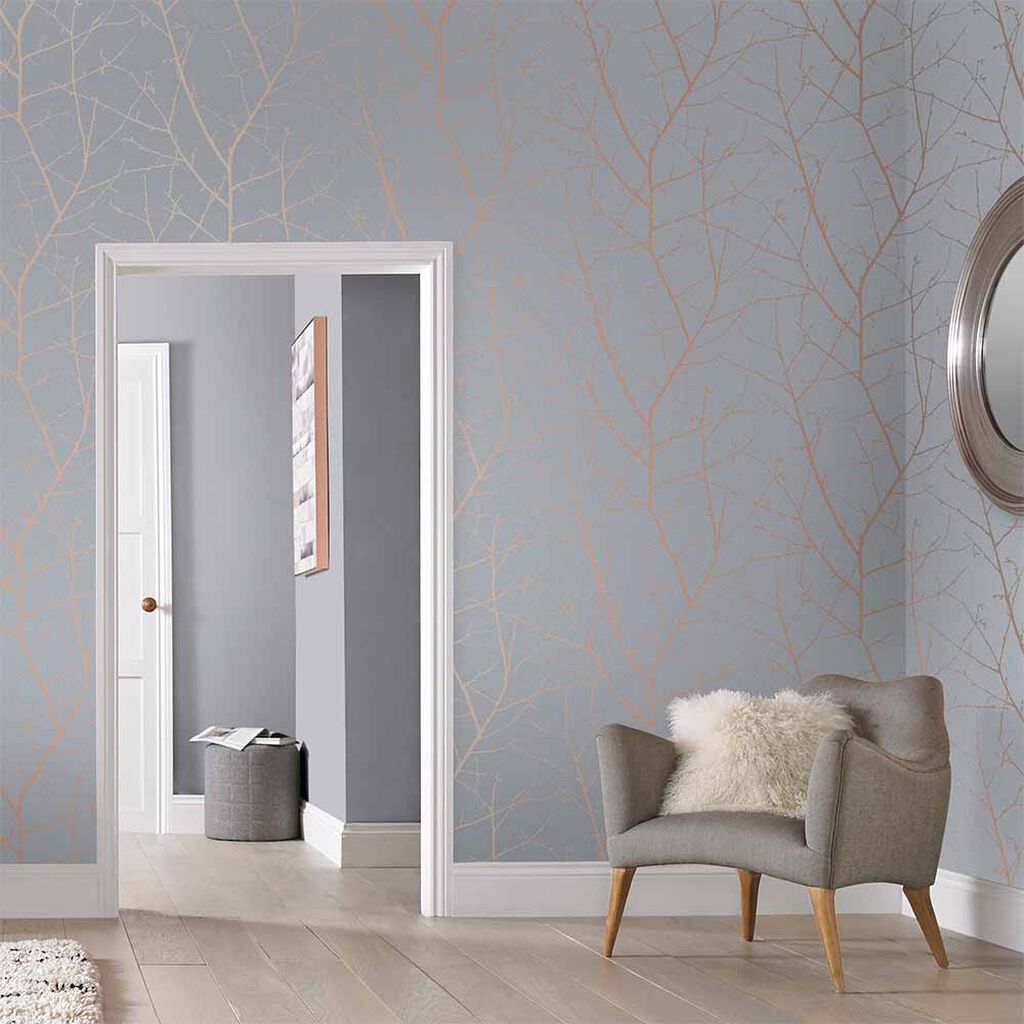 Palais Grey & Rose Gold Wallpaper
Rose gold is a big trend in wallpaper right now, and this elegant geometric design on a silky grey background is an interesting variation of a vintage design. Palais Grey and Rose Gold wallpaper perfectly pairs with Anastasia or Power Suit grey paint, as well as either rose gold or grey curtains to accent the pattern.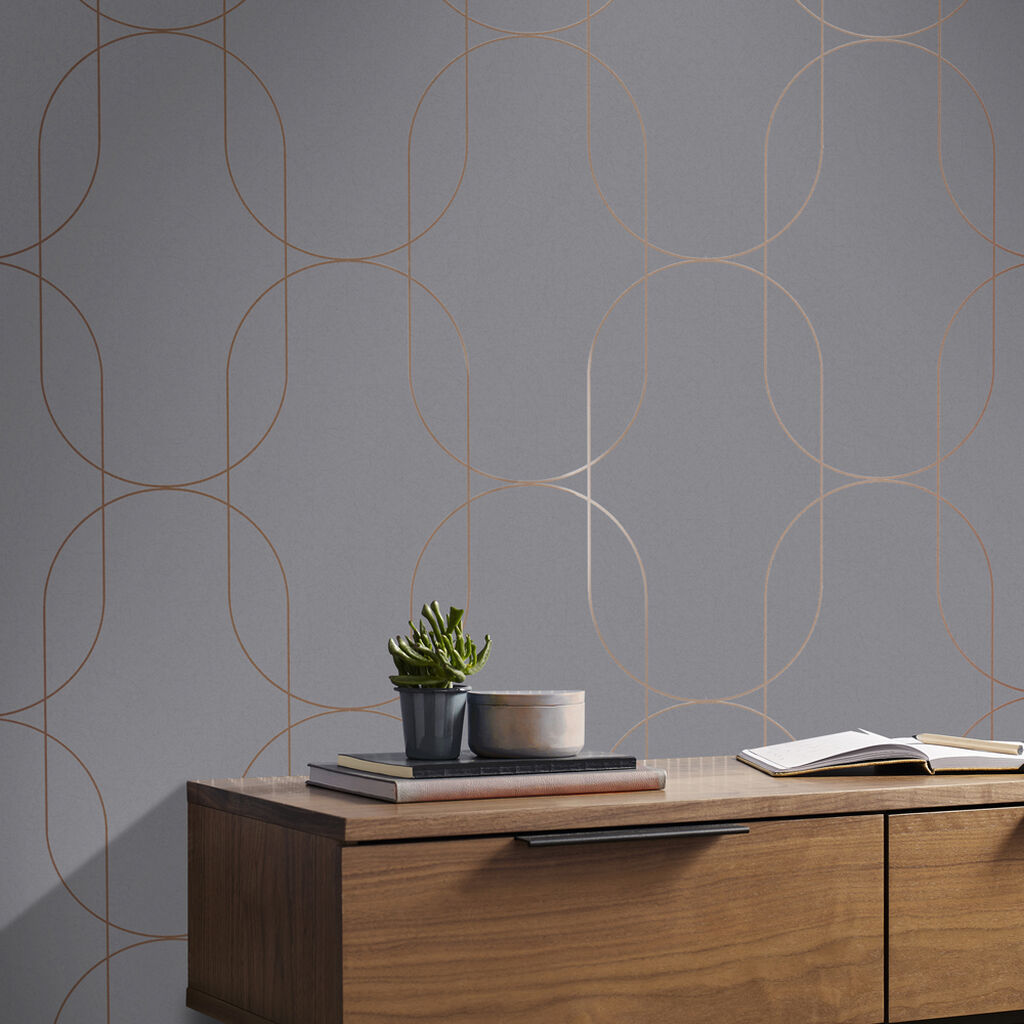 Glasshouse Soft Grey Wallpaper
A wonderfully bold botanical print wallpaper where graceful herons wander among the plants on a soft grey background. Glasshouse Soft Grey wallpaper makes a superb feature wall design, accented with Whale Tail roller blinds to pick out the teal, and Moon Cottage grey paint to create complementary walls and add lightness to the overall design.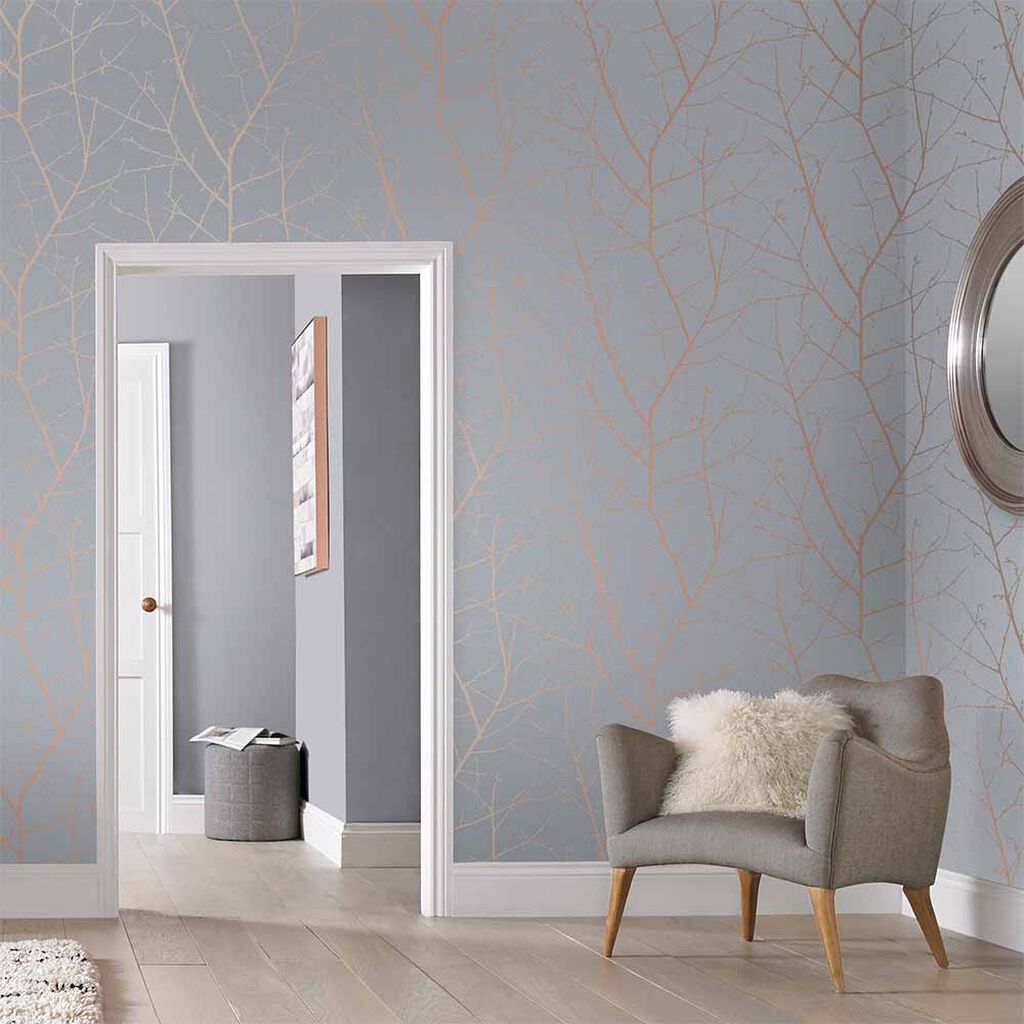 Idyll Tree Grey Wallpaper
Ghostly white trees shimmer against a subtle grey background, the detailed rendering of every leaf and branch, creating a truly exquisite pattern. The delicate use of metallics brings a shimmer to this grey wallpaper. Perfectly pair it with Wolfpack grey paint and Serenity Soft Grey curtains.
Boreas Deep Grey Wallpaper
A subtle silver metallic sprig design sits easily on a deep grey background, allowing the shimmering pattern to create an almost three-dimensional effect. The textured wallpaper adds an extra element and perfectly pairs with Geometric grey paint or the deeper tone of Gunmetal Grey paint.