Inspiration
Maximalist Home Decor
Explore a 'more is more' aesthetic with some of our favourite maximalist interior design tips.
Maximalism is a design trend that has been winning people over ever since focus has shifted towards designing primarily for comfort within the home. It embraces bold choices in colour and design, as well as an open-arms approach to texture.
A common misconception is that maximalist homes are cluttered or messy - but actually, maximalism isn't just about filling your home with random objects or making a space feel overwhelming. Instead, it's about experimenting with colour, pattern, texture and furniture to create an aesthetic that celebrates how beautiful and fun excess can be.
If you're looking to explore maximalism in your home, or even just one of your rooms, here are some of our favourite ways to get started.
CHOOSE BOLD COLOURS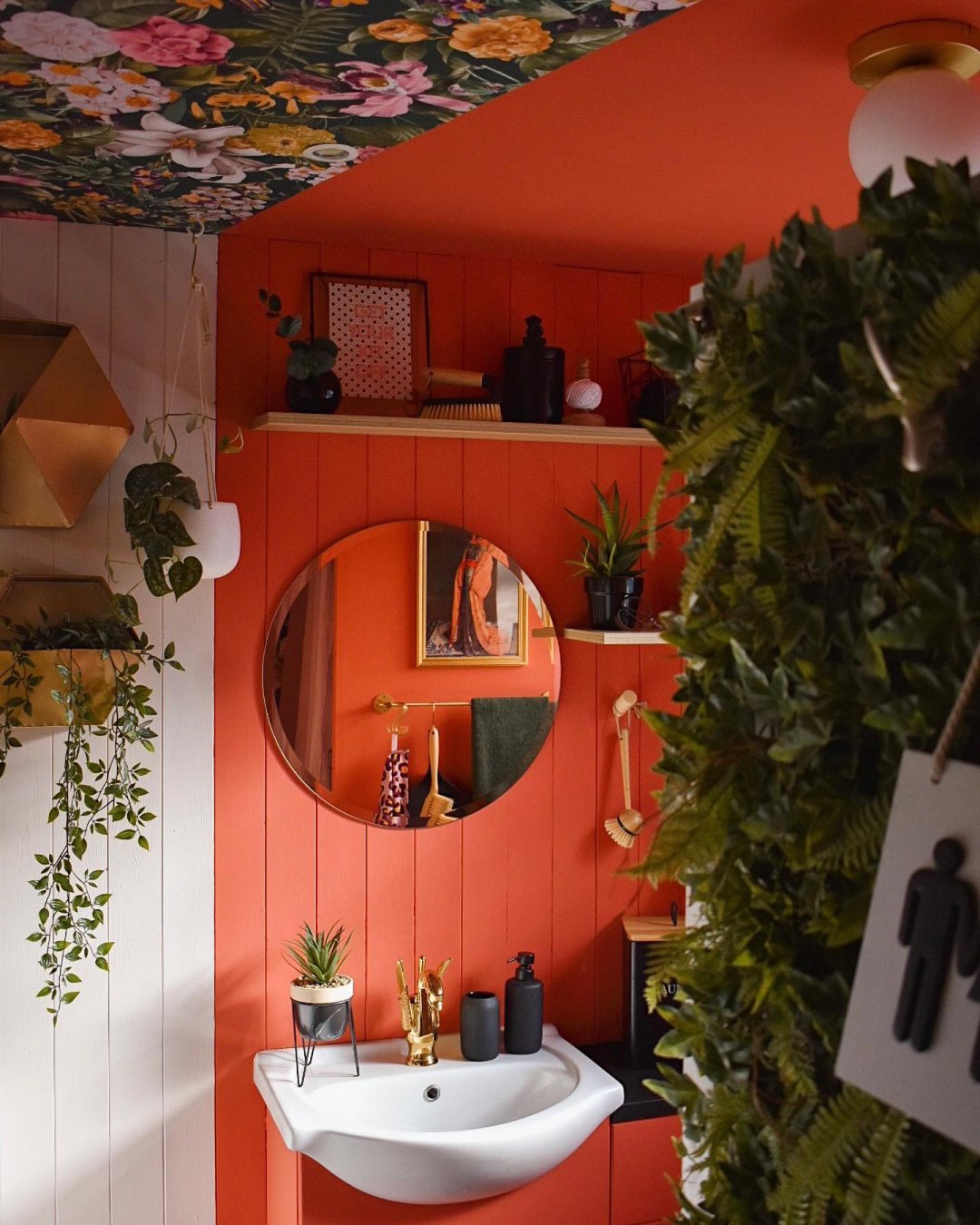 One of the most important things to consider when creating a maximalist aesthetic is colour. Unlike minimalism, which favours neutral shades like white, grey and beige, maximalism revels in bright and bold choices. Start simple by choosing a basic colour scheme, perhaps focusing on a single colour for all four walls, and then adding bright accents. For instance, many people like to start with a dark foundation - such as a navy
blue paint
- and then accessorise with different coloured furnishings. This could include
green cushions,
pink armchairs or
lilac curtains.
Introduce a whole range of colours into the space to see what works.

SURROUND YOURSELF WITH OBJECTS YOU LOVE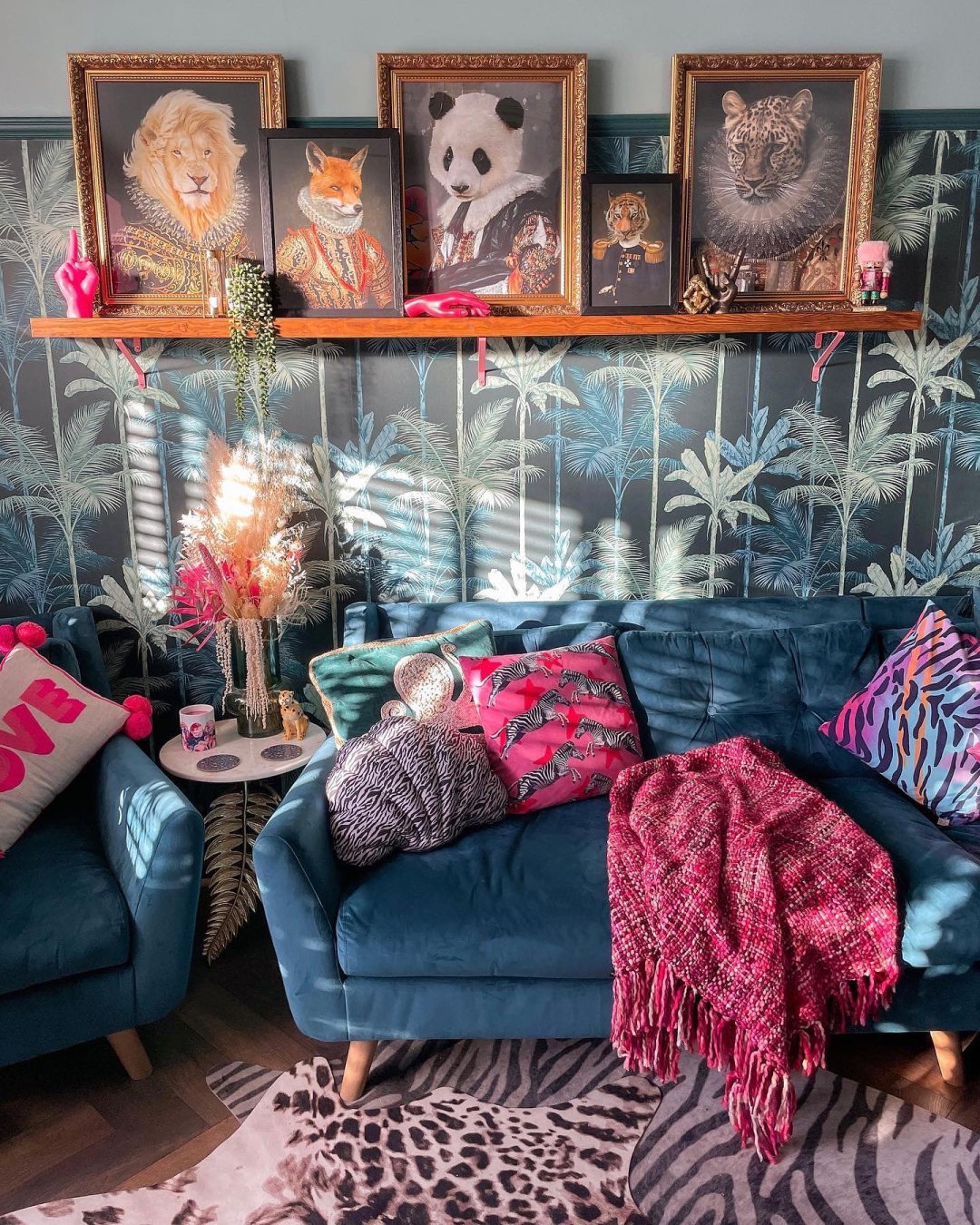 One of the great things about maximalism is that you don't have to hide away any of your treasured possessions. Things like vases, instruments and figurines can all look perfectly in place when it comes to a maximalist room. Create little pockets of interest by displaying your favourite objects on shelves and side tables. If you're worried about things not seeming quite cohesive enough, try to create a theme using colour, size or design.

CREATE A GALLERY WALL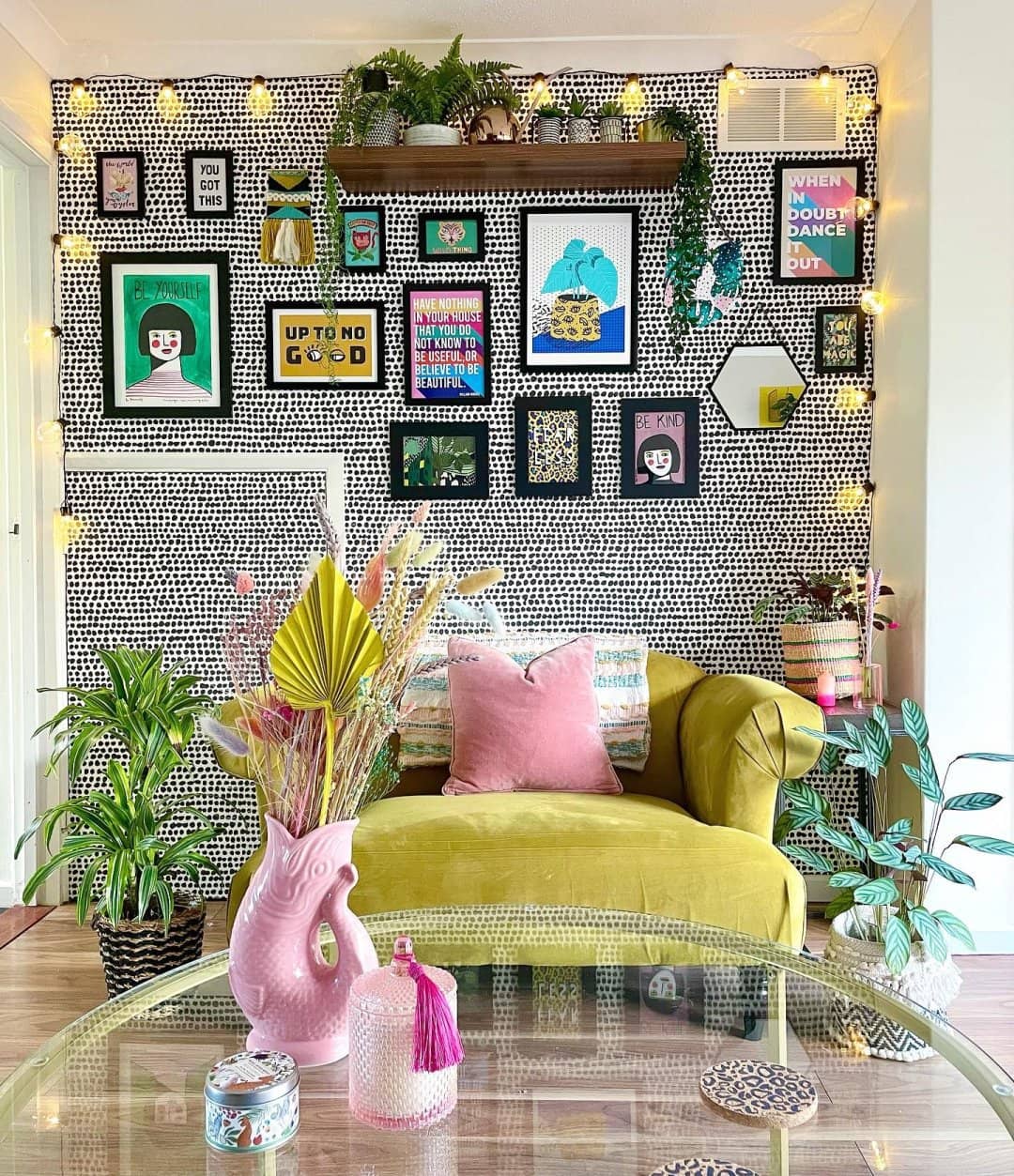 If you're an art-lover, maximalism is a great way to show off your collection. Unlike more pared-back aesthetics, there's no need to feel like you can only hang one or two pictures in a room. Follow maximalisms 'more is more' principle and dedicate a whole wall to your art pieces and photographs. Use different frames that complement each other to add even more texture and visual depth. If you want examples of how best to lay out a gallery wall, check out our gallery wall ideas blog.
USE BOOKS AS ART
Anyone who owns a lot of books will know that finding space for them without creating clutter can be a challenge. Luckily, it's a challenge maximalism is more than up for.Don't be afraid of stuffing your shelves with books if you're creating a maximalist design scheme - in fact, the more the merrier! Order them by colour, or simply put them together in any way that you personally think looks nice. Pile some of them in stacks, put a few on your coffee table, turn some of them so that their front covers are on display - basically, arrange them so that they add to the texture and colour of the room. In this way you can turn your books into integral parts of your interior design, as well as being something to curl up with in the evenings.
PICK RICHLY DESIGNED WALLPAPERS
The world is your oyster when it comes to choosing wallpaper for a maximalist room. Don't worry about the design clashing with your rug - now is the time to choose that wild wallpaper you always loved but were worried wouldn't match the rest of your decor. At Graham & Brown we have a whole selection of bright and quirky designs, including our Kingdom Lion, Perch Navy and Jardin Magenta. You don't even have to limit them to a feature wall - use them as the foundation for your whole room and accessorise with block colours.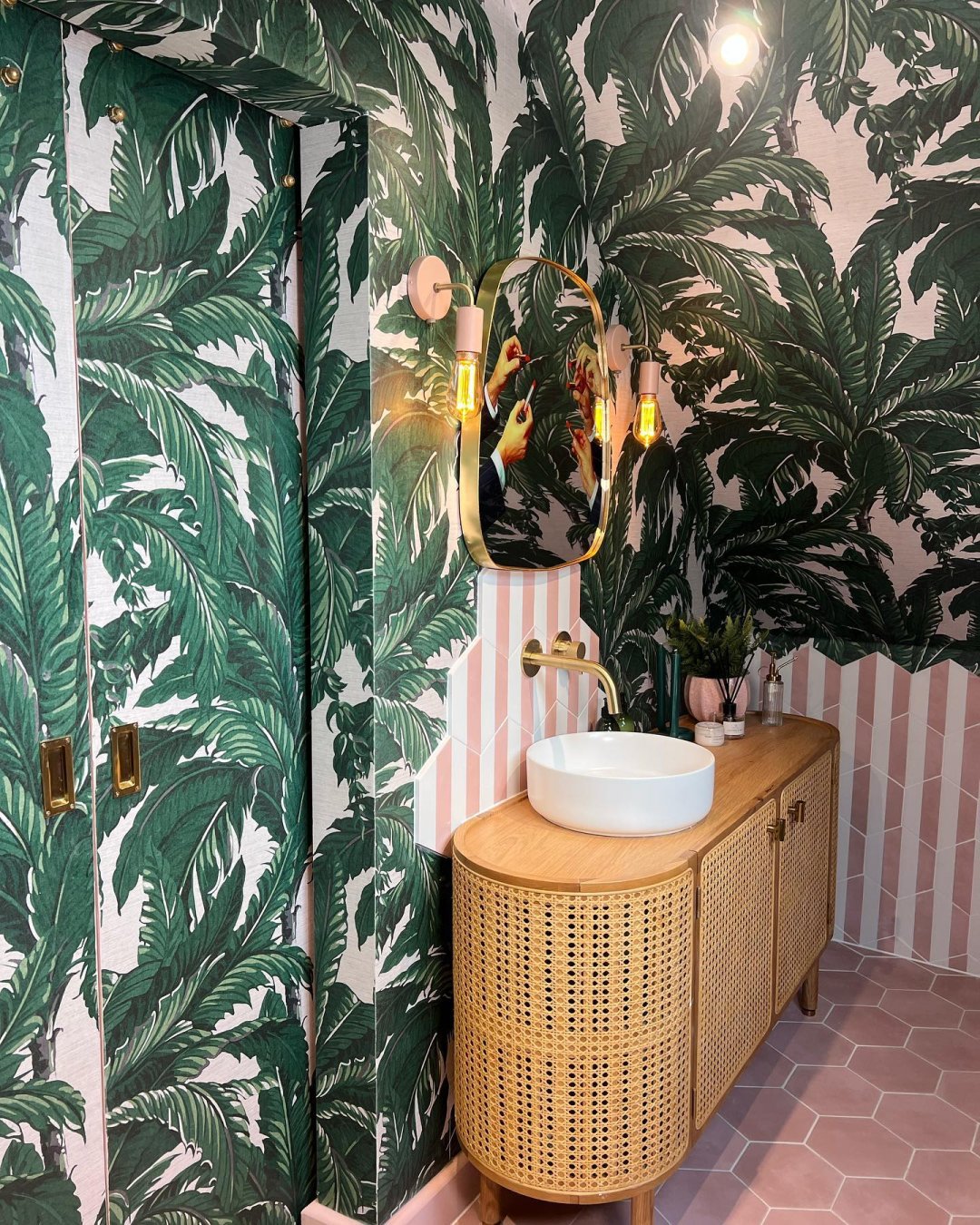 EXPLORE TEXTURE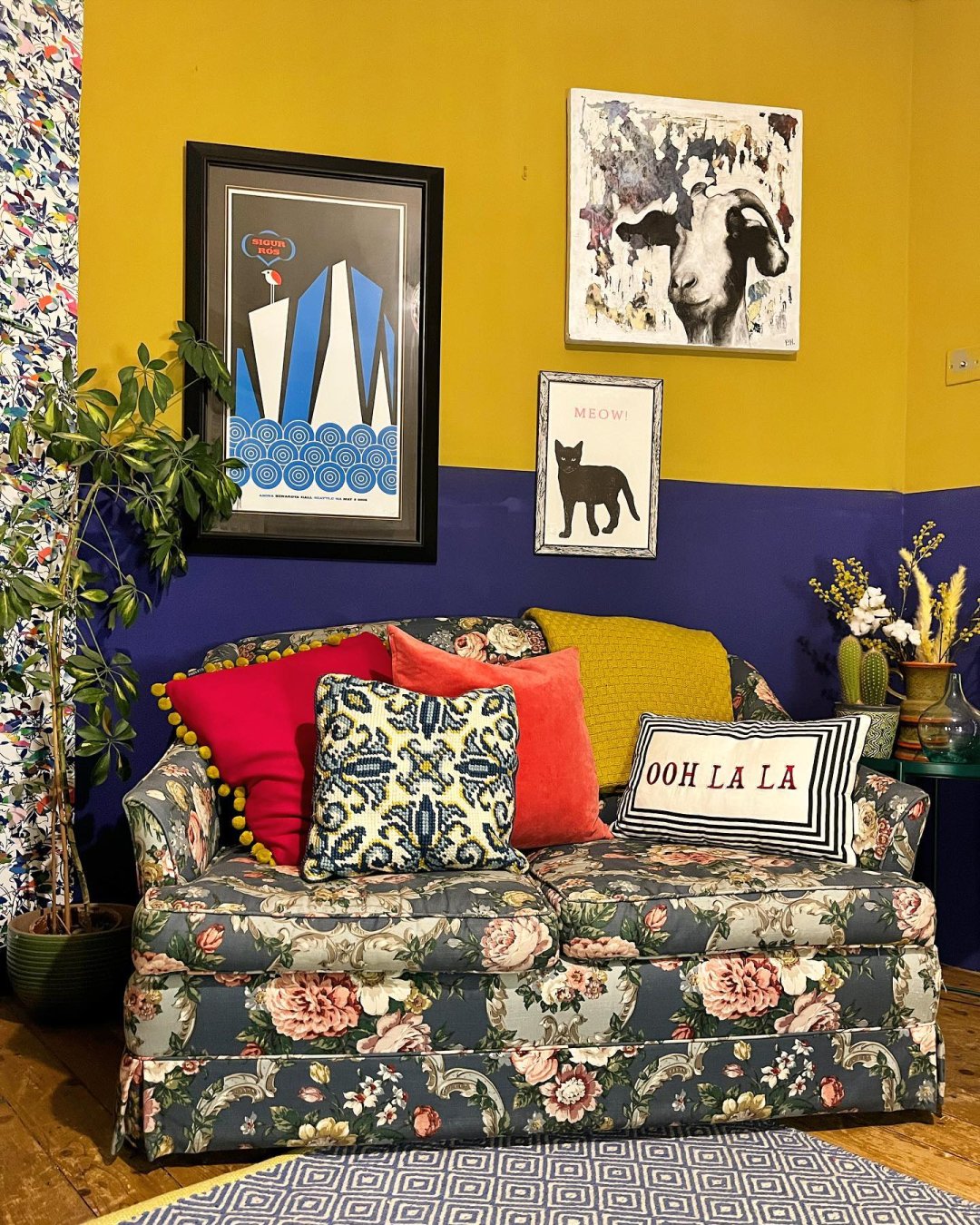 Texture is a hugely important aspect of maximalism and you should approach it with a similar amount of consideration as your colour scheme. Choose textures that you love and that inspire comfort - soft, fluffy rugs, velvet cushions and plush furniture are a few favourites. It's definitely time to get out the crochet blanket your gran made you and to chuck a colourful throw over the sofa. If you're stuck, don't forget that pretty much every object adds texture to a room, and you can even buy texture wallpaper for an added touch.

DON'T WORRY ABOUT BEING PERFECT
Maximalism is a design scheme that really embraces imperfections and that can be reworked and added to at any point. So don't worry if things don't always seem to work together perfectly - that's part of the fun and joy of it. Mix and match to your heart's content and rethink the idea of clashing colours and designs.
We hope you liked this blog and it's given you some new ways to think about interior design in your home! For more inspiration, check out our guide to cottagecore or find out how to create a monochrome living room.