Inspiration
Kitchen Wall Decor Ideas
Kitchens are often one of the busiest rooms in a home - it's where we cook, where we eat, and where we hang out and chat with friends and family.
Turn One of the Busiest Rooms in your Home into a Beautiful and Stylish Space.
Kitchens are often one of the busiest rooms in a home - it's where we cook, where we eat, and where we hang out and chat with friends and family. Even if you have a small kitchen, or a separate dining room, it's a space that's often in use. That's why we think a kitchen should be beautiful as well as functional.
Take a look at our kitchen wall decor ideas for some inspiration, whether you're wanting a whole new paint job or just a way to display what you already have.
EGGSHELL & GLOSS PAINT
When it comes to painting a kitchen, you want to use a paint that is easy to clean. That's why we recommend either eggshell or gloss paint. Both finishes are washable and can be wiped down with a wet cloth after cooking. For a cosy kitchen feel, choose warm dark colours like King of Paradise and Cirque. Or, if you want to create a brighter, airier aesthetic, cool greys like Angel Dust and pale blues like Bluebird are great options.
TILES & TILE-EFFECT WALLPAPER
If you want a traditional, but still chic, look in your kitchen, tiling is the way to go. Not only do tiles add texture and flair to your walls, but they're also hugely practical for spaces above your oven and sink. Grease and watermarks are quickly cleaned away and it's easy to make the surfaces shine.
If you like the aesthetic of tiling but want a more affordable option, you can also take a look at our tile-effect wallpapers.
HANGING HERB GARDEN
Perfect for plant- and food-lovers, herb gardens add colour and life to a kitchen at the same time as being very useful. Having a hanging herb garden saves you counter space, which will suit any aspiring chef. It also makes for beautiful and unique wall decor.
UTENSIL HOOKS
Like a hanging herb garden, utensil hooks can be an excellent space-saver. Make room in your cupboards by hanging pots and pans, or use the hooks as a way of displaying your favourite mugs and tea cups. Utensil hooks are one of the best ways to help turn ordinary objects into decoration, as well as providing ease of access to things you need in the kitchen.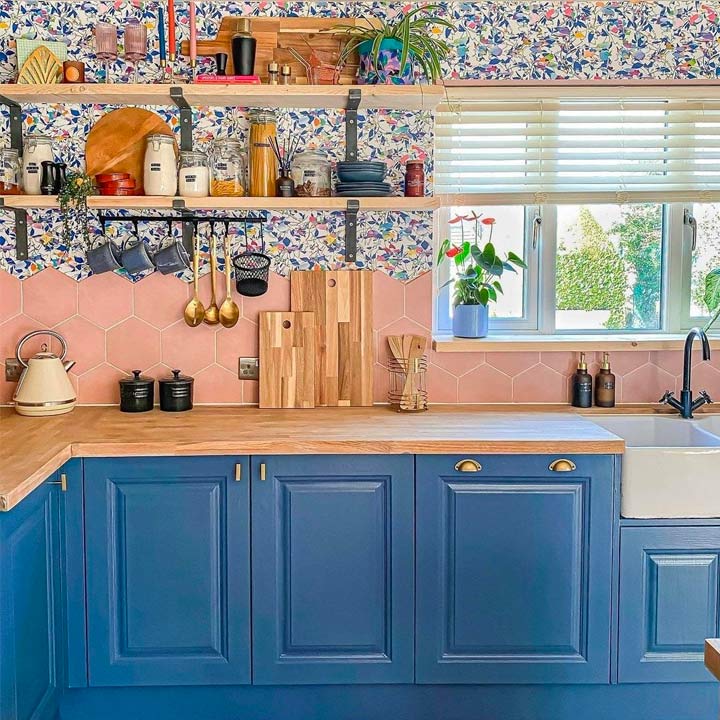 BLACKBOARD
Having a blackboard in the kitchen can be a lifesaver, especially if you live in a busy household. Either hang one up or use blackboard paint to dedicate some wallspace to notes, messages, recipes, shopping lists and more. If you have an artistic streak, a blackboard can even be a place to doodle and decorate, so that there's always a unique touch in your kitchen.
KITCHEN CABINETS
If most of your wall space is taken up by kitchen cabinets, why not make sure they're the most beautiful cabinets possible? Touching up or repainting cabinets is a great way of making the whole kitchen feel fresh. You can choose the colour to coordinate with your walls or crockery, or keep your walls neutral and use your cabinets to create a bold and colourful statement.
Take a look at our blog to find out exactly how to paint your kitchen cabinets.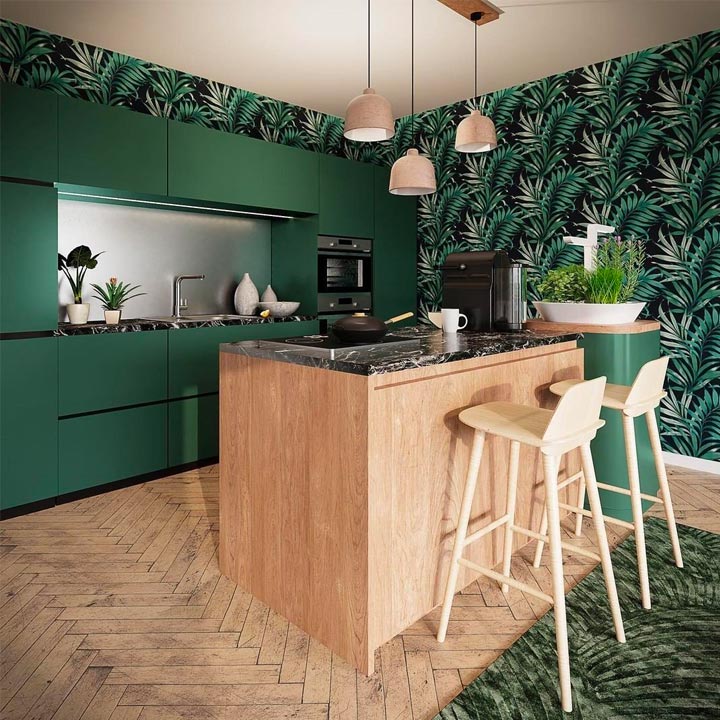 WALL-MOUNTED BAR OR WINE RACK
Why keep all your bottles and wine glasses tucked away when you could be showing them off with a wall-mounted bar? If you're a fan of cocktails, it's the perfect way to store spirits so that they're within reach, and wine-lovers can put their favourite vintages on display. Easily one of the coolest ways to spice up your kitchen walls, a wall-mounted bar is just as practical and useful as your cupboards.
WALL ART
Our final suggestion for decorating your kitchen walls is to invest in some wall art. Have a browse of our wall art collection to find something that suits the theme of your kitchen. We particularly like nature-themed pieces for the kitchen, which create a homey feel while adding colour and liveliness.
Have more rooms in your house that need decorating? Have a look at our best wallpapers for your bathroom.