Inspiration
The best wallpapers for any room
Wallpaper is back in fashion, and it's back with a bang!
The best wallpaper brings a fresh new look to any room, capturing colour, design motifs, and patterns that you simply cannot achieve using any other method of interior decoration. In this article, we'll examine the best colours for bedrooms and living rooms, how you go about making the most of your wallpaper, and how to create your own signature look using some of the best wallpapers on offer.
What to Consider When Choosing a Wallpaper
Before you start browsing through the wonderful wallpaper patterns here at Graham & Brown, you need to do a little research first so that you pick the right colours, patterns, or style. You'll need to think about the size of the room, what you use it for, and the décor and furniture that needs to work with your design.
Once you've refined your search parameters you can select your 'shortlist'. If you're still not sure, why not order a sample to look at 'in situ'? That will give you a better idea as to how your final choices will work within the space and the existing design plan.
What Do You Use the Room For?
We'll leave measuring for a moment and look first at what the room is used for, which will determine what kind of wallpaper you buy, your colour scheme, and any other factors. For example, if you're decorating a child's room you will need the wallpaper to be bright and colourful but not too overstimulating. It will also need to be tough enough to cope with a boisterous child (and potentially a box of crayons now and again!). So it will have to be durable and hard-wearing.
The best living room wallpaper should complement your existing furnishings, both in colour and style. There is no point mixing a contemporary, bold pattern wallpaper with a traditional 'cottage' style living room – the two need to balance. Textured wallpapers provide a tactile level of opulence that can elevate an interior to another level. Bedroom wallpapers should be refined, restful, and carefully chosen to create a calm and peaceful atmosphere – a place you want to relax in at the end of a busy day.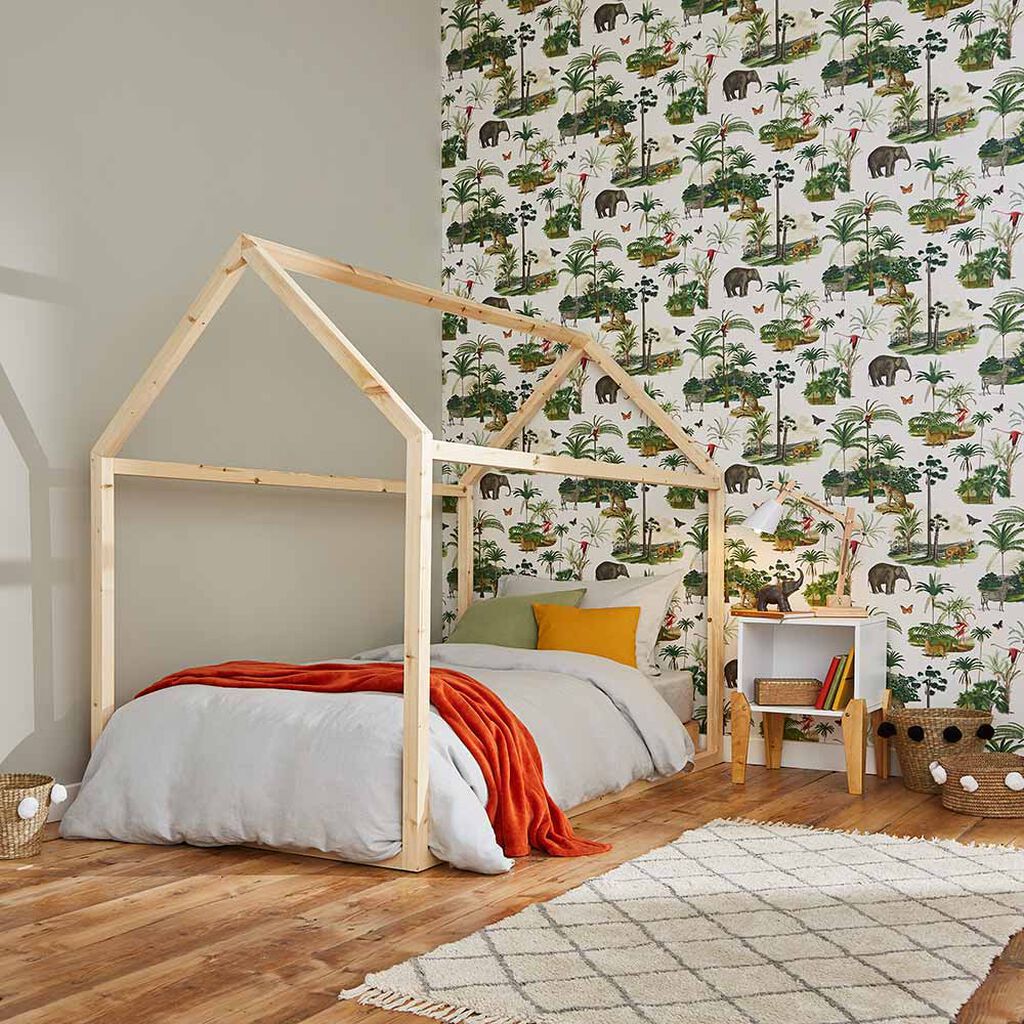 The Size of the Room
Next, you need to think about the size of the room you want to decorate. You need to know this to ensure you buy the right amount of wallpaper and avoid expensive mistakes. You can use our Wallpaper Calculator to determine that accurately. You can find this on every product page.
But you also need to consider how the size of the space will affect your choice of wallpaper. If you're dealing with a small room you need to make sure that you don't 'overwhelm' the senses and even make the room appear smaller than it actually is. Our top tip: Rather than using wallpaper on every wall, create a feature wall that provides a focal point and can create the illusion of more space. For more information, have a look at our in-depth guide to decorating a small bedroom.
Other Furnishings
If you're planning to redecorate using the best wallpaper, you need to think about your existing furnishings. Changing the whole look of a room could get quite expensive, so rather than having a complete style change, choose colours and patterns that will work with your existing furnishings. For example, if your living room furniture has a particular colour theme, use an online colour wheel to see what would work with it, and what won't. If you're nervous about choosing the wrong colour, go for neutral tones that will work well with almost any colour.
That doesn't mean you need to 'go bland', though. Think about texture, patterns and whether you want a contemporary or traditional look. For example, floral wallpapers work well in a cottage whereas geometric wallpapers can balance well with ultra-chic modern interiors. If you want to remodel your interior around your chosen wallpaper, why not take a look at our home furnishing options including blinds, curtains, cushions & bedding? It's easy to create a co-ordinated look that's relaxed and natural.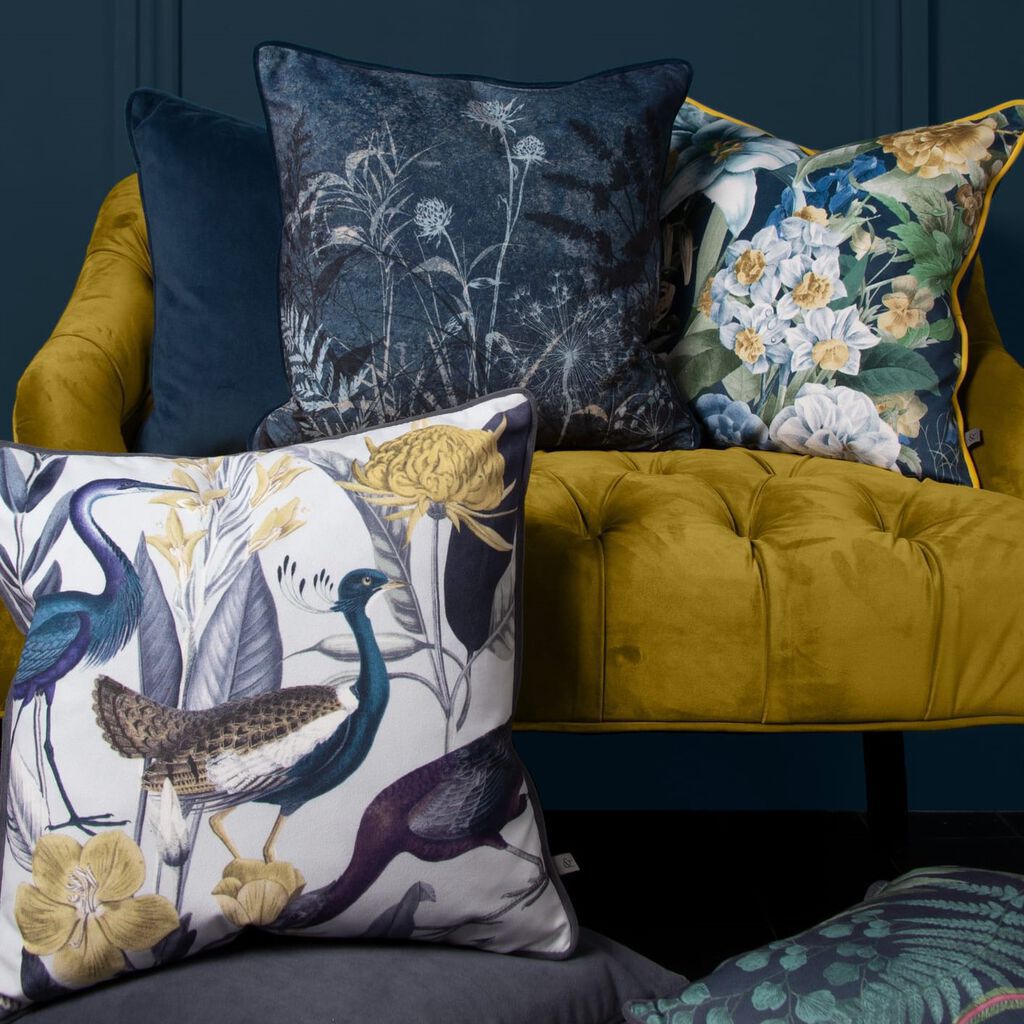 How Much Light Does the Room Get?
When you're choosing the best wallpaper for a space, one thing you do need to consider is how much natural light the room gets throughout the day. If you have a north-facing room or one with a very small window, try to avoid dark colours that will make the space feel restrictive and possibly even claustrophobic. Pick lighter colours or even a white wallpaper that can be accented with pops of colour through bright wall art. A large, airy room may benefit from a feature wall and bolder colours to prevent it from feeling too 'empty'.
If you are limited on natural light, our top tip is to put a mirror opposite the window to reflect the light into the room. This will also give the illusion of more space in smaller rooms too.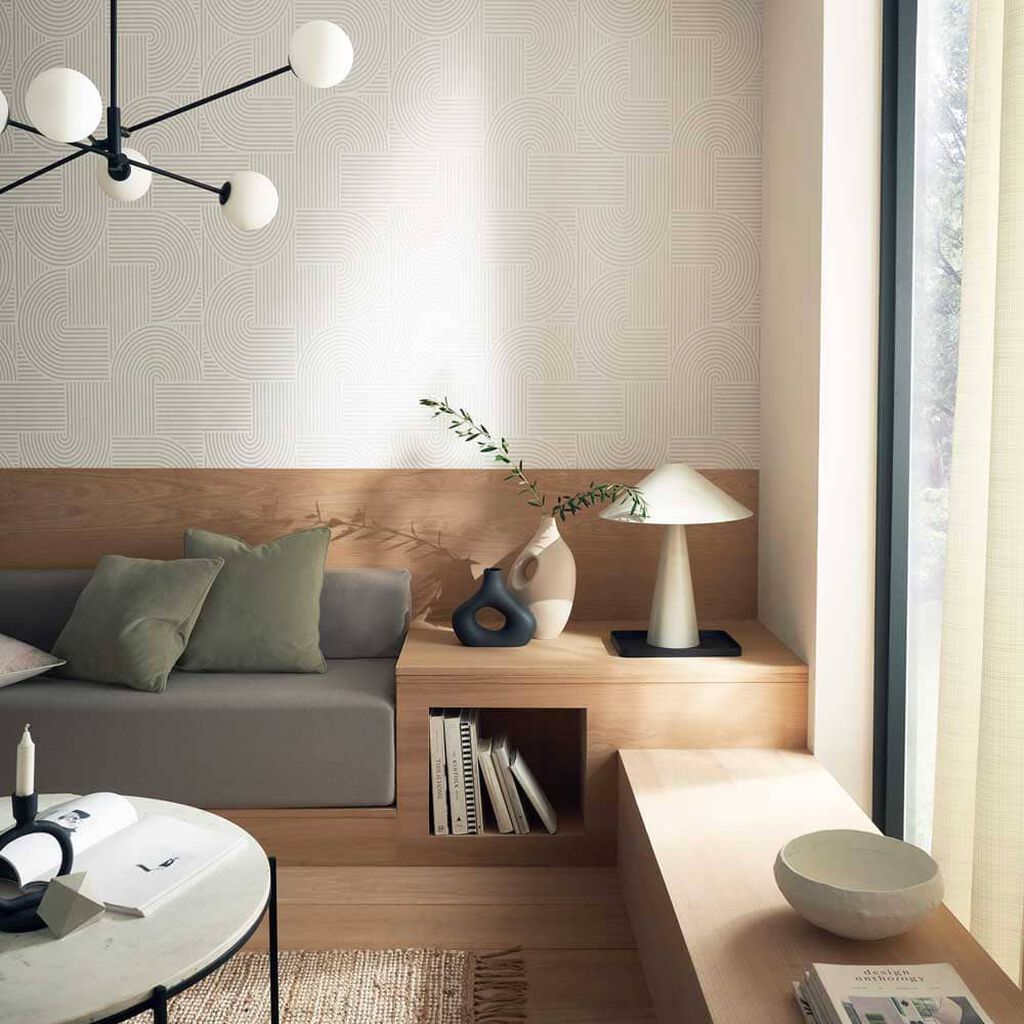 TYPES OF WALLPAPERS
Once you've taken into account the existing space, the amount of light, and the purpose of the room, you can now start thinking about the different types of wallpapers on offer.
Plain Wallpaper
Not only are plain wallpapers easier to work with (as there's no pattern to match up), but they're also the simplest to work into an interior design. Plain textured wallpaper doesn't look textured but still may have a tactile element to it to give it a satin look, for example. You'll get more useable yield with plain wallpapers as you don't need to consider the pattern repeat ratio. That makes plain wallpaper ideal for decorating larger spaces on a budget.
You can also use plain wallpaper in rooms where you already have a lot of patterned furnishings, or if you want to make a feature of wall art, paintings and sculptural pieces. They can also make smaller spaces feel larger if you choose light colours.
Textured Wallpaper
Textured wallpaper has been around for a long time, and is very popular among interior designers who want to create a luxurious feeling. Textured wallpaper includes the iconic 'flock' style. Damask flock is perfect for a Regency-style living room, with Queen Anne or Georgian-style furniture. A shimmering herringbone texture effect brings plenty of light into a smaller room without overpowering the rest of your décor.
Patterned Wallpaper
Patterned wallpaper can be anything from a bold geometric design to delicate floral designs. You will need to calculate exactly how much you need very carefully using our Wallpaper Calculator so that you minimise wastage. Bear in mind that the more complex the pattern, the less the useable yield, especially if the pattern is offset.
However, the challenges of hanging patterned wallpaper are well worth the effort. Patterns are the best wallpaper for creating feature walls. Balance the complexities of the pattern with plain coloured complementary walls that pick a tone within the pattern to create a synergistic look.
If your room is particularly small, you may want to choose a lighter, less intense pattern so that the visual impact is not diluted, nor conversely, overwhelms the space.
Designer Wallpaper
If you want to achieve that wow factor for any room, the best wallpaper brands to choose are those that specialise in designer wallpaper. Not only are these patterns created by some of the best artistic minds in interior design, but they set the trends, rather than follow them. At Graham & Brown, we're delighted to work with such décor luminaries as Barbara Hulanicki, Sacha Walckhoff, and the wonderfully quirky designs of 2 Lovely Gays.
OUR FAVOURITE WALLPAPERS
It's hard to pick out your favourite wallpapers from over 700 of the best wallpaper and designs. But after much deliberation, here are our top three best wallpapers, and why we've chosen them.
Florenzia – Design of the Year 2023
Floral is back and in a big, bold way. This fabulous floral wallpaper is filled with classic themes with a tranquil rich blue base and a repeat pattern that creates a fabulous feature wall in any living room. With teal being so popular as an interior colour, Florenzia Dusk works perfectly even in relatively small spaces.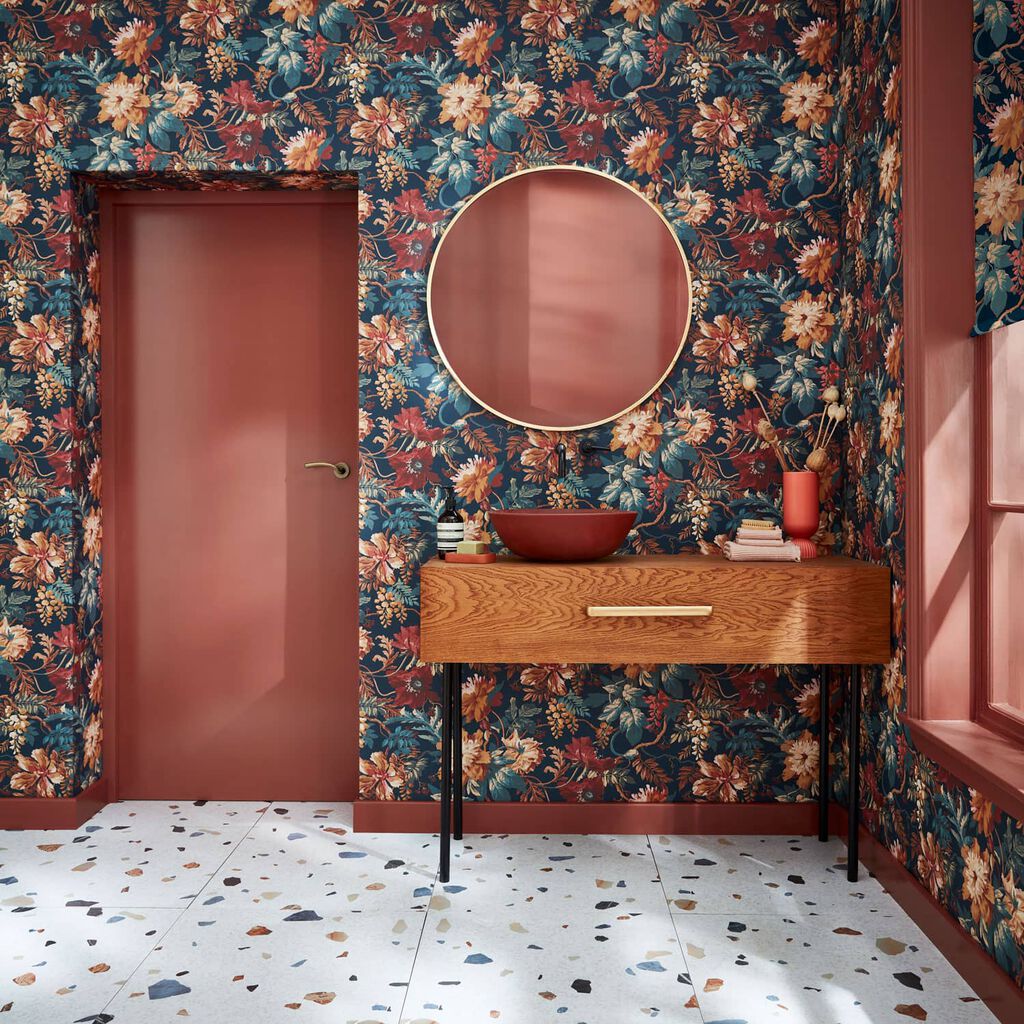 Wild Flower Shadow – Minimalism personified
At the other end of the scale is a gloriously refined wallpaper that proves minimalism doesn't have to be cold or soulless. Wild Flower Shadow is inspired by the art mother Nature. It uses the delicacy of a wispy organic pattern to create a stunning yet subtle design that's so light it's almost ghost-like. It's ideal for bedrooms and smaller spaces.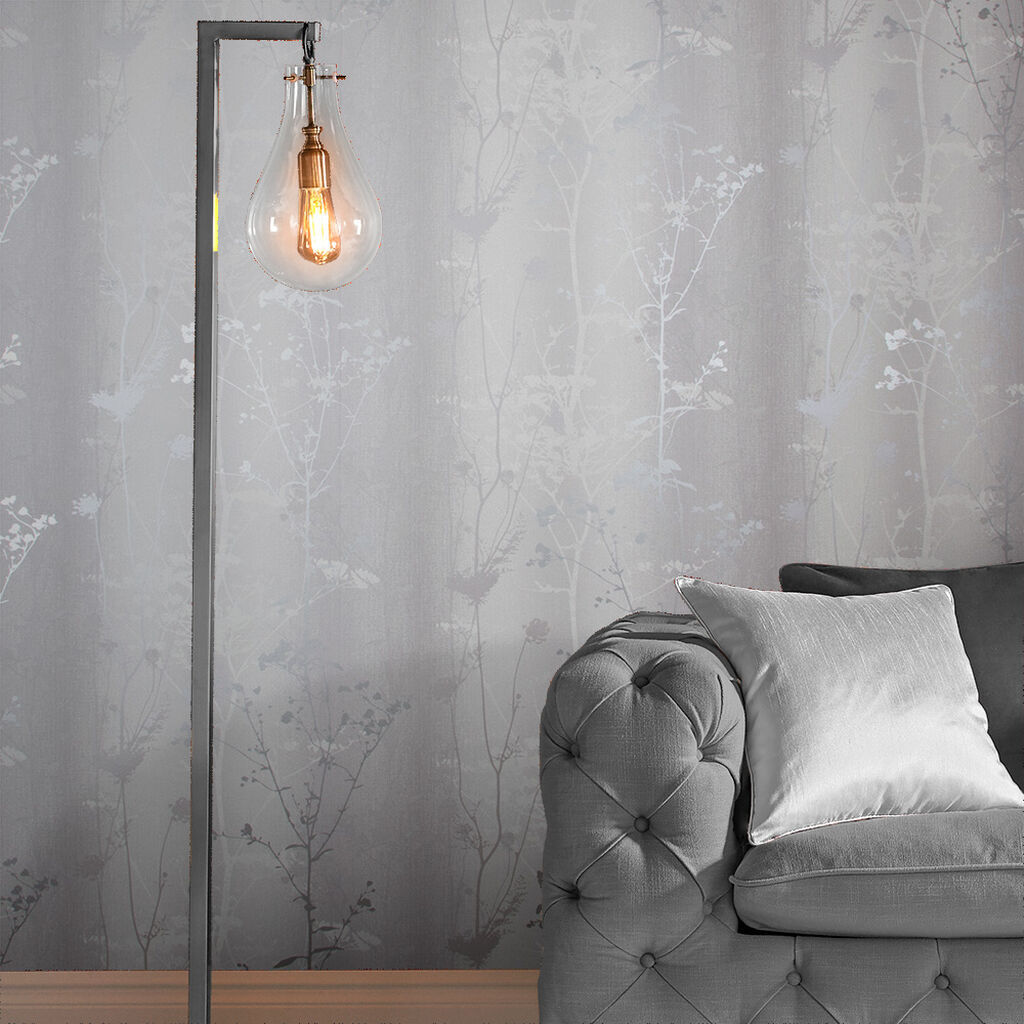 Retro Denim – the elegance of geometric design
Simple, refined, and effortlessly cool, retro styles are back, but with a twist. We love Retro Denim for its striking geometric design that's perfect in bright, bold interiors to create a fusion of concepts that balance perfectly. The pattern may be vibrant but the colourways are subtle and flexible, allowing you to create a real retro interior but with that 21st-century flourish.