Inspiration
The best patterned wallpapers for any room
Transform your space with the perfect patterned wallpaper. From bold florals to subtle geometric prints, discover the best designs for any room in your home.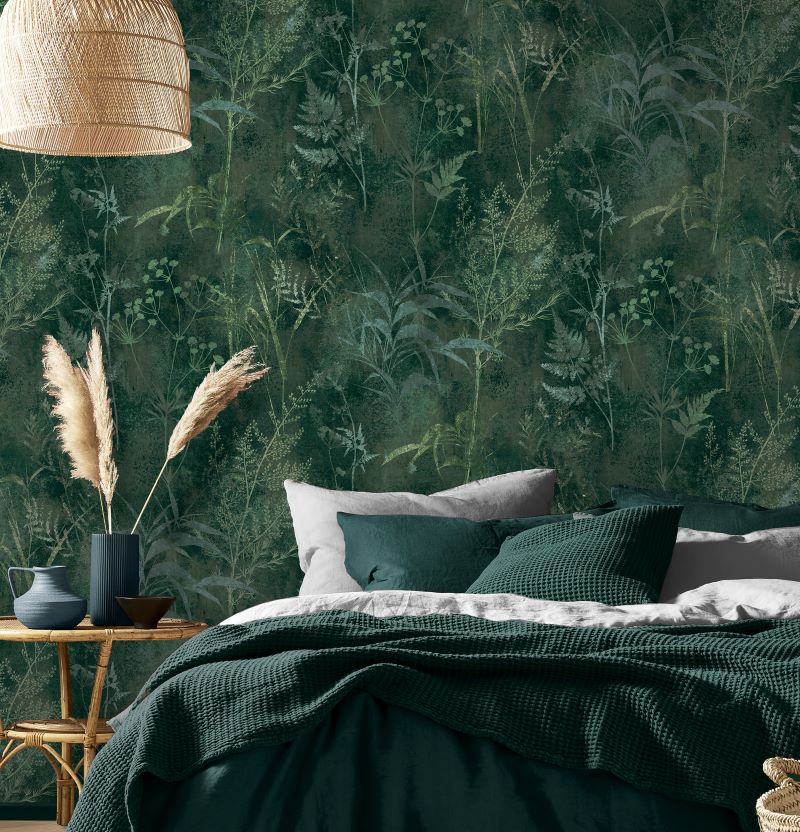 Patterned wallpaper is the answer if you want to bring a real lift to any room. Whether you love a classic cottage look or want something retro, are into super-chic modernism or fancy something colourful for a kid's bedroom, the sheer variety of patterns on offer gives you plenty of options.
But are there patterned wallpapers that will truly work in any room and designs that look as good in the bedroom as they do in the living room? In this article, we will introduce you to the wonders of geometric patterns and the subtleties of grey patterned wallpaper. We go botanical with floral patterns and incorporate this season's big colour trend with green patterned wallpapers.
So if you're stuck for ideas for a spare room, want to bring the colour and delicacy of a country cottage garden into your living room, or can't get enough of that vintage look in the bedroom, here are our top picks for the best-patterned wallpapers for any room.
Geometric patterns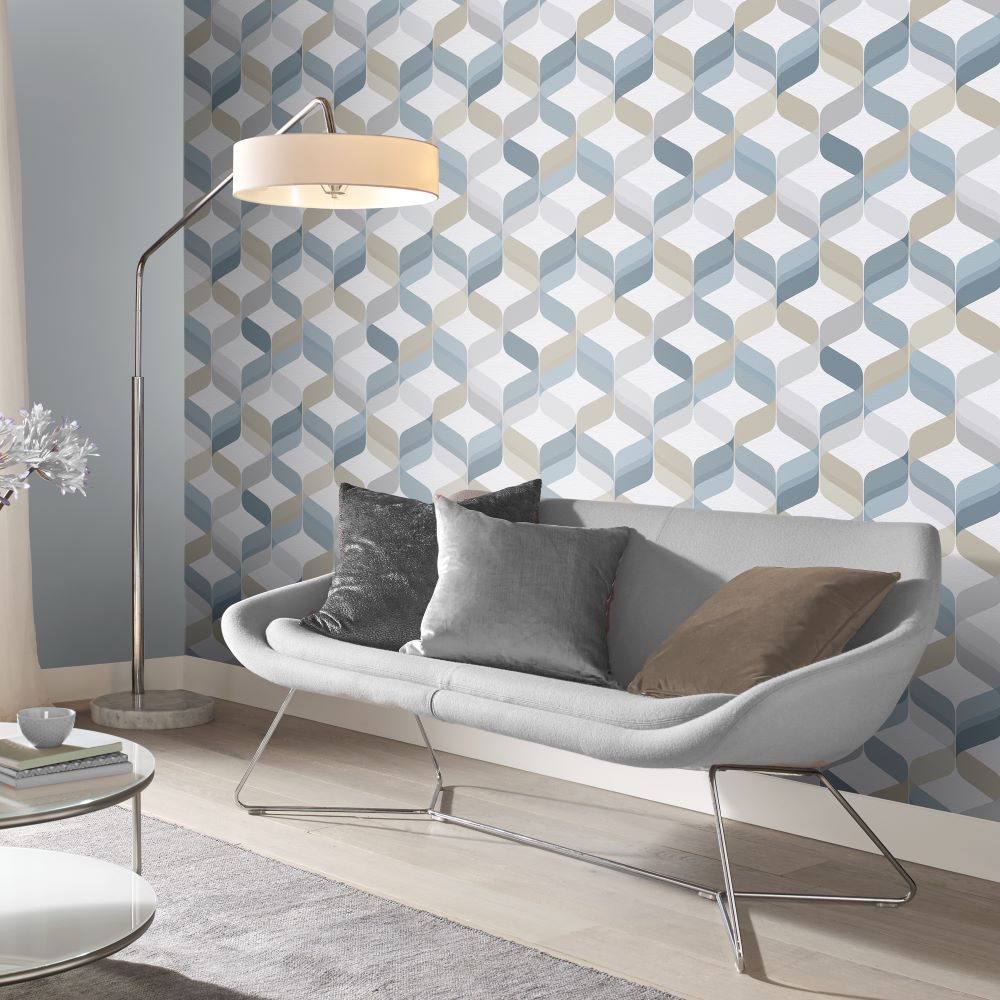 A repeated geometric pattern usually incorporates a limited colour palette. But by using mathematically accurate shapes, the design can deliver real visual impact. Perfect for modern interiors, geometric patterns such as the delightful Retro Denim wallpaper design can create a fabulous backdrop for a trendy living room or bedroom. Keep the furnishings period-sympathetic, so go Scandi retro or mix it up with pure 1950s kitsch to stay on-brand.
If you want something more sophisticated, look at geometric patterns that use a clever combination of dark backgrounds complemented by shimmering metallics, such as the Aqueous Geo Cobalt wallpaper. The lightness of the silver geometric design is offset by the deep blue background, a big colour theme right now and one that perfectly partners with any metallic look.
Floral patterns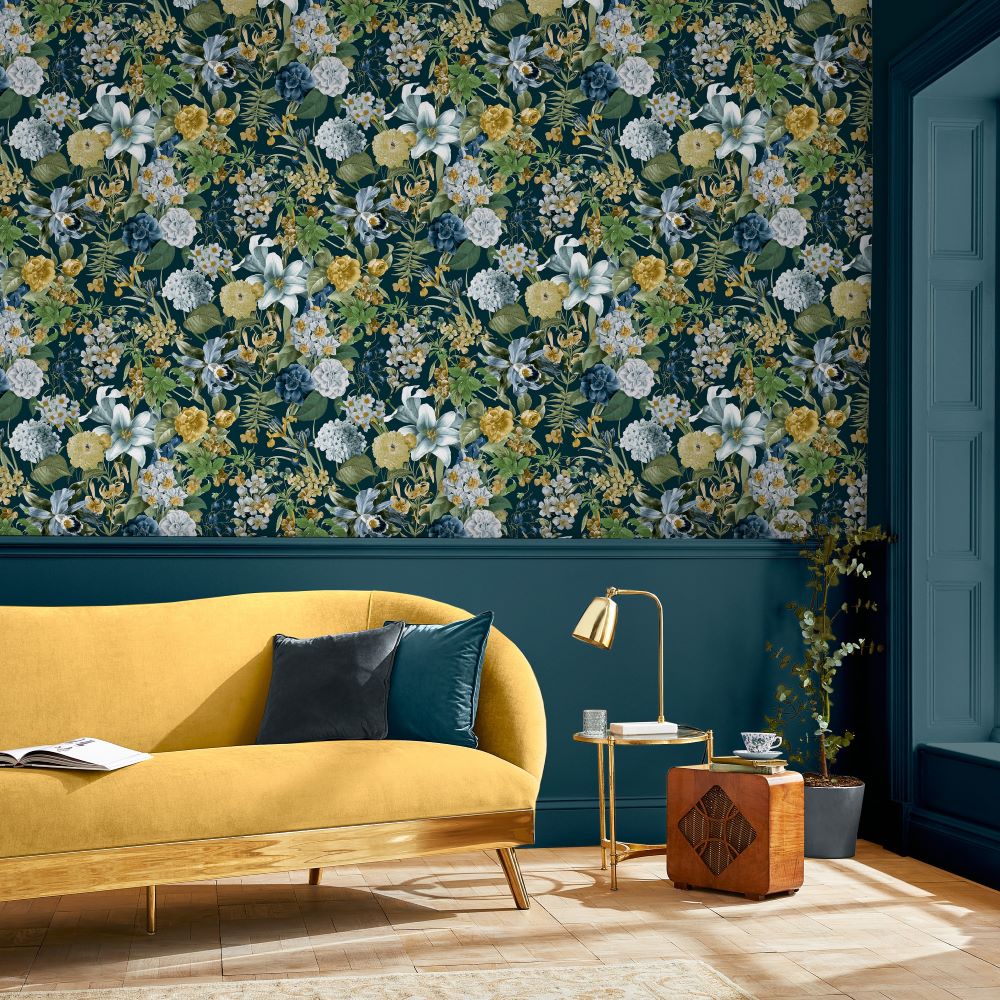 Floral wallpapers always retain their appeal, and with so many to choose from, there's bound to be one that suits any room. Floral patterns offer many options, from delightfully light and airy Laura Ashely heritage patterns to subtle Japanese-inspired twig-and-bud designs to bold jungle murals. Think about the effect you want to achieve, as well as key elements such as the natural lighting in the space, how big the room is, and your existing furnishings and décor. If you want to create a feature wall, a bold, vibrant design like the Glasshouse Flora wallpaper is your best option. The botanical elements are balanced by a dark blue background, allowing the yellow and white flowers to come to the foreground and ensuring the pattern doesn't overwhelm a smaller space.
Stripes
Stripes may seem the simplest patterned wallpaper you can choose, but be careful with this deceptive design. Your room size will dictate how thick the stripes are, whether you go for bold colours or a more subtle grey patterned wallpaper, and whether you go horizontal or vertical. The latter will make a room feel taller, while horizontal stripes can increase the sense of space. Neutral tones can also be enhanced by adding a touch of tactile texture into the mix, such as the subtle champagne tones of Baroque Bead Stripe wallpaper, with its raised textured stripes between complementary tones of champagne.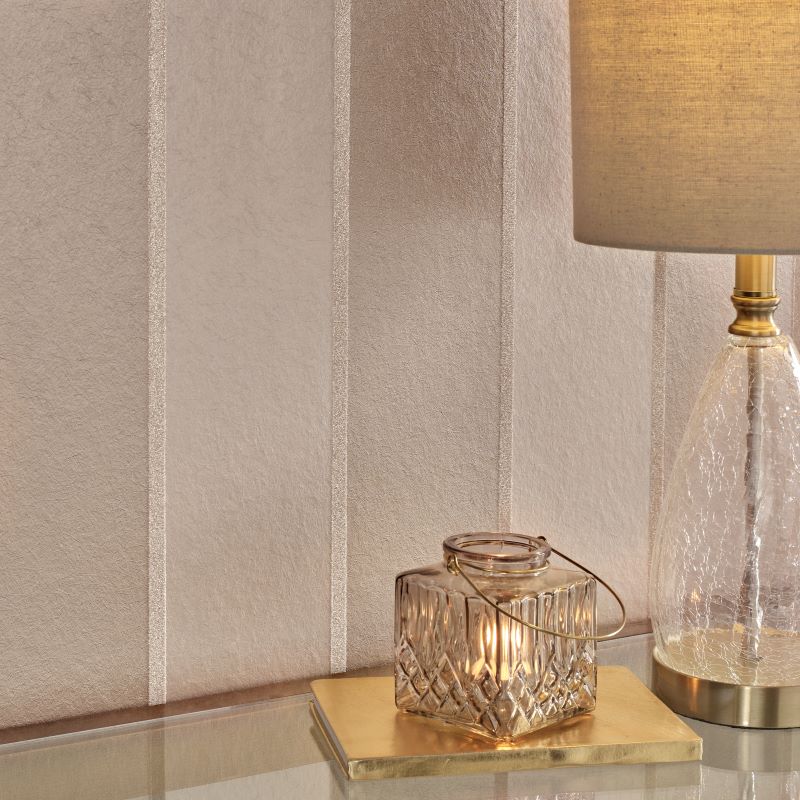 Damask patterns
Damask has been a hugely popular pattern for over two hundred years, and today's modern versions of this classic design are just as relevant and stylish as today. Think French chateaux, touchable luxury, and a design that elevates any room to a new level. Damask works particularly well in sitting rooms and bedrooms. Choose rich, indulgent colours such as Gothic Damask Plum wallpaper, which again adds a textural element thanks to the soft flock design with the lusciously deep purple background. Ideal as a single-wall feature, it perfectly partners with complementary paints.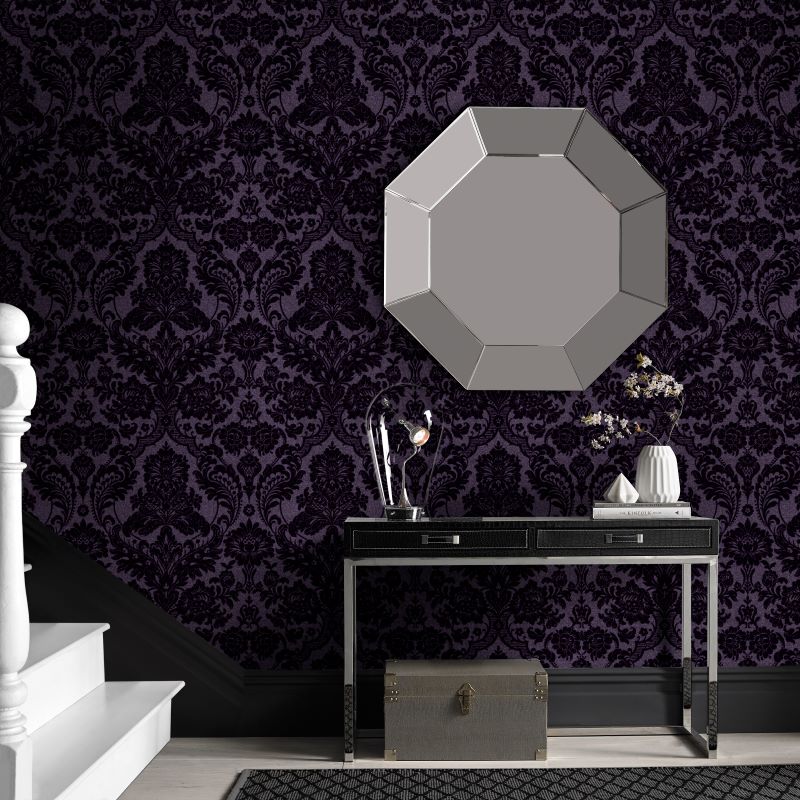 Textured patterns
Textured patterns bring a new element into your décor, and that's a more tactile sensation. If you choose a metallic textured wallpaper, it can also disperse natural light to create a shimmering effect that will bring light and movement into a smaller space. You can also create a more organic look with textured wallpaper, such as the delicate pattern of Grasscloth Natural wallpaper. This sophisticated wallpaper uses neutral tones and a subtle Grasscloth texture that works well in any space, from hallways to living rooms.
Vintage patterns
Vintage patterns allow you to deep-dive into the archives and rediscover designs from yesteryear. The Art Deco period is a particularly rich cache of design possibilities, combining the elegance of geometric forms and patterns with the delightfully indulgent and whimsical approach to life that was such a part of the 'Roaring Twenties' and the sophisticated 1930s. Designs such as Rene Nightfall wallpaper can create a bathroom that utilises the most Art Deco of patterns, the fan, brought up to date in metallics and deep blue colourways.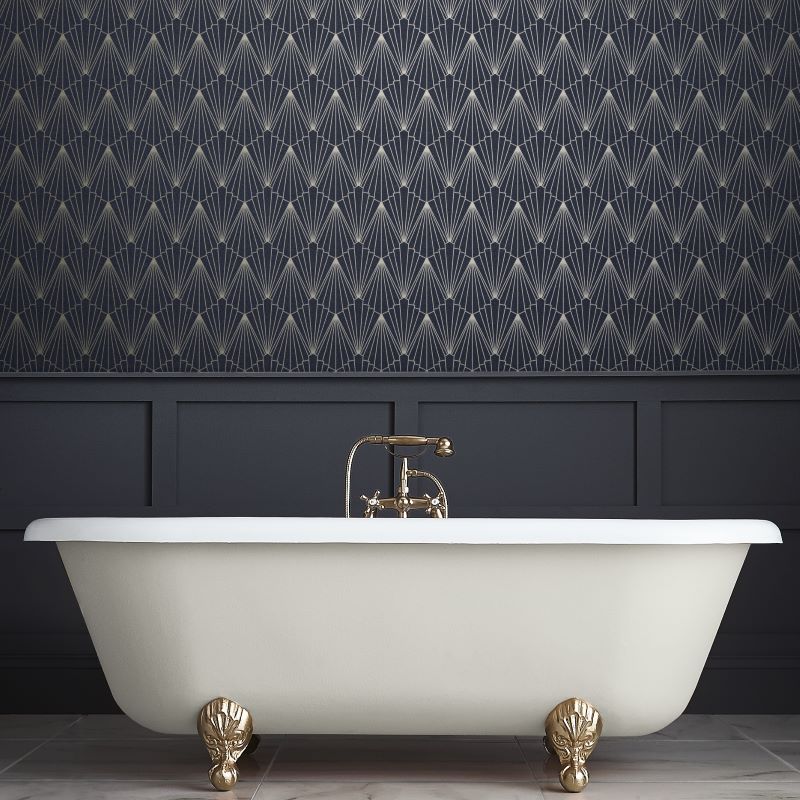 Contemporary patterns
Finally, you may want to consider the wonderful selection of patterned wallpapers that feature contemporary designs. From subtle grey patterned wallpapers that perfectly partner with almost any colour choice to green patterned wallpapers, contemporary designs can work beautifully in any setting. They can also be surprisingly organic too, with subtle modern takes on classic designs. The Japanese twig-and-bud pattern in shimmering bronze against a deep blue background gives a patterned wallpaper like Boreas Midnight a completely different twist on the concept of contemporary design.