How To
Damask Wallpaper: What it is and How to Use it
Can't decide between white or grey damask wallpaper? Or perhaps you've never even heard of this elegant wallpaper design? Find out more here.
Looking to upgrade your interior with a pattern that provides unmatched staying power? Then
damask wallpaper is for you. Standing as a symbol of luxury and sophistication, there's a reason why this wall covering has been around for so long. From what it is to style ideas and advice, we've got you covered if you need guidance regarding damask wallpaper. So, whether you prefer grey damask wallpaper or you're looking at a different shade, here's how to work it into your home…
What is Damask Wallpaper?
It's hard to miss damask wallpaper when you see it. Originally created to be used in place of tapestries and to match existing upholstery fabrics, it is defined by an instantly recognisable floral motif. Damask wallpaper was typically made using silk through a blend of hand-weaving techniques, contrasting the matt weft face and the shiny warp face of the thread.
First popular during the Renaissance, damask became prevalent with print designers in the early 20th century. Today, damask wallpaper continues to hold a piece of history when it comes to a home's design and is often updated in a range of contemporary ways.
You can find an array of different interpretations in various colourways, including neutrals like grey and white and bolder options in cobalt blue and yellow. There are also plays on the motif's scale and texture, so whether you prefer large or small patterns, you'll find a damask wallpaper to suit. With gothic, antique, floral and even metallic styles too, if you're searching for ideas to update underwhelming walls, consider a damask print.
How to Use Damask Wallpaper
Pattern is one of the most powerful decorating tools, and a damask design is pretty hard to beat. Here's how to make it work in your home…
Whether for the bedroom, hallway, home office or any other room, eye-catching damask wallpaper is a great way to introduce a flourish of pattern if your interiors are starting to feel a bit flat.

Use it to make an impact at your entrance or create the illusion of a larger space by papering only the top half of a wall and pairing it with complementary paint shades.

You don't need to paper a whole room to enjoy the pop of pattern that damask offers. Creating a feature wall will bring interest to a room without the time, money or commitment of decorating the entire space.
Different Styles of Damask Wallpaper
If you've just started your DIY decorating project and you need clarification on what style of damask wallpaper to go for, we've rounded up all the different types in one place. Ahead, find plenty of design inspiration…
Grey Damask Wallpaper
Want to bring style to every square inch of your space, walls included? Then try adding grey damask wallpaper to give walls the attention they deserve. Whether you've chosen a patterned design in tones of graphite, lead, ash or pewter, you're spoilt for choice when it comes to colours that go with grey. Even with damask as an all-over accent, the versatility of grey makes for a great companion for most tones – blue, green, red, orange and yellow, to name just a few.
And another thing? When you have a small space, using a pattern can make it feel bigger, and what better way to make your room feel a little more spacious than with damask wallpaper in a grey colourway?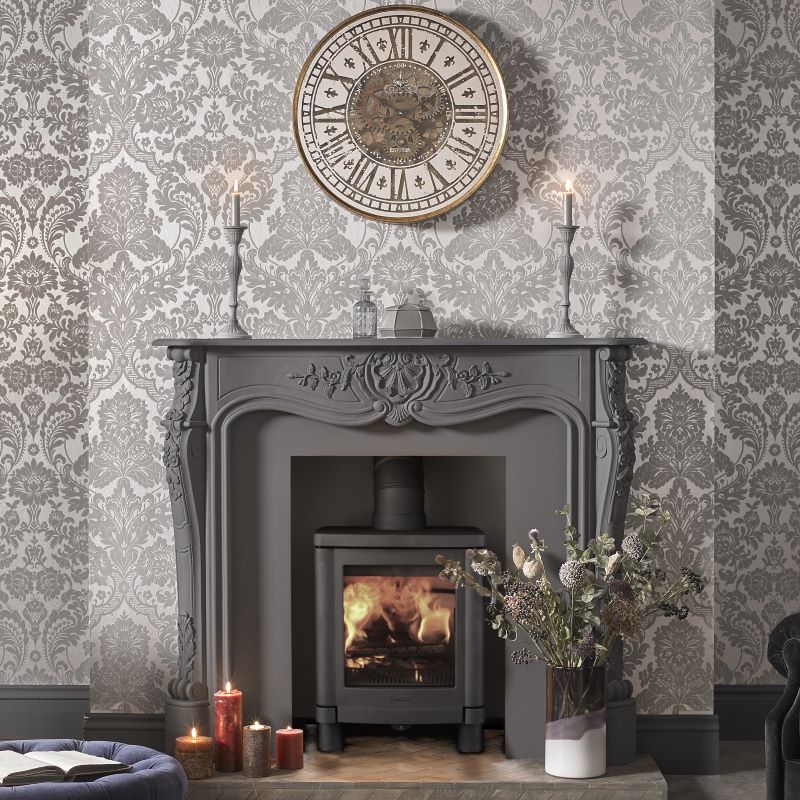 White Damask Wallpaper
If you love the look of damask but can't commit to bold designs, a white version of this traditional print is the solution. It is a more subtle way to incorporate the pattern into your décor and plays surprisingly well with others. Think of white damask wallpaper as a non-neutral neutral and team it with matching pared-back hues. Plus, it's understated enough to work on all four walls without overwhelming your space.
Metallic Damask Wallpaper
Metallic damask wallpaper will update your home's look with inspiration from the past and just the right amount of modern thrown in. The pattern has been an interior design mainstay for a while now and shows no signs of going anywhere soon, but adding metallic detailing takes things to the next level. Just a touch of glimmering gold or shiny silver makes this pattern infinitely and instantly more glamorous. So, keep the rest of the colour scheme fairly understated to ensure the striking style remains the main focus.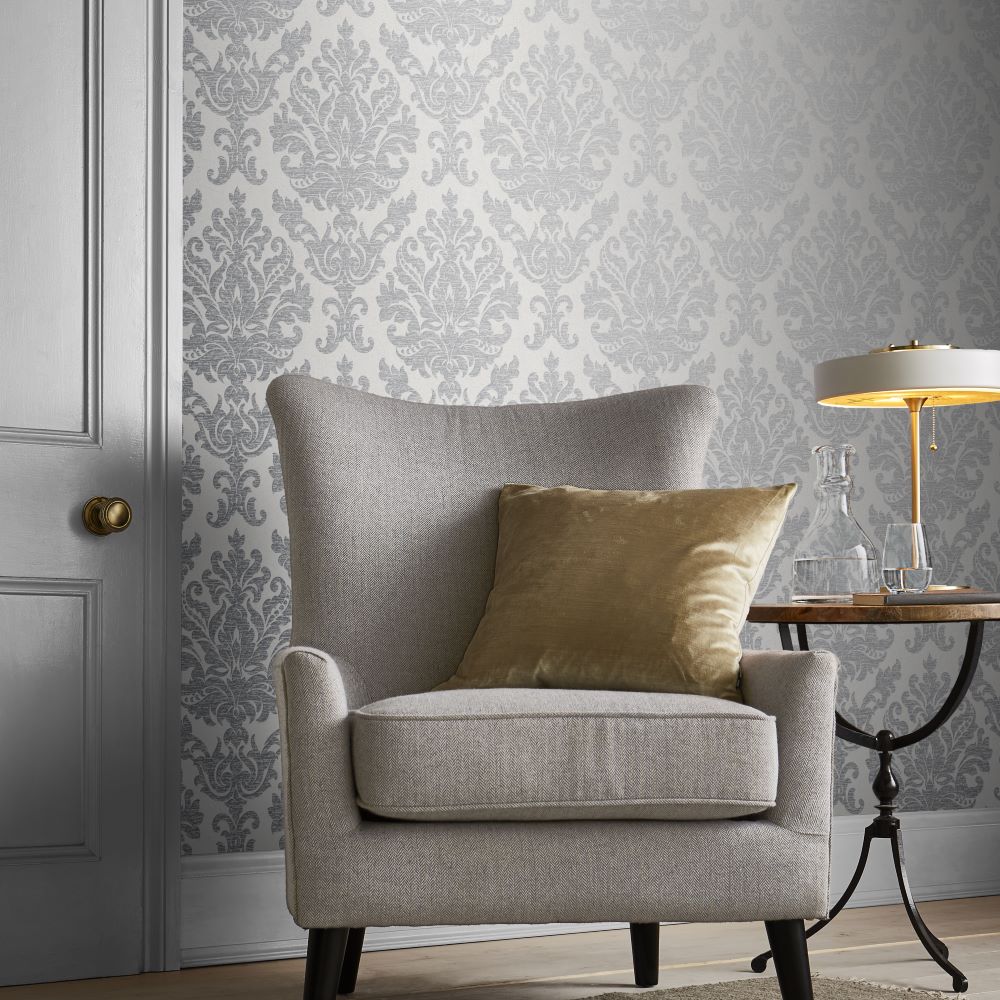 Textured and Patterned Damask Wallpaper
Whoever said too much texture and pattern was a bad thing? Certainly not us! Damask wallpaper that combines the two will give your wall tons of tactile and visual appeal. As well as giving your room the 'wow-factor' effect, it's perfect if you've got any bumps or imperfections on your wall that you want to hide, too. Textured and patterned damask wallpaper is an effective tool for livening up a room, with the added bonus of also bringing in depth and dimension.
Our Top 3 Damask Wallpaper Ideas
Whether you want to change up your décor with a gothic style, incorporate an antique look, or inject personality with floral-inspired accents, we have all the inspiration you need right here. We've selected three ideas to help you decide how you can easily work damask wallpaper into your home.
1. Gothic
Why not boldly embrace your inner maximalist and decorate with gothic-inspired damask wallpaper? Rich with intricate detail and typically boasting a monochromatic palette, these designs will tempt you away from neutral hues and brighter shades and over to the dark side. You can also expect an abundance of sumptuous texture with gothic-inspired damask wallpaper. Try pairing it with opulent home accessories and gold accents to create a room with a cosy yet elegant feel.
2. Antique
Just because you tend to lean towards more modern décor doesn't mean an antique-style damask wallpaper can't work in your home. This gorgeous design will add character, charm and cultural elements to even the most contemporary aesthetic. But what are the ways to blend old and the new successfully? Try adding antique-style damask wallpaper to only the brightest rooms in the house. This will prevent it from feeling dark and heavy. From painting the woodwork white to choosing pale furniture for a clean, clutter-free look, making sure this type of wallpaper works is best when everything else is kept neutral.
3. Floral
The different interpretations of damask wallpaper are seemingly endless, but floral versions are one take on this classic pattern that will stand the test of time. Giving a nod to nature, floral damask wallpaper comes in rich colours, making it look incredible even in small rooms. From modern abstract patterns to chinoiserie-style prints, there's a variety of designs to choose from. So, whether you prefer blooms that are traditional or contemporary, damask wallpaper is a tried-and-true staple of luxury and sophistication – and for that reason will never go out of style.
Our Favourite Damask Wallpapers
Whatever shade of damask wallpaper is for you – and whatever decorating style, from traditional to modern – below are three of our favourite patterned designs that are just right. It doesn't get any better than this collection of wallpapers…
Gothic Damask Flock Cobalt Wallpaper
After a dramatic look? Then look to our Gothic Damask Flock Cobalt Wallpaper. Here, a dark, moody flock design combines with an opulent textured, shimmery backdrop for a truly striking effect. With a plush and sumptuous feel, this navy and cobalt blue damask wallpaper can't help but make a dominant statement.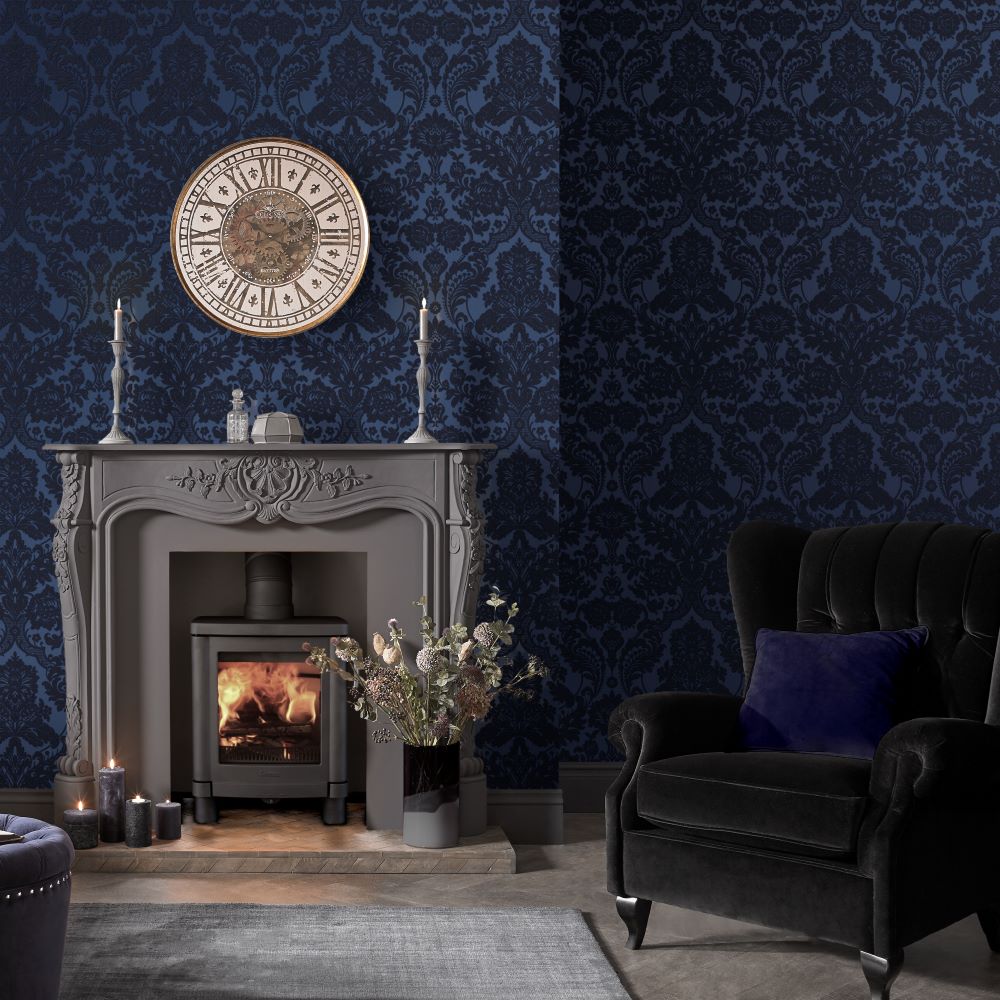 Geo Damask Yellow Wallpaper
Bold and timeless at the same time, it's easy to see why our Geo Damask Yellow Wallpaper makes our list of favourites. Featuring a mustard hue and an intricately detailed damask pattern in contrasting white, this design works well anywhere in the home. Finished on a luxurious matt paper, try offsetting this style with other walls painted in our coordinating Alanna and Aurelia paints.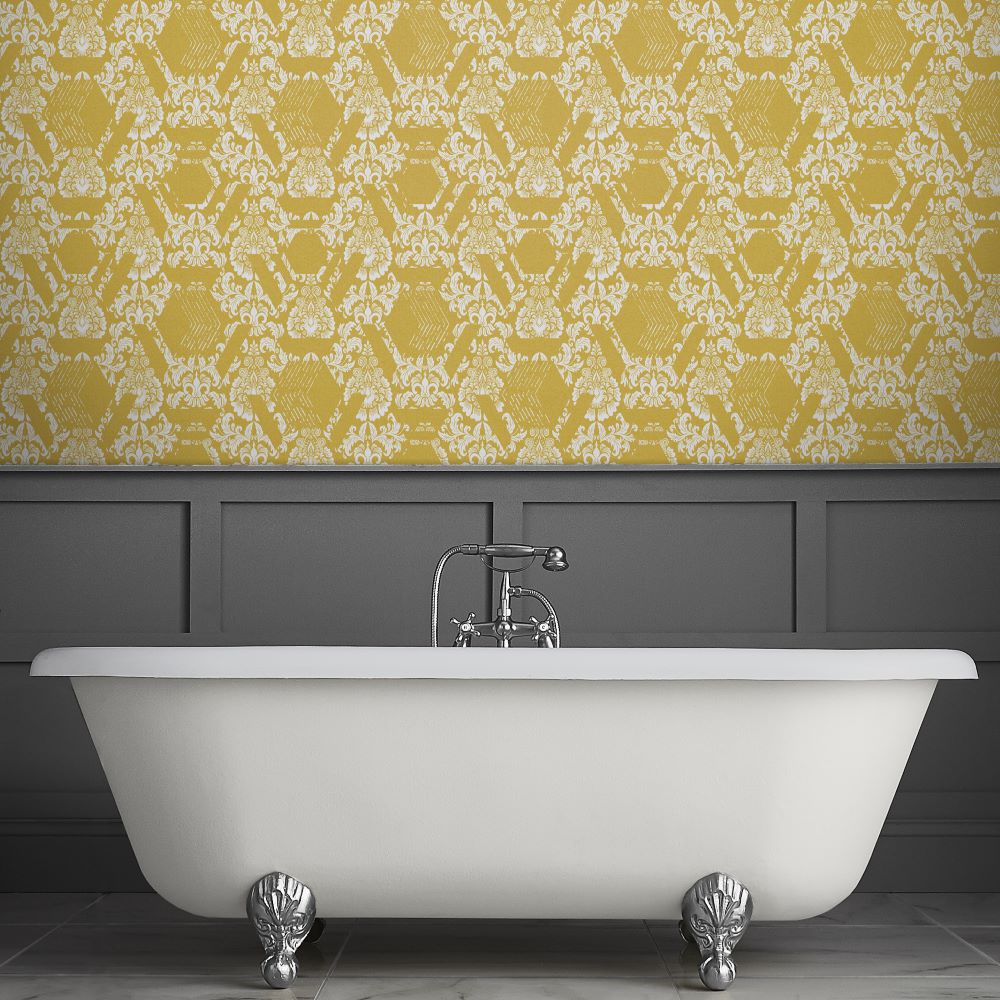 Stone Damask Wallpaper
Beautiful, striking and eye-catching are just a few ways to describe our Stone Damask Wallpaper. Giving the perennially stylish damask a modern trompe l'œil twist, this 3D-style design is ideal if you're going for a simple, all-white look yet still want it to look contemporary. If you plan to create a feature wall, use the matching Alanna or Dove Feather paint for a coordinating look.